LOUISVILLE —   Nike EYBL Session III kicked off Saturday from the Kentucky Expo Center. Here's a look at who caught our eyes  on opening day…
Austin Herro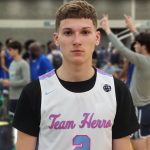 Austin Herro 6'2" | CG Whitnall | 2023 State WI – 2023 – CG – Team Herro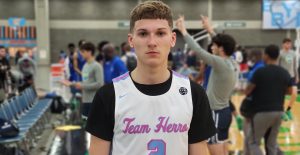 Welcome back Austin Herro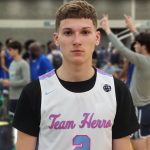 Austin Herro 6'2" | CG Whitnall | 2023 State WI . The Whitnall product, who's been battling injuries the last two years, was a pleasant surprise on Saturday. Herro dished out a total of nine assists in two games, including six dimes against Team Takeover. Herro was able to break down defenses late in the shot clock and steal some buckets for his team. The 6-foot-3 guard is very shifty on the ball and keeps defenders guessing by changing his pace and utilizing head fakes. With as much time as he missed, including his entire junior season, Herro likely isn't 100 percent himself, but had some big flashes on Saturday and is poised to make a splash in the next rankings update.
Cameron Holmes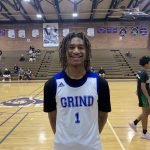 Cameron Holmes 6'5" | SF Millennium | 2026 AZ – 2026 – SG – Arizona Unity
Holmes is the real deal and a potential stud in the 2025 class. The 6-foot-4 wing is pretty much built like a prototypical two-guard already. He's got the right blend of length, athleticism, and strength. Very polished for his age, Holmes can score efficiently from all areas of the floor and force defenders to give him something. Holmes can get buckets, but he's more than a scorer. There's some intriguing unselfishness here, especially in the open floor where Holmes is a terrific passer who trusts his teammates. Kansas has already made a very early offer here and that won't be the last…by far.
Todd Jones – 2024 – F – Livon Fleur De Lis
Jones posted 18 points, five rebounds, and three blocks during a win over Phenom University. The 6-foot-8 forward just dunked and blocked everything around the rim. A high motor leaper that can make momentum-changing plays, Jones made his presence felt throughout the contest. Jones gets off the ground quickly and is very bouncy. Combined with his long, slender frame,  Jones has a ton upside. While most of his impact comes on athletic plays, Jones was sneaky good when he had to do something other than jump after he caught the basketball.  Going 8-of-11 from the field, Jones had some nifty footwork in traffic, including a catch and spin to split defenders.
Zach Kinziger
Zach Kinziger 6'2" | SG De Pere | 2025 State WI – 2025 – SG – Team Herro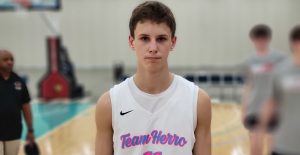 Like the way this kid plays and I'm confident about his standing in the top 10 of a loaded class of 2025 in Wisconsin.  Knew Kinziger could shoot the ball. He's arguably the best in his class at putting the ball in the hole while on the move. He's also got  a relentless work ethic away from the ball as well. You never see Kinziger being stagnant.  He doesn't wait for his teammates to get him involved. It's Kinziger who makes it happen. The 6-foot-2 guard has shown some other things this weekend as well.  Kinziger has been able to play on the ball and shown some intriguing point guard skills and playmaking ability for his teammates.  He handles pressure really well. Kinziger doesn't retreat dribble…he attacks it.  Defensively, Kinziger has been somewhat of an irritant to. He can apply pressure, move his feet, and take the offense out of their rhythm. 
Kon Knueppel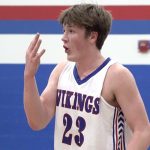 Kon Knueppel 6'5" | SG Wisconsin Lutheran | 2024 State WI – 2024 – SF – Phenom University
Knueppel and Phenom got robbed of an improbable comeback. Phenom trailed by double digits for a large chunk of the game, but made their move late. Knueppel had two clutch plays, stealing an inbounds pass and taking it back the other way for an and-one. The sophomore wing then connected on a 3-pointer coming off a screen to tie things up with 3.2 seconds left. However, Livon Fleur De-Lis had their prayer answered from about 35 feet to avoid overtime. Kneuppel finished with 22 points on 7-of-15 shooting, including five triples. He also had three assists and two steals during Saturday's loss. In Phenom's first outing, Knueppel posted 13 points, six rebounds, and three assists during a blowout win against Team Durant as well.
Jahnathan Lamothe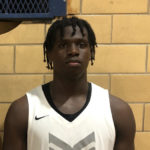 Jahnathan Lamothe 6'3" | CG St. Frances | 2023 State #256 Nation MD – 2023 – SG – Team Durant
Lamothe had 20 points, five rebounds, and four assists in a win over Team Herro. The three-star guard blew the game open in the second half with a couple of 3-pointers. A big, strong guard, Lamothe uses his body really well in the mid-range, putting his shoulder into defenders and creating space off the bounce. Lamothe showed a killer instinct to him. When he got hot, Lamothe did not take his foot off the gas pedal and just challenged defenders to stop him. Lamothe was a cool 9-of-13 from the field and also had two steals on the defensive end during Saturday's win.
Devin Royal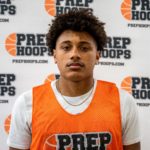 Devin Royal 6'6" | PF Pickerington Central | 2023 State #103 Nation OH – 2023 – SF – All-Ohio Red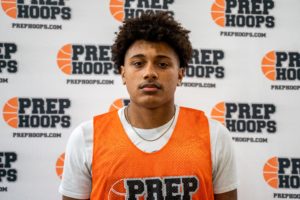 Royal just took over Saturday's contest against the Family. The top 100 wing was big time down the stretch, scoring 26 points on 12-of-16 shooting. When the game tightened up late in the second half, it was Royal who demanded the ball down low and left no doubt. Royal is a do-it-all wing, but showed he can take over a game offensively. A very well-rounded, versatile prospect, Royal can score inside and out, in isolation, in transition, or play with his back to the basket. The 6-foot-6 wing also grabbed five rebounds and registered two steals as he barely came off the floor during Saturday's win.
Will Murray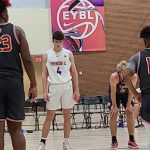 Will Murray 6'7" | SF Darlington | 2024 State WI – 2024 – SF – Phenom University
Thought Murray gave Phenom some really good minutes throughout Saturday. Maybe doesn't score a lot with this team or jump out, but if you watch closely, Murray is doing a lot of the little things that have value. Thought he competed really hard overall and crashed the offensive glass to keep plays alive and create second-chance opportunities. In two games, Murray was a perfect 6-for-6 from the floor. He also had eight rebounds in a win over Team Durant. Defensively, Murray was very good against the pick n' roll. He always seems to be in the right place and has the versatility to defend against a switch if needed.
Mac Wrecke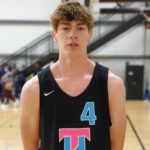 Mac Wrecke 6'5" | SG Arrowhead | 2023 State #192 Nation WI –  2023 – SF – Team Herro
Wrecke had 13 points and six rebounds in a loss to Team Durant. The Arrowhead standout was 5-of-7 from the floor. During a tough defeat, Wrecke was one guy who could create something positive at the rim against a long, athletic front line. Wrecke came back and posted 12 points, four rebounds, and two assists during a win over Team Takeover.  A strong, athletic wing, Wrecke is a slasher who's steadily improved his game away from the rim. Also a blue collar prospect, Wrecke is a force on both ends of the floor. 
Gus Yalden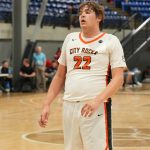 Gus Yalden 6'9" | C Asheville School | 2023 State NC – 2023 – PF – City Rocks
You just don't see many guys like this in the EYBL or in college basketball any more for that matter. Yalden is somewhat of a cheat code. With his body type, Yalden really neutralizes a lot of the length and athleticism that teams throw at him. He's a patient inside scorer that can finish in a variety of ways and has a knack for getting defenders off the ground. Yalden went for 15 points and seven rebounds against Meanstreets. In his first game, Yalden dropped 18 points against NH Lightning.  The Wisconsin commit  is an old school type big on the block, but can also be deadly in the pick n' pop game, going 4-of-6 from 3-point range Saturday morning.