Prep Hoops' very own Mayhem in the Plex kicked off on an action-packed Saturday in Fort Worth, Texas. More than 80 teams comprised of 15U, 16U, and 17U rosters competed in nearly 100 games on Day 1 and 75 games on Day 2 at the Game On Sports Complex and Haltom High School. Below we review the top five defenders from several of the games at the Game On Sports Complex throughout the weekend.
See more standout players from Mayhem in the Plex here:
Best of Day 1 | Best of Day 2 | All-Defensive Team | All-Offensive Team Pt. 1 | All-Offensive Team Pt. 2
#32 Darien Luke – 2024 – 6'3″ – Wing – Black Diamond 2023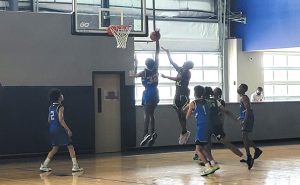 Luke was arguably the top defender of the tournament. His length, athleticism, energy, and relentless ability to go after the ball on every play was a sight to see, and to have such a refined defensive toolbox at such a young age, he is definitely one to look out for in the coming years. His offense needs polishing, only hitting one three-pointer in their first game of the weekend against RBC 2023, but everything he did on defense was extremely impactful and created easy offense for his teammates. He hustled on 50/50 plays and did everything he could to stay in front of his man in 1-on-1 opportunities, it didn't matter if they were quick guards on the perimeter or bigger bodies in the post, he handled his matchup very well through phenomenal footwork and active hands. He broke up passes and knocked the ball loose on several occasions and he came away with numerous blocks. He could guard his man straight up and had the instincts and quick reaction time to get his hand up just as a shot was going off, or he used his fantastic recovery to chase his man down and block him from behind. As his body continues to grow and his offensive game continues to improve, Luke is going to be a force to be reckoned with.
#00 Keegan Overton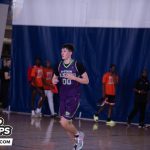 Keegan Overton 6'4" | C Klein | 2023 TX – 2023 – 6'4″ – Big – H-Town Gliders 2023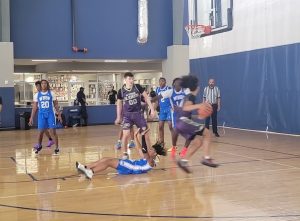 Overton may only stand at 6'4″ but he uses every single inch of his long arms and is a strong body in the paint with fantastic instincts as the last line of defense for the H-Town Gliders. Surrounded by several active ball handlers and wings, Overton was tasked with locking down the paint in several of their matchups, especially in one of their first games of the weekend against WBBP Rush 2023. He did his part on offense securing multiple offensive rebounds and providing nice dump off opportunities near the rim for his driving teammates, but on defense he was an absolute beast on the inside. He blocked several shots throughout the game, and even if he didn't get his hand on the ball, he displayed fantastic verticality and limited his fouls even with the opposing team constantly attacking the paint. He made life difficult for anyone daring to drive inside and he even came away with a steal or two on layups thanks to his quick hands and fearless demeanor to go after the ball.
#5 Jordyn Brown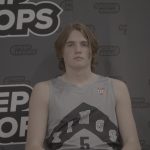 Jordyn Brown 6'0" | PG Ardmore | 2023 State OK – 2023 – 6'1″ – Guard – DC Kings Denton 2023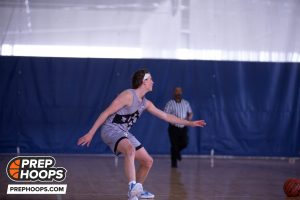 Brown was one of the most active guards on defense throughout the weekend, and he made play after play just going after the ball, helping off the weak side, constantly moving his feet, and making sure to give it his all every time down the court. In their game against Hoops Lovers Inc on the first day of the circuit, Brown managed only one three-pointer, but he didn't take a single play off on the defensive end. He sacrificed his body and had perfect awareness and timing to slide right in the paint and take hard charges under the basket, he kept his hands up and active, disrupted passing lanes and stole the ball right out of opposing guards' hands, and he had numerous blocks, at least four that were counted. His blocks were the most impressive as they didn't come off sheer athleticism, they came from keeping his feet moving, bodying up his matchups, keeping his hands up, and then rising up just at the right time as they released their shot attempt. Brown's defensive dominance and activity on that end of the court combined with his potential as a shooter makes him an elite 3-and-D player and someone that could seamlessly fit in on any team.
#13 Leeland Harriott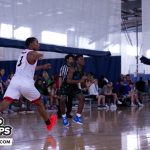 Leeland Harriott 5'7" | PG Glenda Dawson | 2024 TX – 2024 – 5'6″ – Guard – Hoops Lovers Inc 2023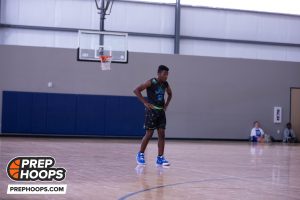 Harriott was one of the shortest players in the entire circuit but arguably the toughest, most engaged player from the whole weekend. In one of his first games against DC Kings Denton, he displayed spurts of what he has to offer as an energetic and relentless defender, with great instincts and a tough demeanor to never back down from a matchup and use his strong frame to fight his way and maintain position on defense. Then, in the Hoop Lovers game against the powerhouse, Welcome to 4 Vegas Hot Shots, Harriott was an inspiration and truly the heart and soul of the team. The Hoop Lovers were clearly outmatched and outgunned, going up against players that were not only bigger and taller, but simply more skilled, but they never backed down. With several of Harriott's teammates carrying the offensive load, he took it upon himself to spark the defense and do whatever he could to be aggressive and make sure the Hot Shots would have to finish the game strong to truly put them away. Players on the other team were red hot from 3-point range and it seemed as though they couldn't miss at times, but Harriott continued to press on, he bodied up his matchups, became an absolute pest both on the ball and off of it, and he knocked them out of rhythm to allow his team to make a small run. He took charges and kept his hands active, knocking the ball loose as opponents drove to the paint. Even in the blowout loss, it was a game that Harriott and the Hoop Lovers could walk away from with their heads held high because of the fight they put up.
#21 Josh Holly – 2022 – 6'3″ – Wing – Mamba Wolfpack 2023
Holly makes the cut on the all-defensive team for the Mayhem in the Plex circuit, but he had one of the better offensive games, as well. He hit several shots from distance both from midrange and beyond the arc, he stayed active in his off-ball movement and made smooth passes within the flow of the offense to keep everyone involved, and he attacked the paint with aggression and determination. He had a strong dunk in the first half and finished several other tough layups throughout the game. On defense, he was a menace on the perimeter. He has a strong frame and can move extremely quick laterally, with the ability to guard the best perimeter player on the other team. He's a hawk in the passing lanes, swooping in out of nowhere to snatch the ball midair and sprint the other way for a fast break, and his instincts on the ball are one of the best from the weekend. Relax for a split second and Holly will swipe the ball right out of your hands. The best bet is to keep the ball away from him on offense but even then, he finds a way to make an impact play on the ball and can lead a defense all from the perimeter.