Another installment of the KBC State AAU Championship was hosted at Town & Country Athletic Complex in Northern Kentucky. 
Robby Todd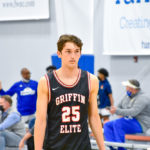 Robby Todd 6'8" | PF Madison Central | 2023 State KY – Griffin Elite/Q | Madison Central
Although he rarely is the leading scorer, Todd is one of the most valuable pieces on a stacked Griffin Elite roster. His commitment to doing the "dirty work" is what sets him apart. He attacks rebounds with two hands, makes crisp outlet passes, and sets firm screens on and away from the ball. Additionally, he can turn, face-up, and knock down the mid-game jump shot. 
Walter Campbell Walter Campbell 6'5" | PF Western Hills | 2023 State KY – Griffin Elite/Q | Western Hills
Campbell is the equivalent to a downhill running back when he attacks the paint. He moves defenders with ease. His strength and elevation to convert around the rim is mighty impressive.
Eric Hackett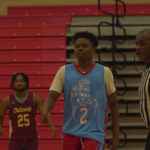 Eric Hackett 6'1" | SG Tates Creek | 2023 State KY – Griffin Elite/Bordas | Tates Creek
Hackett is a skilled guard that continues to impress scouts and coaches. His role this spring may be different than during the high school season, but he is continuing to develop as more than just a ball-dominant scorer. 
Micah Wills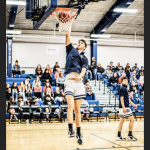 Micah Wills 6'9" | C Grant County | 2023 State KY – Griffin Elite/Bordas | Grant County
Another hardworking forward that didn't score a lot but impacted the game in other areas. Definitely a player to keep watching as the spring season winds down. 
Izayiah Villafuerte – WKY Elite | Warren Central
After an impressive showing at the Sweet 16, Izayiah continued to show why he is one of the best guards in our state. A true "quarterback" on the court. Consistently makes winning plays. 
Omari Glover – WKY Elite | Warren Central
Another player continuing to improve his stock since the Sweet 16 run. Glover thrives around the paint and his constant activity puts him around the ball often.
Hudson Sparks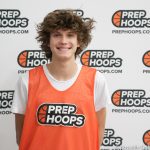 Hudson Sparks 6'5" | SF Lexington Catholic | 2023 State KY – Cave Gym Elite/Black | Lexington Catholic
Sparks had a productive weekend and played well alongside a star-studded CGE squad. Sparks works hard on both ends of the court. He can guard smaller players and battle in the paint. 
Kai Simpson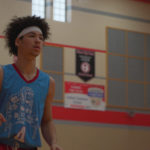 Kai Simpson 6'3" | PG Frederick Douglass | 2023 State KY – Cave Gym Elite/Black | Frederick Douglass High School 
Simpson has been one of the best guards in the Lexington area for awhile now. He showed his vast skill set against some of the state's best. Simpson knocked down shots from all over the court and had a few nice finishes in the paint as well.
Sam Parrish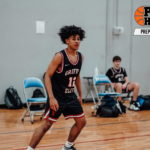 Sam Parrish 6'0" | PG George Rogers Clark | 2023 State KY – Cave Gym Elite/Black | George Rogers Clark
Parrish was one of the best scorers from the weekend. He shoots a high percentage off the dribble and off the catch. Plus, he rarely turns the ball over. A rare combination for a high-usage player. Parrish really has everything you'd want from a guard.
Ian Higdon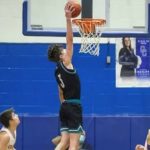 Ian Higdon 6'6" | PF North Oldham | 2023 State KY – Power Circle | North Oldham
Higdon is a great asset to play with. He works hard in the paint; constantly battling on defense. He sets screens for the guards and found himself with several putbacks by simply following the ball.
Make sure you are following @PrepHoopsKY on Twitter for weekly top games & top performers!