Who impressed the most in Portland in the games I saw?  Here is my top group of five!
Andrew Deedon of Idaho Premier (5'11 2023 Centennial HS, Boise, ID).  Let's get the obvious out of the way, teams love shooters and Deedon is a 40% Club member meaning that's a 40 percent three point shooter on average across the board. There are of course many guys who can shoot it at a pretty high level and are around six feet tall.  So what separates Deedon? From the games I saw, it's the small windows that he comfortably makes shots in.  It's the quickness of how he gets his feet set and releases, it's the comfort off a dribble into the lift, it's the comfort from range, and it's the recognition of where his defender is and where he needs to get to a balance to knock out shots.  Again, there are a lot of guys that can make shots, but only some of them can make shots at a high percentage against top defenders in various scenarios, and Andrew did this weekend. 
Graham Eikenberry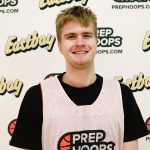 Graham Eikenberry 6'10" | PF Lincoln | 2023 State OR of BDH Elite (6'11 2023, Lincoln HS, Portland, OR). What's the first thing a college asks about a big?  Yep, his true size.  So is Graham 6'11?  That's his list and on the court he was by far bigger than everybody so he sure did look in the 6'11 area.  Second question is usually.. "how does he defend?".  Graham's vocal direction talking teammates through screens and directing teammates to help caught my eye.  His low post defense was excellent forcing players over the top both in post defense and getting to his help spots.  Ball screen defense saw Graham get to his spots each time stopping several corner turns.  Offensively I really liked his fight on the block and his consistency in second chance fight and in consistency in calling for the ball to catch and make his move.  Good finishing numbers, good rebounding numbers, good post prospect at the scholarship level. 
Kapalisok Laila of 3C Elite (6'7 2022, Franklin HS, Portland, OR). Kapa either had the weekend of his life shooting the ball or this is a very good wing shooter with excellent length at 6'7.  On the wing or especially in the corner this is an impossible closeout unless you take a step or two off your help.  Kapa hit at least four threes in both games I watched and multiple threes in the game I partially watched.  He had a run of six straight makes that helped his team one game, then had 21 points and 10 rebounds in another game I saw.  Good rebounder for a stretch forward and has the length to be taught to be a really good defender.  Unsigned senior, I would be curious to see where he goes next as Kapa has good potential.  
Jared Sucher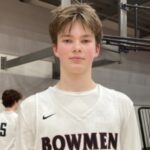 Jared Sucher 6'4" | SG Sherwood | 2023 State OR of Fly Select (6'4 2023, Sherwood HS, Sherwood, OR).  When you see a player take nine shots and make all nine of them, take five foul shots and make all of them, take three triples and swish all three of them, it leaves a good thought in the brain of how good a player is.  In a furious local battle of AAU teams and with Jared considered the top guy at his spot in his class (or close to it) his 26 points was a very impressive statement.  The research also says that Jared made 39 percent of his threes this year despite teams gameplanning to stop that three point jumper.  That's a shooter and a consistent player that I would think scholarship schools should track. 
Kayin Turner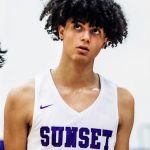 Kayin Turner 6'5" | SF Sunset | 2024 State OR of Progress Elite (6'5 2024, Sunset HS, Portland, OR). The most impressive player I saw this weekend was Kayin Turner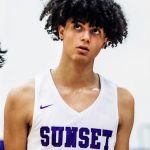 Kayin Turner 6'5" | SF Sunset | 2024 State OR .  He not only played the role of power forward and small forward in the games I saw, he produced number wise enough for two positions!  In a three hour span Turned led the 17s over a local rival and then played 16s and led that team over a local rival.  And when I mean lead, I would say he not only led the team, but often times carried the squad on his back.  He had a ridiculous 32 points and 17 rebounds in the 17u game beating Fly Select and then a little bit later scored 23 to beat Salem Pac in a 16s game.  Turner was 20 of 32 from the field combined in this two games.  It was physical scores, full court attack pushes, active scores, he made four threes in the 17u win, and simply scored in all ways.  Turner was the best player I saw this weekend.