While attending the Portland Memorial Classic, I couldn't help but take a liking to some of the shots that came from deep range. Some players shouldn't take threes, some players can make threes, and then there are those who you watch and think they should make threes. Here's my list of eight green light shot makers from Saturday's action. Three are in the same part and on the same team. 
Jared Sucher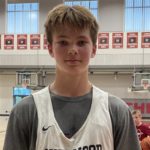 Jared Sucher 6'4" | SG Sherwood | 2023 State OR -2023-6'4-Sherwood
I'll start with one of the smoothest and prettier shots in the tournament. He can do it all but his shot seems to be the one thing that stands out. It does so because it's basically flawless and a thing of beauty to those who appreciate a good shooter. He can knock em down from anywhere, anytime.

Parker Gerrits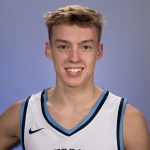 Parker Gerrits 6'2" | PG Olympia | 2023 State WA -2023-6'1-Olympia
Teams up with Luke Brewer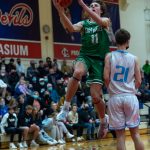 Luke Brewer 6'2" | PG Tumwater | 2023 State WA and Mason Juergens to make up the most deadly shooting backcourt anywhere. If they are even close to hot, you have a problem. All three are excellent shooters and all three are selfless when getting each other the ball. They weren't falling Saturday morning but they heated up by the afternoon session with each knocking down several bombs for Roots Academy.

Payton Meyers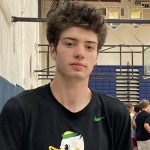 Payton Meyers 6'6" | CG Canby | 2022 State OR -2023-6'4-Canby
Knocked down three triples in a row in one game and that was enough to convince me that he deserves to be on the list. Not because he hit three of them but because those three made you believe that plenty more were coming with his nice touch from deep. Multi faceted player and those threes make him a dangerous weapon.

Paul Hobson-2024-6'3-Baker
Knocked down shots from all over the floor in one game I watched. He was maybe more of a scorer than a shooter but that's not taking anything away from his ability to knock down shots from deep, mainly because he's an elite level scorer in the making.
Andrew Deedon-2023
He could shoot it from deep and that's an understatement. He took some shots that might have looked like bad shots until you watched him for a while and realized you want him to shoot those. Great shooter who isn't shy and also showed toughness to get to the rim. Quick release and unlimited range. 

Dane Lewis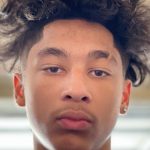 Dane Lewis 6'1" | SG Federal Way | 2023 State WA –2023-6'2-Kent Meridian
Knock down shooter who plays with a few other guys who are both quick and can kick it for a three after blowing by the opposing defense. He hit threes and showed strength when driving to the basket. Good player who is tough. His style of basketball is fun to watch and he's capable of some huge nights next year.