On Sunday, many players at the 16U level showed out at the Prep Hoops Grit Region Memorial Classic. Check out my top performers from the day below.
Maxim Butler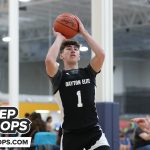 Maxim Butler 5'11" | PG Springboro | 2024 OH – Dayton Elite
Butler is a 5-foot-11 point guard who attacked the boards and hustled for loose balls for a well-balanced Dayton Elite team. Hit numerous shots from the mid-range too, extending his game with a smooth jump shot. Highlight of the day was a play in which he battled for three offensive rebounds in a row, capping off the sequence with a tip-in lay up over taller defenders.  
Ace Buckner
Ace Buckner 6'1" | PG Saint Ignatius | 2024 State #200 Nation OH – OBC
Buckner is as mature a player as you'll find in his class. Has solid size and good explosion when attacking the rim. Crafty. smooth finisher will wind the ball up and under for fancy lay ups, but never does too much. Reliable guard who just knows how to score. Got up for a few slams too.
Brayden Szamrej
Brayden Szamrej 6'1" | PG Hudsonville | 2024 State MI – West Michigan Future
Szamrej is an excellent lead guard who hit seven threes in game one of the day en route to a 34-point outing. Controlled the pace with his tremendous court vision and passing ability. On-ball guard who has a solid handle and can score in bunches when he wants. Loved his swing passes and dimes into the post. 
Wyatt Zepp – 5Star Basketball
Zepp is a 6-foot-6 (!!) wing who shot the lights out early in the day for 5Star. Sharpshooter from anywhere beyond the arch, used a quick release to knock down threes for his team when it needed him most. 
Cameron Regnerus
Cameron Regnerus 6'7" | PF Grandville | 2024 State MI – West Michigan Future
Regnerus is a 6-foot-7 forward who has an advanced post skill set and dominant shot-blocking ability.  Protects the rim at all times with his length and his quick instincts. Hit some runners on offense and used efficient footwork to score on layups from the block. Not afraid to shoot it from mid-range as well, and extended his game even beyond the arch multiple times with an unorthodox shot.
Jaiden Holloman – NEBC
Holloman is a 5-foot-9 guard who was a pest for NEBC all game against Mid Ohio Pumas, clinching the win with two steals in the final 20 seconds of the game for two layups. The shifty guard got to the rack all game using his quick, electrifying dribble moves and his pure speed. 
Julienn Clements – NEBC 2024
Clements has nice size on the wing at 6-foot-4, and has a polished skill set to go with it. He hit numerous mid-range jumpers, whether they were off the dribble or off the catch. Clements impressed with his ability to create space for himself all day. Smooth, high release on his jumper.
Braylon Isom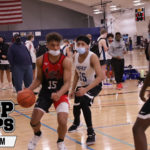 Braylon Isom 6'1" | SG Saginaw Heritage | 2024 State MI – DV 45
Isom is a 6-foot-2, 190-pound athletic beast who got to the rim at will in a tight game against OBC. Took over in a heated game, driving right into the teeth of the defense and bullying his way to countless lay ups. Very strong frame and defended well with his body. Threw down a ferocious two-handed slam in traffic over a pair of defenders. 
Devonte Reed – NEBC 2024
Reed is an extremely long forward (6-foot-4 with a 7-foot wingspan) who got up multiple times for shot blocks and slams on Sunday. Ran isolation plays well on slower guards, taking them all the way to the rim and finishing easily with his length. Cleaned up the glass in the half-court and got out in transition with his long strides to get out ahead on the break. Confident ball handler for his size. 
Owen Yost
Owen Yost 5'10" | SG Cardinal Stritch | 2024 OH – Hopson Elite
Yost is a gritty shooting guard who hit two threes and was scrappy on defense all game against Dayton Elite. Showcased a clean jump shot, and was not afraid to pass up a difficult layup in transition to instead hit from the mid-range. Really liked his patience and movement off the ball.