Cape Fear HS & Sandhills Machine Forward  Jeremiah Melvin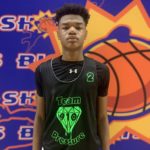 Jeremiah Melvin 6'5" | SF Cape Fear High | 2024 State NC showed some flashes of what he could be during the high school season and has gotten off to an outstanding start during Grassroots. He can knock down shots from outside, make plays on both ends of the floor in the paint and still has a good amount of upside left in his game. 
Grays Creek HS & Team Wall Wing Ari Fulton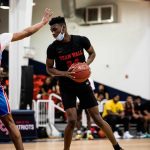 Ari Fulton 6'6" | SF Grays Creek | 2024 State NC is a player that has progressed nicely over the last few years and is only scratching the surface of how good he can be. He's a high-flyer that can make plays above the rim on both ends of the court and is rounding out his offensive game which we saw on full display during the high school season as he averaged 17 points and 9 Rebounds per game last season. 
Fayetteville Academy & Upward Stars Forward Alonso Easterling has gotten off to a nice start during the grassroots seasons and is another player that we feel has a nice amount of upside. Standing at 6'8-6'9 with the ability to step out and knock down some shots, he's a new-school style big but brings some old school flavor on the defense end with the way he's able to block shots at a nice level. Once he adds some more muscle to his frame and becomes more comfortable in the post, we believe he will see his stock rise nicely. 
Wayne Prep Forward Amari Latham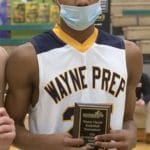 Amari Latham 6'5" | C Wayne Prep | 2024 State NC caught our attention during the Wayne County Holiday Tournament where he put together some big-time showings for his team to help them reach the championship game. During the grassroots seasons he's gotten off to a nice start as well, making his impact on games with his scoring and rebounding. 
Northern Nash Forward Demondre Haymon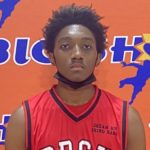 Demondre Haymon 6'6" | PF Northern Nash | 2024 State NC has a nice amount of upside and is a player that doesn't mind playing inside the paint and using his size to his advantage but when the opportunity presents itself, he has shown that he can knock down perimeter shots. The next step for him will be to have the same level of production on a consistent basis which we feel will happen for him sooner than later. 
Dixon HS Wing Xavier Peaks Xavier Peaks 6'4" | SF Northside | 2024 State NC was unable to finish the season due to an ankle injury but throughout the high school season he put together some nice showings, averaging 12 PPG. During the grassroots season he's had the opportunity to put his athleticism on full display with Team Trezz, making quite a few plays above the rim on the offensive side of the ball.