I need to give this County it's proper introduction.  Whatcom County is a hoops documentary waiting to happen. You can start in Lynden. 24 state championships between the two small schools in this town. Eleven from Lynden and thirteen for Lynden Christian. (From my research). One for each last season. (One for the Lynden Christian girls also). Back-to-back twice for both teams. Lynden (1991-1992) in 1A. In 2019, they became the fifth program to win consecutive 2A state titles since the classification's formation in 1998. The defending champions, Lynden (2A) and Lynden Christian (1A) have the chance to do it for a third time next year. They will have teams capable of doing so. Two other schools from Whatcom County were on that list of five 2A teams. Blaine (1999-2000) Squalicum (2009-2010). Those Blaine teams featured arguably the best high school basketball player in the history of Washington state. Luke Ridnour who went on to have a successful career in the NBA. Hall of fame coaches from all across the County. Rob Ridnour (Blaine). Roger Deboer (Lynden Christian). Lynden has three of their own. Jake Maberry, John Clark and most recently, Brian Roper. Pat Fitterer (Sehome) where he won a state championship in 1996. Deboer also won one as a player for Lynden Christian (1976) as one of the six "Iron Lyncs". Worth looking up if you haven't heard that story. Generational home-grown talent year in and year out. This is the current version of Whatcom County's best hoopers. In no particular order.
Tyler Sipma Tyler Sipma 6'0" | CG Lynden Christian | 2023 State WA – Lynden Christian-2023 -PG
First thing that stands out with the Prephoops WA #57 (2023) overall prospect is his ability to handle the ball. Kid you can trust to bring it up against anyone. Great quickness with the ball. Drives with the ball close to his body to protect. Quick release,  and great range. Great shooter. Compact shot that leaves little room for error. He will shoot it from deep if you back off or he can create his own with his excellent ball skills. He has the ball on a string. Low to the ground and protected. Tight with the dribble at all times and quickness to the hoop with a variety of dribble drives set up by his ability to use his dribble however he wants. One of the best pure point guards in 2A and beyond. Led his team to a 1A title last season and they should be right back in the mix next year. A good leader who is talking to his teammates during games. Directing traffic. He won't be shy, and he's got everything you want in a point guard. Trustworthy. 
Carson Lehnert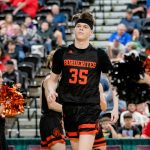 Carson Lehnert 6'3" | SG Blaine | 2023 State WA -Blaine-2023-G
Big time potential here.  Just starting to grow into his body. 6'4 and long. It's not hard to see that the best is yet to come. Lights out shooter with deep range. Late bloomer who has shown a nice skill set with the ability to score in multiple ways. That skill set should make for a huge jump in his game next season. He's worked hard on his midrange game and has shown a nice pull up from either side. He is able to finish at the rim with his size and length and did so a few times on back door cuts in games I watched, moving well without the ball. He shows ability to create his own shot and picks his spots well. Sets up the mid-range game and will go by you if you run at him. All those things will show up more and more next season and beyond. He is capable of putting up some big numbers. He has a good understanding of what he needs to do to in order to do so. 
Coston Parcher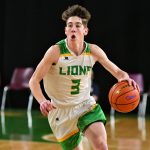 Coston Parcher 6'0" | PG Lynden | 2023 State WA –Lynden-2023-G
He stood out as the best player on the floor vs Lynden Christian last season for most of the game. A kid you don't want to take off the floor. Pure shooter with picture perfect form. Excels at pull up jumpers either way. Likes to go left so it comes naturally to him. Head is always up while handling the ball. Played both the two and point guard. Primarily the point at the state game I watched. He sees the floor extremely well. He finishes with control as he demonstrated with a couple of smooth left-handed scoop shots. He is never out of control. He plays with a lot of poise and is more than capable of putting up big time scoring. He's worth a look. He continuously made me believe that he was even better than he played. And like I said, best player on the floor a good portion of the time. Makes all the right decisions. He is a basketball player that is one I would love to have on my team. Long arms. Move his feet well on defense. Impressive. Could see him bumped up real soon. One of the favorite players I have watched because he plays the game right.   Never did anything that wasn't true hoops skills. Does everything well. Put this kid on your list!
Anthony Canales Anthony Canales 6'4" | SG Lynden | 2024 State WA -Lynden-2024
MVP of the state champion Lynden team at the 2A state tournament. Shows a knack for scoring with smooth droves to the hoop. Big time wingspan that makes it easy for him to be a true three. He is still young and will also make big gains. He obviously is confident in his game. He scores. He finds ways to get open looks from inside the three-point line. Offensive rebounds. Great touch from the free throw line. A very good gage to evaluate shooters and his looks smooth and effortless. Hit deep threes at state that showed the same. His ability to shoot the three will set him apart as a true 3 at the next level. Get those up. Good bet to be in the mix for 2A player of the year in the two remaining years he has left. Doesn't force anything. He lets the game come to him. Makes it look easy. 
Griffin Dykstra-Lynden Christian-2023-SG
This kid can flat out shoot it. If you are looking for a shooter, here's your guy. A smooth lefty that shoots the three with the best of them. Also has picture perfect form. He's good at running off the screen and drained quite a few doing this at the top of the key. He should hold a much larger role on a very good Lynden Christian team next season.
Those are my starting 5 that stood out as the best potential prospects. Others to watch: 
Kobe Baar Kobe Baar 6'2" | SF Lynden | 2023 WA -Lynden-2024-G/F
Brady Ackerman-Nooksack-2025-F/C
Isaiah Carlson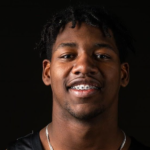 Isaiah Carlson 6'3" | PG Ferndale | 2023 WA -2023-Ferndale-SG,PG
Bennett De Lange-Nooksack-2023-G
Mathew Russ-2023-Blaine-G
Brant Heppner-Lynden-2025-F
Jeremiah Wright-Lynden Christian-2025-F