The Bluff City Blues event in Memphis featured a small but talented group in the class of 2023. Following are the first and second teams from the past weekend. 
First Team
Shad Levy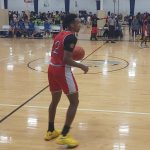 Shad Levy 6'3" | CG Dunham | 2023 State LA 6-2 Dunham (LA) Super bouncy and athletic two guard delivered arguably the moment of the tournament. In a tight opening contest with a good Flee Club Hoops squad. Forced a five second call with dogged half court defense. Then on the ensuing possession won the game with a shot at the buzzer. Played above the rim and dunked many times with relative ease. 
Jaloni Johnson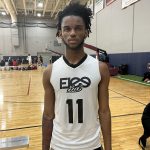 Jaloni Johnson 6'3" | SG Proviso East | 2023 State IL 6-3 Proviso East (IL) Chicago area two guard with a mature scoring arsenal. Doesn't waste one inch of his height as he plays very straight up. Allows him to rise quickly and shoot over smaller opponents. But also has plenty of speed get his spots easily. If things break right in his senior season could attract some Division 1 offers. The talent is there. 
Jalen Purvey Jalen Purvey 6'1" | CG Webster Groves | 2023 State MO 6-2 Webster Groves (MO) The St Louis Cobras were one of the busiest squads on the weekend. Picking up games and at one point playing games literally back to back. That did not slow down the high energy Purvey. Scored 19 points in a victory over Team Iowa. Despite being 6-2 played down low quite a bit for a smaller Cobras squad. Athletic and strong enough to pull it off. But has the perimeter skill set to play the wing at the next level. 
Talib Christian 6-7 Aniston (AL) The Alabama Generals were the breakout team—and program of the tournament. I was very impressed with the entire rotation at both age groups.  But if I had to pick one for the first team. I would start with the man in the middle. Has a very projectable lanky but still sturdy frame. Uses his long arms to protect the rim and hedge out on ball handlers defensively. Showed excellent hands and was good finisher around the basket. Ran the court well. Might have the highest long term upside of any player listed. 
Amir Green-Jones Amir Green-Jones 6'2" | CG Central Gwinnett | 2023 State GA 6-2 Marietta Wheeler (GA) Athletic combo guard prospect led All Georgia Elite to an undefeated record on the weekend. Standout game was the opener against Memphis based Weasel Elite. Scored 16 points in that contest. The exclamation point was an emphatic two handed dunk in transition. Plays at a storied regular season program. Exposure should not be an issue. Could be a late blooming Peach state steal for a college coach. 
Second Team
Rodney Trevino Rodney Trevino 6'3" | SG Webster Groves | 2023 State MO 6-3 Webster Groves (MO) Purvey's partner with the St Louis Cobras and during the regular season as well. Skinny and not quite the explosive athlete of his running mate. But has the better traditional scoring skill set. Showed this off by notching 22 points against Alabama based T-Town Kings. 
Jordan Green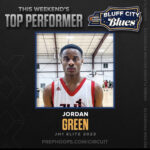 Jordan Green 6'5" | SF Fort Wayne North | 2023 State IN 6-4 Fort Wayne North Side (IN) Athletic forward was a presence at the rim all weekend for JH1 Elite. Seemed like every time I turned around he was dunking or contesting a shot well above the rim. 
Chase Bell 6-2 Madison Academy (AL) The top shooter for the Alabama Generals. Hit five threes in the opening victory. Then kept on shooting all weekend. Not your typical slender shooter. Well put together frame. Had no trouble attacking the basket when he needed to. 
Merquiche Lewis Jr 6-4 Burlington (IA) As he did at Chi-Town Tip Off last month. Displayed a mature and diverse scoring arsenal. Played a little more point this weekend then I remembered for Team Iowa. Has the ball handling and passing ability to pull this off. 
Amare Anderson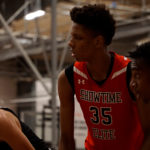 Amare Anderson 6'9" | PF Moravian Prep | 2022 State LA 6-9 Moravian Prep (NC) Provided elite rim protection all weekend for Showtime Elite LA. Well schooled and used his frame well to establish verticality. Ran the court fluidly and with speed. One of the better shot blockers I have seen during the grassroots season.