We had a hot start to Battle At The Lakes on Friday evening. There are 282 total teams in the 17U, 16U, and 15U divisions. I checked out the action on Friday night and I saw plenty of impressive players. Look below to see who showed up & showed out on opening night.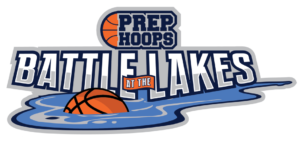 Friday Night Fabulous
Isaiah Schafer
Isaiah Schafer 6'1" | PG Bismarck Century | 2024 State #246 Nation ND (2024) |6'1 G| D1 Minnesota 2024 3SSB
He helped his squad pick up a 48-37 win on Friday night. Schafer scored 18 points with five three-pointers. He showed that he is a 3-point sniper. Schafer was great at spacing and spreading the floor. He is a smart player that reads and reacts to the defense. His shooting stroke is buttery smooth and Schafer's follow-through is perfect. The shooter from Bismarck is proving that he is one of the best in the Midwest. 
Connor Epp Connor Epp 6'0" | CG Freeman Academy-Marion | 2023 State SD (2023) |6'0 G| Sacred Hoops 2023 Bertram
You could tell right away that he is a gifted athlete that moves exceptionally well. Epp is a skilled player with tight handles and smooth passes. I liked the looks of his 1-handed passes. They were crisp and accurate. Connor is very speedy & fast when transitioning up and down the court. He is a creator & slasher on offense and a tough defender on the other end. 
Ian Jordan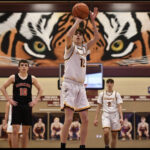 Ian Jordan 6'3" | SG Harrisburg | 2023 State SD (2023) |6'3 G| Sacred Hoops 2023 Bertram
He stood out to me early as a good-looking shooter. Jordan looks to be a catch-n-shoot player. His hands and feet were always ready and I like his shooting mechanics. Jordan moves well without the ball and he knows how to get open. Ian looked like an accomplished 3-point shooter when he hit a corner 3-ball. Jordan also stood out as a rebounder and he blocked a few shots. 
Nic Marshall Nic Marshall 6'1" | PG White River | 2024 State SD (2024) |6'1 G| Sacred Hoops 2024 Kahler
He led his squad in scoring and they won 67-56 in their first game of the AAU season. Marshall put up 25 points and he grabbed 6 rebounds. Marshall managed and controlled the pace for Sacred Hoops. He knew when to speed up and when to slow down. Marshall also did a great job of rebounding. He did a very nice job of getting into the lane and scoring the rock. 
Lane Tietz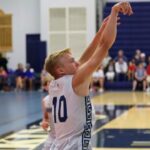 Lane Tietz 6'1" | CG Groton | 2024 State SD (2024) |6'0 G| Sacred Hoops 2024 Kahler
This was the first game of the AAU season for Scared Hoops and Tietz helped lead them to a 67-56 win. Lane scored 22 points and he had 3 assists. He did a nice job of getting the ball up the floor, Lane was pesky on D, and he found his spots around the three-point arc. Tietz hit shots when his squad really needed them. Lane showed again that he is a high-level shooter.
Tony Daniel Loria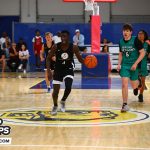 Tony Daniel Loria 6'5" | SF West Fargo | 2025 State ND (2025) |6'5 F| Inspired Athletics 2025
He is very big & athletic with great length. Loria was excellent on the offensive glass. He showed a smooth shooting stroke from the FT-line. Daniel showed off his passing skills with a give-and-go from the short corner. He is a slasher that can rip from the corner, drive baseline, and score at the rim. On defense, Tony showed quick hands with a pick-pocket steal. 
Sullivan Ihry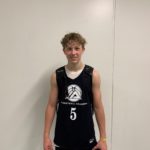 Sullivan Ihry 5'10" | CG West Fargo Sheyenne | 2025 State ND (2025) |5'10 G| Inspired Athletics 2025
He stood out right away because of his handles, footwork, skill, and all-around polished fundamentals. I thought Sullivan had a very nice pull-up jumper. His shot looks flawless. Ihry was smooth while knocking down a 3-pointer in a catch-n-shoot situation. He is a very skilled and mature player from WF Sheyenne.
Mason King (2025) |5'10 G| MN Lightning 2025 King
He is a shooter, scorer, and a playmaker. King stood out right away by knocking down triples. Mason has extended range from beyond the arc. He is a crafty player that drives and dishes to teammates for good looks. I liked how he knifed through the defense. King looks like he has a bright future ahead of him. 
Bryant Wells Bryant Wells 6'5" | PF White Shield | 2023 State ND (2023) |6'5 G/F| Pack 2023
He is tall, slim, lanky, and shifty. I liked the looks of Bryant's handles, he is an all-around smooth player, and he uses his long arms to his advantage. Wells blocked multiple shots and he contested many others. Bryant handles the rock like a point guard. He is a versatile player with nice skill and good size. 
Jack Schaffer Jack Schaffer 6'6" | PF Bismarck | 2025 State ND (2025) |6'6 PF| Pack 2023
He was playing up two divisions as he is only a freshman. Jack did not look like a youngster on the court, he looks more like an NFL offensive lineman. Schaffer ran the floor with NRG from rim to rim and he played hard all game. I liked how he battled for rebounds. Jack showed a soft finishing touch around the basket. He also showcased a cool floater that he banked in. Schaffer has a bright future in basketball and football.