Spring is here and that can only mean one thing. It's Circuit Season! The Prephoops Circuit is upon us. I will be covering and providing exposure for the Hustle Region Circuit. The Hustle Region Circuit consists of AAU Programs from California, Oregon, Washington, Arizona, Utah, Montana, Idaho, Colorado, and New Mexico. The circuit features 10 stops including the Hustle Region Final in Irvine July 15th – 17th. Stop 4 brings us to Phoenix, Arizona for the Bash In the Desert. The event featured over 80 teams. It also featured several promising big men. In this article, we take a look at the top Bigs from the event. 
Drew Owens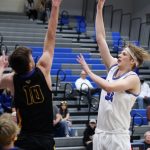 Drew Owens 6'6" | PF Mesquite | 2022 State AZ 6'6 Taylor Made Elite 2022 (featured image) – Owens is an effective scorer that got a ton of his buckets off effort alone. He's what I like to call a "Look what I found" scorer. Owens picked up a ton of loose balls and offensive rebounds, putting them back for easy buckets. The unsigned senior is currently receiving interest from several D3 programs. 
Zane Gaul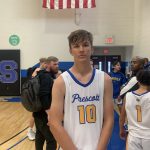 Zane Gaul 6'9" | C Prescott | 2025 State AZ 6'10 C D1 New Mexico 2025 – Gaul was a lot better than I remember from Kansas City. He showed good potential on the offensive side, making patient low post moves and finishing at a high rate. He used his size effectively to clog up the paint. and protect the rim. Gaul is a stockrising prospect to be on the lookout for if he 
Brian Kalb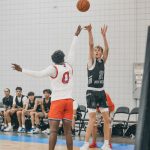 Brian Kalb 6'7" | PF St Pius | 2023 NM 6'7 PF D1 New Mexico 2023 – Kalb is a faceup four that gravitates between being a post and a wing, He has the size to be effective down low, however, he was good when could bring opposing bigs away from the basket and attack their footspeed. He played with decent effort, scoring a couple of times simply by following teammates in transition. 
Ezra Badibango 6'7 PF Team RHJ 2022 – Badigango was a surprising eye-opening player. He was terrific in the game I watched, showing the ability to score with his back to the basket and around the rim. He's a big body guy, that moves well. The low post load's best skill was his ability to play through contact. Badibango bullied and banged his way to 13 points in the game I watched. 
Tristan D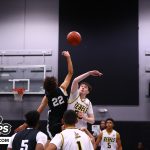 Tristan D 6'9" | C Alamaogordo | 2024 NM 6'10 C Rebels Elite New Mexico 2024 – Drake did a decent job of clogging up the paint. The 5 man is not the fastest-changing ends, however, he is a dedicated rim runner. His size alone, provided an advantage on the backboards, as Drake snagged several flat-footed boards in the game I watched. 
Bradey Henige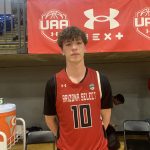 Bradey Henige 7'0" | C Cactus | 2024 State AZ 6'11 C D1 Arizona 2024 – The lethal lefty, Henige had an impressive weekend. He played well, against a big and talented Minnesota Spartan team. He a skilled big that moves well and can do damage from behind the arc. His best offensive skill may be his vision, as the 6'11 center showed the ability to find cutting opponents from the high post.  
Isaiah Waters 6'4 SG No Fear 2024 – Waters is one of my favorite players to watch on the circuit. The big body post does a little bit of everything. Waters was one of the better defenders I saw, showing strong hands to seemingly wrestle the ball away from offensive players. He was a master down low, scoring seemingly at will with his back to the basket. Waters used quickness and good timing to spin his way past defenders and finish around the rim.