2B basketball is loaded up with talent across the state. There's next year's Seniors, Juniors, and Sophomores who already have made their mark. Most have already made the trip to Spokane. One has won a state title as a freshman and placed 2nd last season. He's the first on the list.
Kelson Gebbers Kelson Gebbers 6'6" | SF Brewster | 2023 State WA -Brewster-2023-G
Ranking number 13 in Prep hoops WA prospects, the 6'6 Gebbers is a household name in 2B hoops. He won a state title as a freshman who contributed big for Brewster as a starter on that team. He can play inside and out. Shoots it very well from three and is great at creating space with a few dribbles and has a great pull up for a kid his size. He'll get to the rim with his athleticism and is as smooth as they come. A tough match up on the perimeter for any team. He's got division one talent and Brewster will go as he goes.
Tennessee Rainwater Tennessee Rainwater 6'5" | CG Davenport | 2023 State WA -Davenport–2023-6'5-G
An electric athlete. I first saw him at the Showcase in Bellevue. I was sitting beneath the basket as he had a clear path to the hoop. Not really expecting what I saw next. He threw down a monster dunk that was in the wow factor. I didn't see that coming..I said to the guy sitting next to me. Impressive. And he did it more than once. He's built for the next level with size, strength, and athleticism. A slashing guard with that size will make things difficult for opposing teams at the 2B level. The best athlete you will find at that level. Just missed a trip to state last year, he will be motivated to bring Davenport to Spokane next season.
Zach Swanson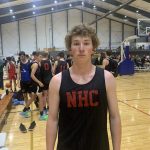 Zach Swanson 6'2" | SG Toutle Lake | 2024 WA -Toutle-G-2025
He might be throwing mid 90's fastballs right now in the 2B baseball playoffs. He's a division one baseball, draft prospect pitcher for Toutle Lake. One of two. He also happens to be a 3-year starter already as a sophomore in hoops.  He put up 25ppg last season and can score from anywhere on the court. He's excellent at taking the defense off the dribble and creating tough shots that he's able to make consistently. He can post up at 6'3 and is a deadly three point shooter. All level scorer, who can drop 30 plus on any given night. Tough, tough player to guard and I have seen it first hand quite a few times. He'll get his. Count on that. Could get to college through hoops or baseball but I believe he has chosen the latter. That doesn't take away fact that he will terrorize opponents in hoops for two more years. Would be a solid player at any level.
Braiden Salme-Adna-2024-PG
The best point guard in the tough Central 2B.  He's excellent at getting himself all the way to the hoop on the dribble drive. Is a more than capable three point shooter. Handles the ball and runs the show for Adna. One of the best small school point guards in the state. And he'll be around for another two years also. A clutch player who carried his team with 31 points in a district match up with Ilwaco last season that included a 30 foot three  at the 3rd quarter buzzer as Adna came back to win that one after being down early. He put the team on his back and scored from inside and out. Coaches kid as is Swanson.
James Grose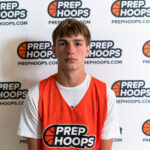 James Grose 6'2" | CG Napavine | 2024 WA -Napavine-2024-G
Another Central 2B Sophomore this year. You could refer to him as buckets. He averaged 20ppg on a state qualifying team. Shooting 45% from three, making 67 of them. But that's not all he can do. He's got a variety of moves to shake defenders and get all the way to the basket as well as a stop and pop jumper. He's long and can really play lock down defense at 6'2 on the perimeter. He's a tough match up for opposing defenses as the 20 a game would tell you. Plays for team Stucky 16 and under AAU. He's started since he was a Freshman and averaged 15ppg that year. Played varsity as an 8th grader also.  He's gotten better every year. And I expect nothing less once again for his Junior and Senior seasons.
Josh Salgueoro-MWP-2023-F
At 6'7 he can muscle his way to the basket with his big frame. Also a good shooter who will knock down the open three. Excellent footwork in the post and very smooth. Soft touch from anywhere on  the floor. He moves well in space and can beat you with a variety of moves in the low post. Offensive rebounds. Tough to handle him without some help defense or double team. He sat out the first portion of last season but contributed immediately upon returning. Averaged around 15ppg and was a standout at the state Tournament in Spokane helping MWP to a 5th place finish.
Quincy Scott Quincy Scott 6'3" | CG Columbia Burbank | 2025 State WA -Columbia Burbank- 2025-G
One of two Freshman standouts on a team that played on Saturday in Spokane also. Does a little of everything. Scorer inside and out. Good size at 6'3. He'll play guard but can play anywhere on the floor. A good athlete who scores at all levels also. Should be getting attention from college coaches already. Big time potential. He'll be a big time player for three more years at Burbank.
Tristan Frimodt Tristan Frimodt 6'2" | SG Columbia Burbank | 2025 State WA -Columbia Burbank-2025-G
MVP of his league as a Freshman. Teammates with Scott on a really talented and young team. He also can score from all levels. Both are around 6'2. That gives him good size as a perimeter player already. Not much he doesn't do. Those two along with returning Senior to be guard Michael Lenke make for matchup nightmares. They like to get out and run and these three are really really good at it.
Jaden Radke Jaden Radke 6'3" | SF Okanogan | 2023 State WA -Okanogan-2023-F
A smooth shooting lefty who can really shoot it. He's got nice size and uses it well to muscle his way to the hoop, get rebounds and be effective from all over the court. Nice moves in the post. Smart player who is mature and doesn't get bothered easily. Another highly ranked 2B team that fell just short of  making to state tournament. Also will be motivated to get there in 2023.
Carson Boesel-Okanogan-2023-G
He's got great size for a point guard at around 6'4. Radke's teammate at Okanogan. These two will be one of the top duos as already written by Ryan Morgan in his top duos article for Prephoops Washington. He sees the floor and is a tough defender using that length causing lots of problems for opposing teams. With his size, he is bigger than most point guards in 2B, and he uses it to his advantage. He can really run and gets where he's going in a hurry. With this duo Okanogan should get that should get that ticket punched to Spokane for the state tournament in 2023.
Beckett Turner Beckett Turner 6'3" | CG Ilwaco | 2024 WA -2024-Ilwaco-F
A multi faceted scorer. At around 6'3 he is good around the basket and knows how to score averaging around 18ppg for an Ilwaco team that lost to Burbank in the regional qualifying game to get to Spokane. He's got a nice looking shot, is hard nosed, and goes after it on the boards. He really competes. Losing his brother Jaden Turner to graduation this year will put even more scoring responsibility on him. He will put up huge games next season and he's also got two more years left to do it.
,