Cade Orness-2024- North Kitsap-6'4-G
It wasn't the points he was putting on the board but the ability to distribute the ball to teammates that I noticed right away. He has great size and length for a point guard, which allows him to see the floor. And he sees all of it very well. It doesn't take long to see that he is a student of the game and coach's kid. One of those players that seemingly is always one step ahead. He handles the ball extremely well, always has his head up looking for teammates. He showed the ability to blow by a defender, getting the ball on the baseline and taking two hard dribbles with a purpose and scoring at the rim. He can cover a lot of ground with just a few steps. He has a nice-looking shot with deep range, and he is wiry but strong enough to get inside and score over bigger defenders. Not much this kid can't do. If he continues to work on being a lights out three point shooter, good luck stopping him. He'll shoot over you, blow by you and finish as he did in the game I watched, all while looking to distribute the ball to the right teammate at the right time. One of those rare players that you watch and think he should do this or that and he's already doing it as you are thinking it. He's already been a two year starter at North Kitsap and won a state title as a Freshman. Losing some big time scorers from last years team will hand more responsibilities to the heady point guard and he will likely step up his scoring in a big way. If you need a bucket, he's the kid you want with the ball. From what I have seen he'll make the right decisions and take it himself or find a wide open teammate after drawing the defense his way. College coaches are sure to be knocking on his door and with two more years of High School basketball, they might come from all levels for this kid.

Alex Elston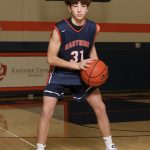 Alex Elston 5'11" | PG Eastside Catholic | 2025 State WA –Eastside Catholic-2025-G
This kid is fun to watch. He's a magician with the ball, and was continuously beating his man off the dribble. He's listed at 5'9″ which didn't matter much to him. His ability to shake his defender was nothing less than relentless. He is shifty, crafty, and can flat out score the basketball. It seemed to be his choice, a few dribbles to shake the defense and get all the way to the bucket, or maybe more impressive was his pull up jumper from midrange. To the right or left it was as picture perfect as I have seen in awhile from a kid that age. He showed it one last time with 9 seconds on the clock. He got the ball at the top of the circle, shifted his way past the defender and made a fifteen foot pull up jumper going to his right that caught nothing but net as time expired. Almost every time he had the ball I found myself wondering what he would do next. Each time he would deliver. Using a variety of between the legs, cross over, and hesitation dribbles to then decide what was his best option going forward. And he was. Always going forward. He's sure to grow a few inches as he's only a Freshman. But if he doesn't, he showed me enough to believe that he will create havoc on opposing defenses no matter his size. Oh, and there was the one time I thought to myself, can this kid knock down threes, as he caught the ball in the corner and caught nothing but the bottom of the net from beyond the three point line.  He did nothing to make you want to believe he was a Freshman as he had no fear and was constantly attacking the defense. He is worth the price of admission.

Carter Williford-Mount Tahoma-2024-G

One word comes to mind watching this kid. Toughness. He has a good base under his 6'2″ frame and is not afraid to bang down low with the big boys. He's a crafty left hander who made some great drives to the hoop. Twice in a row he went by his defender, met another defender in the paint, made a quick spin move and dropped a soft floating shot in the middle of the lane. He has a decent stroke from long range and is a tough guard as he will not hesitate to ball fake and go right around the defense to either finish using his great body control or as he did with the spin move. He's seemingly always the first guy to loose balls, he's a more than willing rebounder for his size and can bring the ball up the floor vs pressure without ever panicking or hurrying himself into a turnover. When I watched him play it wasn't hard to find him since he seemed to be everywhere on the court. His style of play will allow him to be effective in a multitude of ways. Both offensively, and defensively. He wants the ball more than most and will do what he needs to do to get it. This resulted in him grabbing rebounds among much bigger players.  He's confident, and doesn't shy away from what he knows are his strengths. Under control drives, spinning in the lane or finishing. I wouldn't leave him open either. He'll take that too.

Blake Forrest- Mount Si-2024-G

I would be doing everyone a disservice if I didn't mention this kid. I didn't get to watch him much at the Showcase but I had already seen him play. He's flat out electric. He might be the quickest guard in the state. He also plays well beyond his years, and is not afraid of the moment. In fact, he seemingly shines in the bright lights. He was outstanding at the class 4A state tournament. He led Mount Si in scoring in a tough overtime loss to an extremely talented Curtis team in the championship game. He can shoot it from deep, and I mentioned the quickness. That goes for his shooting release too. He gets his shot up quick and is a good three point shooter that will turn into a great one, I have no doubts there. He will blow by the defense and finish with high arching floaters in the key or manage to somehow get his shot off no matter where he is or who he's around. He's definitely crafty, and handles the ball like a true point guard. Quickness. You cannot watch this kid without that word popping into your head. He played a key role on an absolutely loaded Mount Si team and that role will be even bigger next year as they lost a couple key players but return a talented bunch that could be right in the mix to make another appearance in the title game come March. He's also a great defender who often guards much bigger players but does so effectively because of his quickness. He is fun to watch and you can count on him being ready to put on a show. He is right up there with the most talented young point guards to come through the state in the past few years.  I don't know how you keep this kid in front of you if you are game planning for that. Throw a zone at him and you might take your chances elsewhere after he knocks down a few deep threes. He's another one that is undersized with irrelevant written right next to it.
Hudson Floyd-Gonzaga Prep-2025-G
This was another kid who did nothing to show you that he is only a Freshman. He is a sturdy guard who can both finish with his great body control and knock down shots from deep. He plays with confidence, whether it be taking what the defense gives him, finishing on the fast break under control, or showing a nice shooting touch. He was never in a hurry, and is smart player with game sense that you can't teach. He definitely held his own against some quicker, older players and he did it with confidence. After finishing on the fast break on consecutive trips down the floor, followed by knocking down a baseline three, I looked at the roster expecting an upper classmen but found yet another Freshman who I was impressed with. He just doesn't look or play like a Freshman. He should have a bright future for Gonzaga Prep in the years to come.