More than half of the players in our Class of 2023 Top 75 have a high school teammate joining them in the ranks. Most of them lead their respective teams in the 2021-22 season, but some will be looking to grow as duos and step into voids left by departing seniors. Prepping for their final years of high school ball, this is part one of the Top 20 Duos from the 2023 class.
1. (1) Jaylin Stewart Jaylin Stewart 6'7" | SG Garfield | 2023 State #71 Nation WA SG 6'7 / (10) Sherrell McCullum Jr. Sherrell McCullum Jr. 6'6" | PF Garfield | 2023 State WA PF 6'7 | Garfield
Not much needs to be said here. Their combo of size and skill caused matchup problems for nearly every team they faced last season, and now that star point guard Koren Johnson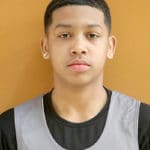 Koren Johnson 6'3" | SG Wasatch Academy | 2022 #83 Nation WA is gone Stewart should handle the ball even more. With his ability to disrupt from the outside and McCullum's strong presence inside, this duo should continue to terrorize defenses at every level. Just imagining a pick and roll with these two is getting me hyped for the season. This duo has elite athleticism that will make scoring inside or in transition tough for opposing teams. With both of them being top ten players in their class, this was a clear no-brainer.
2. (2) Parker Gerrits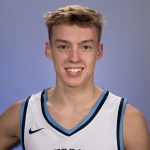 Parker Gerrits 6'2" | PG Olympia | 2023 State WA PG 6'2 / (21) Andreas Engholm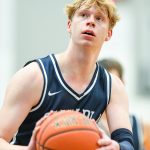 Andreas Engholm 6'8" | PF Olympia | 2023 State WA PF 6'8 | Olympia
Pairing the top-ranked point guard in the state with one of the best big men gives Olympia High School the second-best duo in the class. With Gerrits and Engholm, there is no area on the court that's safe. Engholm is a classic power forward in the paint, but he's got the touch to pick and pop in the mid-range and even step out past the arc on occasion. This plays perfectly into Gerrits' game as a three-level scorer. He has great footwork and handles, leaving defenses hesitating and unsure of which lane to cover. Together, these two have defenses constantly guessing who's going to the hoop and who's spotting up for the jumper. They fell short of a title last season but have to be one of the front-runners coming into their senior year.
3. (3) Brooklyn Hicks Brooklyn Hicks 6'3" | CG Timberline | 2023 State #168 Nation WA CG 6'3 / (22) Miles Gurske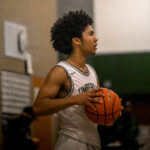 Miles Gurske 6'1" | CG Rainier Beach | 2023 State WA CG 6'0 | Timberline
Possibly the best backcourt in the state, Hicks and Gurske are fast, aggressive, and athletic. They are a great duo because most teams in the state don't have a player quick and skilled enough to stay with them, let alone two. They are both strong finishers at the rim, nearly impossible to stop downhill, and have supreme control that makes their pull-up game just as deadly. The ability to drive and kick, finish through traffic, and knock down free throws, lets them control pace and keep defenses spinning. This style of play will be on full display at Timberline next season as these two look to wear down opponents who can't keep up.
4. (15) Luke Browne Luke Browne 6'6" | SF Gig Harbor | 2023 State WA SF 6'6 / (18) Will Landram Will Landram 6'6" | SF Gig Harbor | 2023 State WA SF 6'6 | Gig Harbor
Normally when you have two guys as tall as Browne and Landram, you don't expect them to be as skilled on the perimeter as these two are. Both Landram and Browne are excellent shooters, spreading the floor and making tough shots look easy. They both make a killing inside as well, but do so in different fashions. Browne relies on strength and positioning inside to rack up the rebounds or dig in deep for shots from the post. Landram relies more on his athleticism and instincts to do his damage. He's a shifty finisher with elite leaping ability, that plays on both ends. They make life tough for opposing teams inside and out. Gig Harbor had a disappointing end to last season but look for this returning duo to set high expectations for this winter.
5. (7) Cayden McDaniel Cayden McDaniel 6'3" | CG Silas | 2023 State WA CG 6'3 / (38) Keon Dewalt Keon Dewalt 6'3" | SF Silas | 2023 State WA SF 6'3 | Silas
This is one of the more intriguing duos on the list. McDaniel was absent last season with injury but had already established himself as a top player in the state his sophomore year. With McDaniel sitting out, Dewalt was able to take on a big role for Silas and had an excellent year as a two-way guy. He's kept that momentum and growth going through the spring, playing with a talented Oregon Prospects team. These two both have great shots from the outside, can handle the rock, and get a little bouncy at the rim. Defensively, they have long reaches, quick, soft hands, and rarely get caught with their hands in the cookie jar. Together, they could set a faster pace for Silas than we saw last season, and lift up the Rams to postseason ball and beyond.