This great event is in the books but now it is time to go back and take a look at the top shooters that I saw at the Indiana Convention Center. I was at the CC on Friday evening and Saturday. There were 17 courts in that venue, so I definitely did not see everybody play. With that being said, I saw many great shooters!

Top 17U Shooters
Anthony Doppler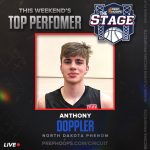 Anthony Doppler 6'4" | SG Bismarck Century | 2023 State ND |6'4 SG| ND Phenom 
He showed extended range on several occasions this past weekend. Doppler shot a hot 38% from three-point range with several of those coming from 24+ feet. In high school ball, he sees a ton of pressure and attention on and off the ball. It was nice to see him get the opportunity to show off his extended shooting range. Anthony also received an offer from UND on Sunday after his excellent performance at The Stage. 
Darik Dissette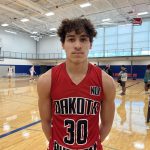 Darik Dissette 6'4" | SG Minot | 2023 State ND |6'4 SG| ND Phenom
He showed a nice ability to stretch the floor this weekend. Darik had a hand full of games where he knocked down multiple 3-pointers. Dissette was a State Champion in the high school season and the State Tourney MVP. He gets hounded every game. It was great to see Darik get good looks this weekend and follow through with makes. His mid-range pull-up game was also super impressive. Darik knocked down many tough jumpers with a hand in his face. 
Jordan Malmlov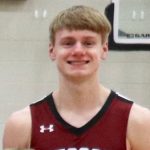 Jordan Malmlov 6'0" | CG Prescott | 2023 State WI |5'11 G| MN Select Mantey
His pull-up game was on point this weekend and he nailed many from deep. I like how quickly he sets his feet and his high shooting release is smooth as silk. He shoots it with a hair-trigger, this kid does not need much time. Malmlov can also spot up for J's, he nailed many perimeter jumpers. Malmlov is an all-around scorer that can go off at any moment. Jordan was selected to the First Team Hard Work Region All-Tournament Team.
Isaiah Habte |6'6 F| MN Heat MacDonald
He shot the ball very well all weekend from the outside. Habte is a tough matchup because he can play inside and float outside to knock down 3-balls. His length and mobility can also cause problems for defenders. Isaiah is not just a shooter. He can facilitate from the middle and set up teammates. Habte will step outside once the defense collapses and hit three-pointers. Isaiah had an overall high-quality weekend. 
Max Shikenjanski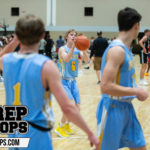 Max Shikenjanski 6'2" | PG Stillwater | 2023 State #282 Nation MN |6'4 G| MN Fury Antl
He was selected to the First Team Hard Work Region All-Tournament Team. He showcased his big-play ability by scoring in the 30's and draining 6 three-pointers in one game. Shikenjanski is a big-time shooter that can take over a game. Max is an uber-talented player that can put on a show and will his team to victory.
Chet Kloss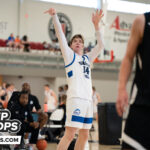 Chet Kloss 6'6" | PF Eastview | 2023 State MN |6'6 F| MN Chill Elite
He had a great weekend shooting the ball from beyond the arc. Kloss was cashing them in from the top of the key in transition. He is a dangerous scoring threat as a "trail 4". I like watching the trail man step into an in-rhythm 3-point shot and make the D pay. Chet also knocked down triples from the pick-n-roll game. He can be dangerous in the catch-n-shoot game. 
Dallas Bear
Dallas Bear 6'8" | SF Cedar Falls | 2023 State #250 Nation IA |6'8 F| Iowa Barnstormers Gold 
He was easily one of the best players in Indy this weekend. Dallas was a First Team All-Tournament player. Bear scored from all over the court. His catch-n-shoot jumper was one of the best at the Convention Center all weekend. Bear has flawless form and he is a 3-point shooting sniper. Bear is currently receiving interest from a large number of schools at a high level, deservedly so. Dallas also received an offer from UND on Sunday. I cant wait to see him again in KC!
Brayson Laube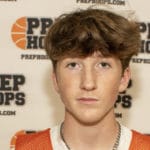 Brayson Laube 6'2" | PG Marion | 2023 State IA |6'2 G| Iowa Barnstormers Gold
This player has to be one of the best shooters in the Midwest. Laube is a deadeye marksman from the perimeter. Brayson was consistent all weekend and he did a nice job scoring the rock for the Barnstormers. Laube can stretch the floor and nail triples from beyond college range. If you like pure shooters, check out Laube at Prep Hoops Live in Kansas City.
Orlando Gonzales |6'0 G| Arizona Select US
He impressed me with knowing how to read the defense, react, and space for open looks. Gonzales is a deadly spot-up shooter that needs little room to get his smooth jumper off. Orlando also looked good off the bounce when pulling up for an in-rhythm shot. I saw him play Friday night, and Gonzales instantly stood out as a serious shooter from deep. 
Camerron Thompson |6'0 G| Texas Takeover Elite Stallworth
This smooth and quick lefty really stood out on Friday night as a shooter. Thompson can pull-up on a dime and stick the J. I thought his timing and flow into his shot were very fluid. Camerron was deadly from 15-feet. He also looked good hitting triples. Thompson showcased an extended shooting range with shots from beyond college range. 
Aidan Chislom |6'5 SF| Wisconsin Academy Slaby/Esters
He was scoring at will on Saturday AM when I watched. Chislom knocked down multiple jumpers with a hand in his face. Aidan is a big threat at getting to the rim, so players often give him a step. This past weekend he was able to take advantage of that extra space when stepping into perimeter shots. He really got going against ND Phenom. Chislom got to the rim early and this opened up space for him to do damage from 3-point land.
Deven Kulp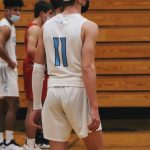 Deven Kulp 6'2" | CG Mcfarland | 2023 WI |6'2 G| Wisconsin Academy Slaby/Esters
He first stuck out to me on Saturday morning with a sweet pull-back crossover jumper from just inside the arc. Kulp is smooth and explosive with a nice handle on his game. Kulp is a 3-point marksman and he is always ready to shoot the ball. He is active without the ball in his hands and hunts his spots on the floor. He continued where he left off at the Rock Spring Classic by shooting the ball at a high percentage at The Stage. Kulp is another smooth scorer that shooting enthusiasts and college scouts in need of a bucket maker will want to see. 
Trey Smith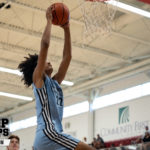 Trey Smith 6'6" | SF Osseo | 2023 State MN |6'7 F| Northstar Titans Stone
He and the Titans went 3-1 in Indy and Smith played a major role in that. This big man can stretch the floor and knock down triples at a consistent rate. Trey drained multiple three-pointers in every game at the Stage. In the last game of the weekend, Smith went 3/3 from beyond the arc and dropped a cool 24 points. Trey's height makes him a tough matchup with the ability to get his shot off over smaller defenders. 
Gavin Pierce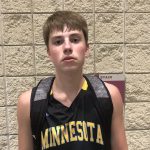 Gavin Pierce 6'4" | SF Prior Lake | 2023 State MN |6-4 G| Northstar Titans Terhaar
The kid from Hopkins had a very productive weekend when shooting from 3-point land. In a game against Team 1848, Pierce was 5-7 from beyond the arc and put up 21 points. Gavin always sets his feet speedy quick and he gets his shot off fast and smooth. Many of his triples came from transition kick-outs by his unselfish teammates. He runs hard, spaces well, and is always ready to shoot. Gavin went 11-20 from deep in Indy, which is a wildly impressive 52% from three!
Luke Jacobson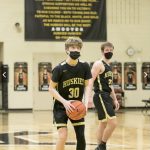 Luke Jacobson 6'1" | SG Cretin-Derham Hall | 2023 State MN |6-1 G| Northstar Titans Terhaar
He went 9-22 from 3-point land on the weekend which is a very nice 41%. Jacobson did his shooting damage with pull-up triples in transition. He also did a nice job of knowing when to pull-up for shots when teams packed their defense inside the arc. Luke is a playmaker that always strives to get the best possible shot for his team. Jacobson is a sleeper that people need to check out. In high school ball, he played behind two scholarship-level players, so his name is still under the radar. Get eyes on Jacobson in KC!