The Indianapolis Convention Center is center Stage in the 17U world this weekend and the action was hot on Friday night.  Here are the headliners.
Anquan Boldin is Another Level of Athlete
Court 7 was packed with onlookers on Friday night.  Coaches, players, parents, and casual observers alike looked around with the "what is everybody watching" kind of gaze, and then 6'5 Anquan Boldin hit the open floor for a finish and everybody then knew why everybody was watching.  And they stayed to watch Anquan finish in explosive ways again, and again, and again.  It was a 32 point total on 11 of 15 shooting from the field (one three made) and 9 of 11 shooting from the foul line.  
In the front row sat Anquan Boldin Sr, the former NFL standout that played 14 years with the Arizona Cardinals, Baltimore Ravens, and San Francisco 49ers of the NFL.   The 6'5 athlete on the floor is Boldin Sr's son and the wing from IMG Academy surely made his father proud while entertaining a crowd of people. 
So what type of player is Anquan?  The type of athlete that your help defenders need to be an extra step towards or it's too late because Boldin can take off to the basket from far beyond a normal standout's lift area.  Boldin is the type of player that your transition defense has to fight back to our the guards will push and find him in transition for another highlight. And Boldin is the type of active cutter in the offense that can beat the defensive rotations with a cut and complete, or a lob over the top.  
Coaches, if you need an explosive finishing wing athlete, Ball 4 Lyfe has one for you.  
Abdur-Razaaq Continues to Emerge
We live in a different world right now when it comes to recruiting.  College programs are currently focused on entertaining the transfers they have on campus limiting the opportunities for high school players.  That said, some talents will still break through and I think Marzouq Abdur-Razaaq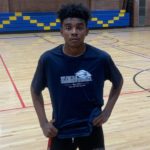 Marzouq Abdur-Razaaq 6'7" | SF Overland | 2023 State #297 Nation CO will have/should have the opportunity to be one of those players.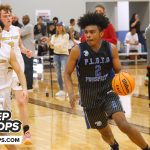 Abdur-Razaaq is a 6'6 wing from the PLUTO Prospects and Overland High School in Colorado.  Marzouq has the skilled tools to be a perimeter player as he continues to beat every type of higher level high school athlete to the rim.  But at 6'6 Marzouq also plays with strength attacking the basket and rebounding at a higher rate (grabbed nine rebounds against a really big Arizona Select team of unsigned seniors).  
Marzouq was at Butler for an unofficial visit this week.  He had a pair of Colorado State coaches in the crowd Friday night including Head Coach Niko Medved looking on.  Marzouq opened the weekend scoring 21 points scoring on half of his 14 shot attempts including two threes.  There is a controlled explosion to the Abdur-Razaaq attack that I think separates him because he has the physical ability to beat people to spots but does it in a controlled, skilled way. 
Isaiah Hagen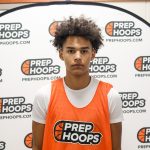 Isaiah Hagen 6'3" | PG Orono | 2023 State MN : Moving Up!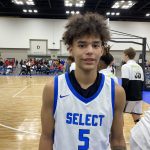 When it comes to Minnesota 2023s that I believe are about to raise their stock to an even higher level, Isaiah Hagen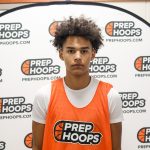 Isaiah Hagen 6'3" | PG Orono | 2023 State MN is at the top of that list.  Hagen is a 6'3 guard that can run the point or be your shooting guard scorer.  He's coming off a 20 point per game season where he led Orono to a better year than most expected.  
Last year Hagen emerged as a bigger scoring guard with the size and agility that made him a a potential prospect.  What we are seeing now is an efficient, confident guard scoring in high percentage ways while his teams continue to play better than expected.  Scholarship talent?  100 percent, even in today's college basketball landscape of wanting veteran players through the transfer portal.  
Handle?  Solid.  Jumper?  Mid-range excellent, range is solid.  Playmaking ability?  Pretty high level.  Efficiency?  Building and building so his teams are winning and winning. 
The Stage Prospect Notes
2023

Myles Adams

Myles

Adams

6'6" | SF

Eastview | 2023

State

MN

of Eastview HS/Minnesota Select is an athletic 6'5 wing prospect.  Select knocked of NEBC in the opener and it was the 17 points and five boards from Adams that added in to a balanced effort. 
2024

Alijah Adem

Alijah

Adem

6'2" | PG

Spring Valley | 2024

State

NV

and Chosen Few picked up an extra game to prepare for the weekend, and Adem played like the star he is producing 29 points, 11 assists, and six rebounds defeating Griffin Elite. 

Adonis Lafluer

Adonis

Lafluer

6'2" | CG

Cesar Chavez | 2024

State

AZ

added 19 – another 2024 – as Chosen Few continues to win games on the Prep Hoops Circuit at an elite level.  Adem was the Las Vegas Player of the Year this year as a sophomore. 

Damani Barley

Damani

Barley

6'5" | PG

Rochester East | 2023

State

#

142

Nation

NY

of NEBC hit double figures against Minnesota Select and he did it with one of the nastiest dribble separation attacks we've seen this spring.  Barley not only found space, he cleared his man out of the way with crossovers and quick attacks in a way that was about as effective as a two hand shove!  The sharpness of his attack off the move really caught the eye. 

Kadyn Betts

Kadyn

Betts

6'8" | PF

Pueblo Central | 2023

#

87

Nation

WV

looks like an elite rebounder.  At 6'9 active and aggressive, Betts had another double figure rebounding game for PLUTO only this time he did it against a huge team.  Betts simply worked harder than the others to be that rebounding force.  Kadyn is a special talent because he combines this with skill for productivity, but in the grind of a game his rebounding looks to be an elite factor. 
6'6, 200 pound forward Isaiah Deitz of Playmakers North/Chequamegon High School in Wisconsin had a double-double in the last game and it was the quick, aggressive bounce that caught my attention.  Deitz bounced off the floor to splatter two blocks off the glass and his double figure scoring numbers including a transition lob dunk that opened a lot of eyes.  More explosive forward than I expected to see. 
2024

Dominic Fairbanks

Dominic

Fairbanks

5'10" | PG

Cass Lake-Bena | 2024

State

MN

is playing up a grade with the Playmakers North 17u team and doing it at a high level.  The Cass Lake-Bena guard opened the second contest hitting six threes in the first half scoring 24 points, but I was actually more encouraged by his ability to pass the basketball in different situations.  The young man can shoot but we are seeing him become a really nice point guard with balance. 
The undefeated spring continues for the PLUTO Prospects who got a game winner from

Gavin Hershberger

Gavin

Hershberger

5'10"

Rock Canyon | 2023

CO

in transition after Gavin and his teammates forced a turnover with their pressure.  It was a 61-60 win over Arizona Select. 
The hottest shooter in the gym Friday night?  That may have been

Michael Kastelic

Michael

Kastelic

6'1" | PG

Duluth East | 2023

State

MN

of Playmakers North (a 2023 from Duluth East).  The Playmakers North picked up an extra game meaning they went 2-0 for the evening.  Kastelic hit NINE threes and scored 33 points in their opener. 
6-foot-3 point guard

Kyle McNeal

Kyle

McNeal

6'1" | PG

Dwyer | 2023

State

FL

of Ball 4 Lyfe led one of the more entertaining and ferocious transition attacks changing their game with DMV Stags completely around.   McNeal slashed at the DMV Stags for 16 points. His first step was the edge he used to be the defender and McNeal has the lift to finish leading to a high percentage opening game. 
A matured basketball player is what college coaches are looking for.  They should look hard at

Jason Parent

Jason

Parent

6'5" | SF

Prescott | 2022

State

AZ

out of Prescott High School in Arizona.  He will be a 2022 high school graduate but he looks to be as matured a player as some of the freshmen in college that schools are going to look at.  Parent is a strong, 190 pound 6'4 with a matured game.  He should the ability of where to be on the floor and how to attack a defense using timing and leverage.  Scored 20 shooting efficiently and he's coming off a 26.5 point, 8.5 rebound per game senior year where he shot nearly 50 percent form the field.