Spring is here and that can only mean one thing. It's Circuit Season! The Prephoops Circuit is upon us. I will be covering and providing exposure for the Hustle Region Circuit. The Hustle Region Circuit consists of AAU Programs from California, Oregon, Washington, Arizona, Utah, Montana, Idaho, Colorado, and New Mexico. The circuit features 10 stops including the Hustle Region Final in Irvine July 15th – 17th. Stop number 2 took place in Denver, Colorado with the Spring Kick-Off. The event featured nearly 100 programs ranging from age 15U – to 17U. The event also featured several players with the ability to go and get a basket. In this article, we take a look at the top bucket getters from the event. 
Andrew Clyburn 5'11 CG IE FIre 2025 – Reviewing the box scores and notes from Circuit stop #1 Clyburn stood out to me. He wasn't spectacular, but he was consistent. This weekend he was spectacular. The combo showed that he can score from multiple levels, he was good going to the rack and showed the ability to knock down the three-ball. He started off the weekend with 18 before exploding for a 32 point outburst on Sunday. 
Hunter Guiles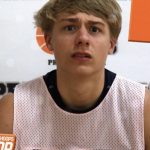 Hunter Guiles 6'1" | CG Valor Christian | 2023 State CO 6'0 SG Hardwood Evolution 2023 – Guiles was not shy about getting them up, but that's why I liked him. He had a next play mentality when it came to shooting the ball, never allowing a miss to deter his next shot. He was able to bury threes, preferring to knock them down from the top of the key. He displayed some shiftiness as well, getting by guys off the bounce and getting to the hole. 
Jamar Mitchell 6'5 SF NOCO Elite 2023 – I checked the box scores after a game to find out that Mitchell was one of his team's leading scorers. Then I saw how he was scoring. The hybrid forward showed off some nice 1 v 1 moves, freeing himself from defenders with step-backs and quick CODs. His ability to separate and score was big time this weekend, earning him a spot on the list. 
Colin Henderson 6'4 SF Mile High Magic 2023 – Henderson was a bucket getter that showed a combination of good size and skill. He was effective around the bucket finishing layups and put-backs, however, he wasn't limited to the paint as he showed the ability to knock down threes in catch and shoot action. 
Gavin Dale 5'10 SG Prolific Elite 2025 – I saw Dale compete in a game against Rocky Mountain that featured a ton of talented young players. Dale stood out because of his ability to create for himself and knock down shots. Every time his squad needed it the 2025 shooting guard seemed to knock down a 3. He made 4 of them in the game I watched, finishing with 17pts. 
Evan Mckean 6'0 CG Elevation Flyers 2025 (featured image) – Mckean has a lot of skills however his best one might have been his ability to get buckets. He played with a combination of smoothness and toughness, getting to the rim and drawing contact. Mckean finished several plays simply by making two free throws. He got the Flyers off and running on the weekend, putting together a 21 point opening game, including icing the contest with four consecutive free throws late. 
Mike Karnisovas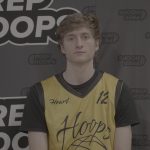 Mike Karnisovas 6'7" | SF ThunderRidge | 2022 State CO 6'7 PF Hoops Academy 2022 (#77PHC) – I didn't get to see as much of Karnisovas as I would have liked to, however, I can't ignore his production. One of the top unsigned seniors in attendance, he was a big bucket getter all weekend, showing the ability to score around the basket. He put up 21 in the game I watched.