The Prep Hoops Circuit rolled on this past weekend at the Easter Classic in Fort Worth. Nineteen teams competed in the 16U division, and I had the opportunity to see each of them at least once. There was a lot of talent in the building. So, I will be highlighting standout prospects from the event throughout the week.
To kick things off, let's take a look at my sections for the 16U All-Tournament Teams: 
First Team
Jeremiah Lewis | 2024 | Combo Guard | HP Ballers 2024 | Ponchatoula HS – Lewis was the most consistent scorer I saw this weekend. He was a double-digit scorer in both of the games I saw him in, highlighted by a 32-point outing in his opening game of the event. The Ponchatoula guard got it done from all three levels, knocking down jumpers off the bounce and when spotting up. He was great when attacking off the dribble as well, showing a quick first step and the ability to hang in the air for what seemed like forever to finish with some acrobatics. Additionally, he chipped in on the defensive end. 
Cam Mennsfield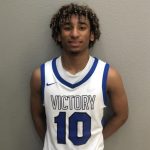 Cam Mennsfield 5'8" | PG Hebron | 2024 TX | 2024 | 5'8'' Point Guard | Victory Academy 2024 Gold | Hebron HS – Mennsfield was absolutely brilliant when I saw him on Sunday, willing his team to a victory in a closely contested matchup. He possesses a limitless motor and flies around at both ends of the floor. The Hebron floor general is a terrific facilitator with good vision, a capable shooter from deep, and understands how to finish against size. He is also an outstanding defender, frustrating opposing ball handlers all game with his active hands and lateral quickness. This is one of those players who always seems to come up with a play when his team needs it. He was electric. 
Trey Morgan | 2023 | 6'1'' Shooting Guard | JEB Elite 2024 | Edmond Santa Fe HS – Morgan made noise in all of his games with his slashing. He is a downhill player who is relentless when it comes to attacking the basket, resulting in tough-nosed layups or trips to the foul line. He displayed excellent body control and consistently finished through contact. The 2023 two-guard is crafty when he gets to the rim and exhibits terrific body control, weaving his way through traffic and going right at any defender in front of him. 
Hays Regard Hays Regard 6'3" | SG St. Thomas More | 2024 State LA | 2024 | 6'3'' Combo Guard | Xtreme Hoops 2024 | St. Thomas More HS – As is often the case, Regard had to play in the post a lot due to the fact he was one of the bigger players on his team. However, it allowed him to show off his versatility. His high basketball IQ was evident as he continuously made the right play. The St. Thomas More combo guard was a willing distributor who made great passes in a variety of situations. He also displayed a smooth and consistent jumper from behind the arc, as well as the ability to score in the paint with strength. 
Dominick Harris | 2024 | 5'11'' Combo Guard | Team Devoted 2024 | Flower Mound Marcus HS – Harris was a sniper in both of the matchups I saw him in. He can pour it in from deep, accounting for numerous triples every time he stepped on the court. The 2024 prospect possesses deep range and is confident from any spot around the arc, both from the catch and off the bounce. Beyond that, he displayed some clutch shooting as well, knocking down back-to-back threes in the closing minute of his final contest. The first tied the game and the second ended up being the game-winner. He helped lead his team to an undefeated record in pool play. It's hand down man down with this kid. 
Second Team 
Kasen Hastings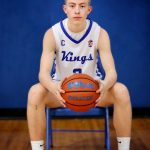 Kasen Hastings 6'0" | PG Krum | 2024 TX | 2024 | 6'0'' Point Guard | DC Kings Denton 2024 | Krum HS 
Royal Watson Jr | 2025 | 5'11'' Point Guard | Mansfield Power Elite 2024 | Cedar Hill HS 
Gage Nuckolls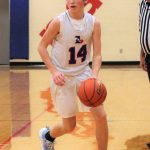 Gage Nuckolls 6'0" | CG Bullard | 2026 TX | 2026 | 6'0'' Combo Guard | Belief Basketball SharpShooters 2024 | Bullard Middle School 
DeMichael Chew | 2024 | 6'3'' Shooting Guard | Cenla Storm 2024 | Peabody Magnet HS 
Terry Allen | 2024 | 6'1'' Combo Guard | Tarrant Elite 2024 | North Crowley HS
Third Team
Jensen Knowles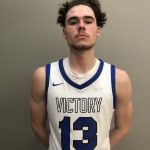 Jensen Knowles 6'3" | SG Richardson | 2024 State TX | 2024 | 6'3'' Shooting Guard | Victory Academy 2024 Gold | Richardson HS 
Ahmad Abualneel | 2024 | 6'4'' Shooting Guard | Hard Hoops 2024 | Plano East HS
Daniel Jacobsen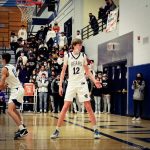 Daniel Jacobsen 7'0" | C La Cueva | 2024 State NM | 2024 | 6'11'' Power Forward/Center | New Mexico D1 2024 | La Cueva HS
Brandon Beard | 2024 | 6'3'' Power Forward | Victory Academy 2024 Blue | Allen HS 
Jordan Mathews Jordan Mathews 6'5" | SF Peabody | 2024 State LA | 2024 | 6'5'' Power Forward | Cenla Storm 2024 | Peabody Magnet HS