FALLS CHURCH, VA — Marshall High School played host to the annual 17u NOVA Cavaliers Scrimmage. Here we unload our notebook of observations from this contest. 
17u Sawitzky
Stephen Kennedy | Flint Hill '23
Kennedy demonstrated good ball control by keeping his dribble alive. He also was very active defensively. Kennedy recorded three steals and two deflections. 
Donovan Bass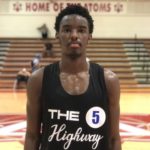 Donovan Bass 6'0" | PG Hayfield | 2023 State VA -Briscoe | West Potomac '23
Bass was the leading scorer during the 6 quarter scrimmage. He scored 23 points in a variety of ways. Like most of his teammates, Bass was very active defensively as well. He had 4 deflections and blocked a shot. 
Owen Lathrop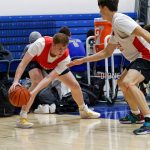 Owen Lathrop 6'2" | SG WT Woodson | 2023 VA | St. Stephen's & St. Agnes '23
Lathrop has improved significantly since the start of the high school season. He had a strong all-around showing last night. Lathrop recorded 10 points, 4 rebounds, 4 assists, 6 steals, and a deflection. He also communicated well with his team. 
Alex Rothman | Marshall '23
Rothman was efficient with the ball throughout the scrimmage. He had 4 assists without committing a turnover. Rothman also helped out on the boards and played solid team defense. 
Jack Kaminski | Madison '23
Kaminski was probably the breakout performer of this event. He recorded 8 assists, more than any other player, and did not commit a turnover. Kaminski also grabbed 5 boards and scored 10 points. 
Jayson White | Christ Chapel '23
White is a newcomer to the team who is fitting in nicely. He rebounded his position and shared the ball with others. White was a menace defensively. He recorded 4 deflections and 2 steals. White also showed his explosiveness in transition with a breakaway dunk that was ultimately called off.
David King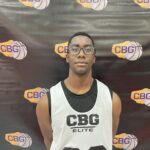 David King 6'3" | PF Hayfield | 2023 State VA | Hayfield '23
King was an enforcer in the paint area. He played extremely hard from start to finish and produced like we expected him to. Did we mention that King shot 6 for 6 from the field? 
Mike Meares | West Potomac '23
Meares showed intriguing potential as a stretch forward by draining 3 of 4 attempts from behind the arc. He also had a couple of blocks and deflections to go along with 4 rebounds. Meares was also 2 of 2 from inside the arc. He made his only free throw attempt which came as a result of a 4-point play.
Max Warrell | McLean '23
Warrell emerged on our radar last summer and is progressing nicely. He showcased good footwork in the post and was strong with the ball in traffic. 
17u Smerdzinski
Will Giery | Madison '22
Giery was perhaps the most dangerous shooter in the gym. He drained 3 of 8 attempts from three. Pretty much every time he shot the ball, it looked like it was going in. Giery used shot fakes to attack closeouts and get to the mid-range as well. He also competed defensively, recording 2 steals and 2 deflections. 
Cam Jones | Marshall '23
Jones is a 6-foot-4 lefty with some versatility. He hit a three but was also 2 of 2 from inside the arc. Jones made plays defensively. He recorded 2 deflections and 1 steal. 
Sam Biddick | Madison '23
Biddick made multiple hustle plays during the scrimmage. He had a floor dive, 3 steals, and 2 deflections. Biddick also fought hard on the glass and got others open shots. 
Darren Knicely | Madison '24
Knicely led his team with 6 rebounds, an impressive feat considering he is one of the younger players on the squad. He also had 6 points and 3 assists. 
Daniel Fimbres | McLean '23
Fimbres manufactured offense with relative ease. He thrived in the mid-range areas, but also connected on 2 of 3 attempts from downtown. Fimbres recorded 14 points, 3 rebounds, 2 steals, and 3 deflections.