Which prospects helped their stock the most in the 17U Division from Prep Hoops Madness in the Midwest? 
Miles Barnstable Miles Barnstable 6'1" | SG Howards Grove | 2022 State WI – 2022 – G – Chapman North
Barnstable led CBA North in scoring in all four games and scored 20 or more points in three of four contests. A skilled and crafty guard, Barnstable has some good pop and creativity on the ball. He was very effective at sizing guys up or making things happen in the pick n' roll. Looked like he was equally comfortable on and off the ball. Liked the shot selection for the most part. If Barnstable had made a couple in a row, he kept his foot on the gas. When he hit a rough patch, Barnstable dialed it back and worked to get something easy and get himself going again.
Dominic Croci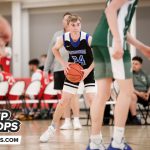 Dominic Croci 6'1" | SG Hurley | 2023 WI – 2023 – SG – Playmakers Showcase Wausau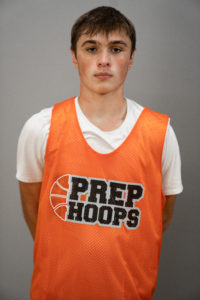 Croci had a couple of huge games over the weekend, including a 25-point effort against Great Northern Elite. The 6-foot-1 junior is a lanky prospect who can shoot on the move. Not going to blow you away athletically, but makes timely, smart cuts off the ball when he knows his defender needs to help. If defenders go under a screen against him, he's going to look to shoot it.
Brady Ingersoll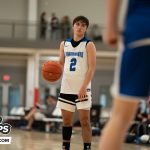 Brady Ingersoll 5'10" | PG Ladysmith | 2023 State WI – 2023 – G – Wisconsin Playmakers Bartig
Ingersoll is a shotmaking guard who can light it up. He's a tweener as a 5-foot-11 shooting guard, but makes up for it with extended range. Ingersoll  gets defenders to back off with a jab step, waits for them to drop a hand, and then lets it fly. Ingersoll has playmaking ability too. Really like his vision and feel when things break down. Ingersoll can probe and thread the needle with the pass.
A.C. Strok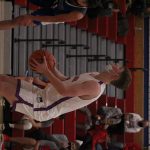 A.C. Strok 6'4" | SG New Glarus | 2023 State WI – 2023 –  SG – Wisconsin Academy
Caught Strok during his 23-point performance against Playmakers South. The New Glarus product had a couple of other nice performances as well and was pretty much in double figures the entire weekend. Always liked that Strok doesn't need to be ball dominant to produce. Whether it's cutting into the high post/soft spots in the defense or sneaking in on the offensive glass, Strok isn't a "me" scorer that takes a lot of dribbles. When he does put it on the deck and attack, Stroke is a confident pull-up shooter going both left or right. Good positional size here as well at 6-foot-4.
A.J. Uttech A.J. Uttech 6'2" | PG Columbus | 2023 State WI – 2023 – PG – Wisconsin Academy
Aggressive, skilled, downhill guard that's always in attack mode. Saw him more as a driver in some fall league action, but Uttech appears more confident in his jumper, which is only going to set up his dribble drives even more. Like the build on this prospect as well. Uttech is 6-foot-2 with some good muscle. He's able to play quick and low to the ground as well.
Riley Yonker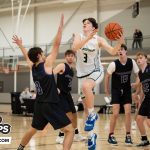 Riley Yonker 6'2" | SG Menasha | 2023 State WI – 2023 – SG – All-Wisconsin
A new name that jumped onto the radar, Yonker had a couple of double figure scoring efforts over the weekend. Really does a nice job of pushing the tempo and constantly looking to apply pressure on the defense, testing their help and recover principles. Thought a lot of the offense All-Wisconsin got started with Yonker initiating an attack, even if it wasn't him finishing off the bucket himself. Yonker rebounds well for his position too. He's always in the thick of things on the defensive glass will occasionally sneak in for some second-chance opportunities on the offensive end as well.