FIRST TEAM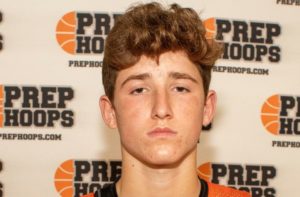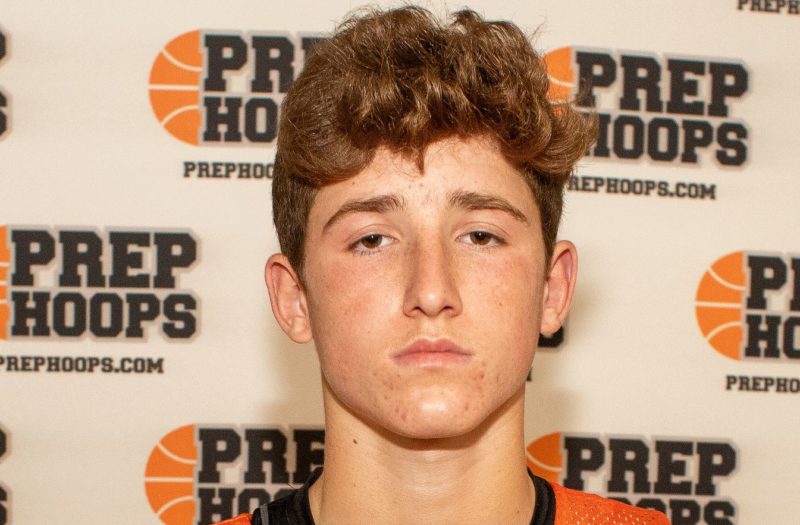 Player of the Year: Owen Larson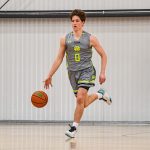 Owen Larson 6'1" | PG Estherville Lincoln Central | 2024 State IA (Estherville Lincoln Central)
Stats: 22.1 points, 5.6 rebounds, 5.1 assists, 2.5 steals, 51.1 FG%, 43.1 3P%, 81.2 FT%
Larson followed up a really good freshman season by exploding as a sophomore, leading all sophomores in scoring and leading the Midgets towards the top of the 2A rankings early in the year. A high IQ guard who scores efficiently from all three levels, he's equally adept at creating his own shot and scoring or getting others involved at a high clip.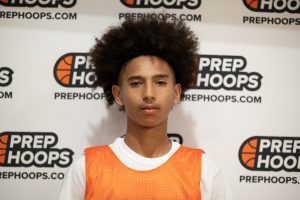 Trovary Cavil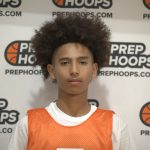 Trovary Cavil 5'11" | PG Des Moines Lincoln | 2024 State IA (Des Moines Lincoln)
Stats: 17.1 points, 3.2 rebounds, 5.2 assists, 1.5 steals, 43.4 FG%, 30.4 3P%, 77.8 FT%
One of the most dynamic playmaking guards in the state regardless of class, Cavil is an excellent ball-handler who has really improved as a decision-maker and become a more efficient scorer. As he continues to mature physically, he'll become one of the most dominant offensive players in the state.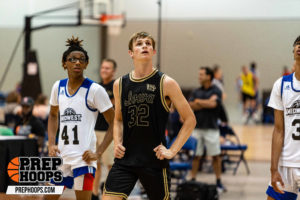 Caden Wilkins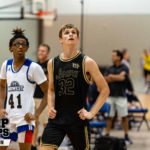 Caden Wilkins 6'6" | SG Bettendorf | 2024 State IA (Bettendorf)
Stats: 16.1 points, 5.8 rebounds, 2.2 assists, 45.8 FG%, 33.0 3P%, 71.3 FT%
The top-ranked player in the class, Wilkins is a big, physical wing who can score from all three levels at 6-6. He has garnered interest from a slew of Power 5 programs around the Midwest and looks primed to have a massive summer with the Iowa Barnstormers, showcasing his two-way talents.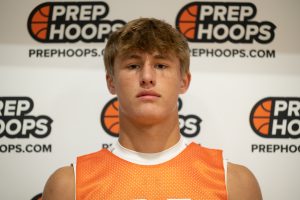 Derek Weisskopf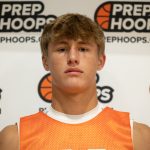 Derek Weisskopf 6'3" | SG Williamsburg | 2024 State IA (Williamsburg)
Stats: 15.3 points, 6.6 rebounds, 2.1 assists, 1.7 steals, 55.6 FG%, 42.4 3P%, 72.8 FT%
A hyper-athletic 6-4 wing who is drawing a lot of football interest from Power 5 schools, Weisskopf uses his powerful frame to score from all three levels with efficiency. He's a good defender and rebounder and has a good feel for the game, knowing when he needs to take over as a scorer. Williamsburg was one of the best teams in 2A this season, and Weisskopf was the biggest reason why.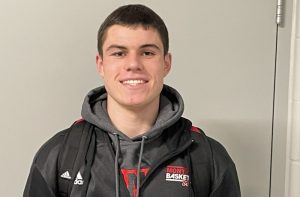 Preston Ries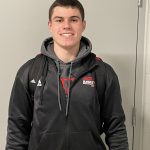 Preston Ries 6'1" | SF Monticello | 2024 State IA (Monticello)
Stats: 18.1 points, 7.0 rebounds, 1.5 assists, 1.4 steals, 47.3 FG%, 77.4 FT%
Another player garnering a lot of Power 5 interest on the gridiron, Ries is similar to Weisskopf in that they are both powerful athletes who can bully their way to the rim, rebound, and stretch the floor. Ries is a bouncy athlete who can finish above the rim at a high level on the break, and he loves to attack the offensive glass. 
SECOND TEAM
Jack Cooley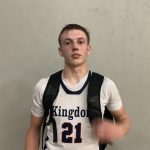 Jack Cooley 6'5" | PF Clarke | 2024 State IA (Clarke)
Stats: 20.2 points, 7.9 rebounds, 4.9 assists, 2.1 steals, 1.9 blocks, 50.4 FG%, 31.2 3P%, 74.7 FT%
Cooley was second in the class in scoring this season and showed his ability to impact the game on both ends of the floor, averaging 4.0 "stocks" a game while also dishing out nearly 5 assists. He helped lead Clarke to their best season in a long time with his ability to score from anywhere. 
Cam Buffington Cam Buffington 6'2" | PF Winfield-Mt. Union | 2024 State IA (Winfield-Mt. Union)
Stats: 19.0 points, 10.2 rebounds, 2.8 assists, 2.2 steals, 1.2 blocks, 62.9 FG%, 45.5 3P%, 55.4 FT%
The 2024 class figures to be a pretty good class on the hardwood, but it appears to be shaping up to be an excellent one on the gridiron as well. Buffington has already committed to play his football at Iowa, and he was a dominant force for the Wolves this season, averaging a double-double and showing that he can be a fantastic basketball player as well. 
Grady Jeppesen Grady Jeppesen 6'0" | SG Riverside | 2024 State IA (Riverside)
Stats: 18.9 points, 3.6 rebounds, 2.4 assists, 2.7 steals, 42.7 FG%, 32.9 3P%, 75.7 FT%
One of the state's top scoring threats, Jeppesen is capable of dropping 30+ on any given night for the Bulldogs with his ability to get hot from deep or break down a defense and get to the bucket. 
Brooks Moore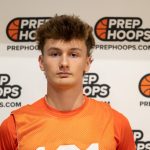 Brooks Moore 6'5" | SF Eddyville-Blakesburg-Fremont | 2024 State IA (Eddyville-Blakesburg-Fremont)
Stats: 16.8 points, 3.3 rebounds, 2.8 assists, 2.2 steals, 50.7 FG%, 74.4 FT%
An athletic wing who can impact the game with his size, length, and explosive burst, Moore led the Rockets in scoring and showed that he can also make plays for others. He's a terror on the break who looks to dunk everything.
Jonovan Wilkinson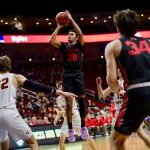 Jonovan Wilkinson 6'2" | SF Roland-Story | 2024 State IA (Roland-Story)
Stats: 14.2 points, 6.5 rebounds, 3.4 assists, 1.6 steals, 49.6 FG%, 33.9 3P%, 79.2 FT%
One of the better all-around players in the class, Wilkinson is a good athlete who stuffs the stat sheet. He's equally content scoring or getting others involved, crashing the glass, and playing strong on-ball defense against the opposition's best perimeter option. 
THIRD TEAM
Cole Marsh Cole Marsh 6'5" | SG Waverly-Shell Rock | 2024 State IA (Waverly-Shell Rock)
Stats: 14.4 points, 4.7 rebounds, 2.0 assists, 43.9 FG%, 30.7 3P%, 85.7 FT%
Jack Miller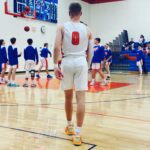 Jack Miller 6'0" | PG Jesup | 2024 State IA (Jesup)
Stats: 14.9 points, 3.4 rebounds, 3.0 assists, 2.1 steals, 46.3 FG%, 38.5 3P%, 71.7 FT%
Jesse Van Kalsbeek Jesse Van Kalsbeek 6'0" | SG MOC-Floyd Valley | 2024 State IA (MOC-Floyd Valley)
Stats: 16.2 points, 5.6 rebounds, 2.4 assists, 1.5 steals, 56.5 FG%, 38.1 3P%, 79.5 FT%
Matthew Noll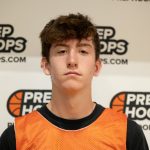 Matthew Noll 6'7" | PF Bishop Heelan | 2024 State IA (Heelan)
Stats: 14.0 points, 8.1 rebounds, 2.1 assists, 1.1 steals, 45.1 FG%, 36.4 3P%, 71.8 FT%
Tyron Wright Tyron Wright 6'6" | PF Des Moines East | 2024 State IA (Des Moines East)
Stats: 13.7 points, 12.7 rebounds, 1.1 assists, 54.9 FG%, 43.1 FT%
FOURTH TEAM
Gavin Thomas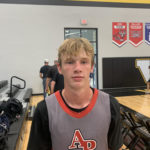 Gavin Thomas 6'0" | SG Aplington-Parkersburg | 2024 State IA (Aplington-Parkersburg)
Joseph Bean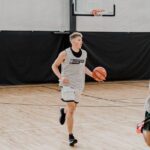 Joseph Bean 6'3" | PG Xavier | 2024 State IA (Xavier)
Redek Born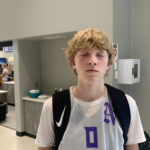 Redek Born 6'3" | PG Norwalk | 2024 State IA (Norwalk)
Kyle Lamonte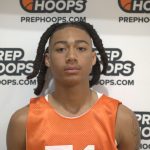 Kyle Lamonte 6'3" | SF Davenport North | 2024 State IA (Davenport North)
Holden Arnaman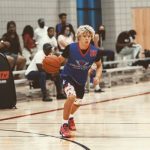 Holden Arnaman 6'2" | PG West Branch | 2024 State IA (West Branch)
Honorable mentions: Drew Wagner Drew Wagner 6'3" | PF Waterloo Christian | 2024 State IA (Waterloo Christian); Lucas Frohwein (Colo-Nesco); Mason Smith (Chariton); Camden Davis (Hudson); Max DeVries Max DeVries 6'2" | SG Red Oak | 2024 State IA (Red Oak); Drew Denekas Drew Denekas 6'2" | PF George-Little Rock | 2024 State IA (George-Little Rock); Eli Schmidt (Clarksville); Cole Arnold Cole Arnold 6'3" | SF Lewis Central | 2024 State IA (Lewis Central); Colton Rasmussen Colton Rasmussen 6'3" | SF Atlantic | 2024 State IA (Atlantic); Scott Harr Scott Harr 6'4" | C Hampton-Dumont | 2024 State IA (Hampton-Dumont-CAL); Brady Martin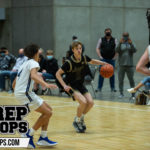 Brady Martin 6'0" | PG West Burlington | 2024 State IA (West Burlington); Ja'Vion Bell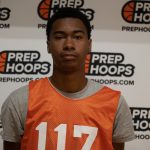 Ja'Vion Bell 6'4" | PF Des Moines Lincoln | 2024 State IA (Des Moines Lincoln)