The Circuit kicked things off in Seal Beach, CA last weekend for the Hustle Region Kick Off. I mainly focused on the 16U division. 
I did get around and see some 17U standouts and here are the players who shined: 
Jeremiah Calhoun PG 6'2 2022 JW North/CA (Team Eleate 2023) (Pictured) 
The top 17U point guard at the event had some incredible showings. His whips the ball around the court with pinpoint passes and he can score from all levels. His deep ball was clicking in his second showing, making four 3's straight and getting to the rim with bursts, hesis and showing off his body control. He has the floater, pull-up from mid and of course the 3. He has a good strength and athleticism and will defend on the ball. His court vision to go along with his build and shooting set him a part from many. 
Ringo Aguek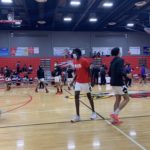 Ringo Aguek 6'7" | SF Ironwood | 2022 State AZ Ironwood (TMP Elite)
A long 6'7 wing forward had a good weekend. He has been battling injuries the past year or so and he fortunately looked like it is behind him now. He was moving well from end to end and showed off some vertical pop. He can handle the ball well for his size, hit the three, rebound the ball at a good clip and push the pace.  
Caleb Tinker C 6'9 2022 ML King/CA (Team Eleate 2023)
Mr. Fundamental of the event has all the tools in his repertoire with advanced post footwork. He can score it efficiently with either hand and is shockingly almost better with his left hand. Up and unders, counter moves and a soft touch around the rim is the norm for him. He will rebound and block shots in his area. 
Dalton Runyon PG 6'2 2023 Rancho Bernardo/CA (D1 Southern California 2023)
A strong framed scoring PG can thread the needle, pass the ball up the court, he can split defenders and then drive and kick it to a shooter. He also was a top notch defender on the ball using his lateral quickness and strong upper body strength to keep defenders in front of him. He can hit the three and get to the basket.  
Dalton Norvell SG/CG 6'2 2023 Ramona/CA (Coastal Elite 2023) 
A sturdy framed guard played some one and two for his team. He can hit the three with success, plus put his head down and get to the basket with his left or right hand and score through contact. He makes smart reads with the ball. I wouldn't say he is a PG, but he can be that secondary decision maker and an obvious scorer. He has deceptively quick hands on defense and plays from the neck up.  
Xavier Ogle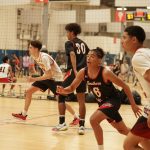 Xavier Ogle 5'8" | PG Rancho Bernardo | 2023 State CG 5'9 2023 Rancho Bernardo/CA (D1 Southern California 2023)
An undersized guard is a natural scorer. He has good upper body strength and understands how to change speeds to get his defenders off balanced and gain a step on them to get to the paint to score. He is crafty and will score on euros and tough contested shots. He gets hot from the perimeter and will rattle them off from the 3pt line. He can make plays for others as well with smart decisions and passes.    
Wilford Dawson SF 6'6 2024 Perris/CA (FBC Perris 2023)
A long and lean wing forward with good size. He has a pretty stroke to the 3pt line and takes very few strides to get to the rim. He is a good passer and rebounder using his size and length. He is in constant motion moving without the ball and despite his thinner frame, he can score through contact and block shots on the weak side. He will need to get stronger but has a ton of upside. 
Bryson Goldsmith SG 6'2 2023 Chapin/TX (Nike Pro Skills El Paso 2023-1)
A physical long and strong guard has many talents to like. He can suck in the defense and throw a dart to a teammate. He scores it easily through contact, he will grab tough rebounds among the post players and you will see him take charges. His versatility on defense makes him attractive as he will essentially defend the 1-3 at a high level.   
Eutrevian Sanders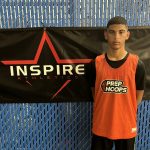 Eutrevian Sanders 6'4" | SF Tennessee Prep Academy | 2024 TN (Rebels Elite NM 2023) 
A Swiss Army knife does many things well. H handles it well, plays inside and out and will defend nearly every positon. He scores most of his points in the paint with a rip through, post ups and getting out in transition. He rebounds the ball at a high clip and will push it up the court. 
Tristan D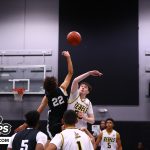 Tristan D 6'9" | C Alamaogordo | 2024 NM (Rebels Elite NM 2023) 
A sophomore big man with great strength and girth. He moves fairly well, he rebounds with two hands, sets picks and can score it around the hoop a little. He likes facing up more then playing with his back to the basket. He is extremely young and he has had back problems the last two years and hopefully his best ball is ahead of him.