Making their PrepHoops Circuit debut this weekend, 865 Elite brings a strong battalion from east Tennessee. The 15u team is coached by Brandon Bohanan, who shared his perspective on each player in advance of the event.
Bereket Evans (Morristown West)
Unmatched speed and burst. Bereket played an abnormal amount of minutes for a freshman as Mo West was completely rebuilding and in need. Evans will be a problem for guard defenders.
"He is a really quick guard. Good defender. He is 5'6″ , 5'7". He can really handle the ball very well. His quickness allows him to get to the rim.  
Room for Improvement:
"His three-point shot. He can shoot the ball, but I think his biggest weakness is his three-point shot," Coach Bohanan. "That is definitely something he can work on and he can get to another level. He plays football as well and runs track."
"He played probably had the most minutes for Mo West. "
Richard Bell (Northview Academy)
Richard is a Class of 2024 forward with a great devotion to school (4.0 GPA). He will not be playing this weekend. Bell will be that classic big for 865.
"He is a 5-man," said Coach Bohanan. "Kind of undersized a little bit, but strong as an ox. He is going to get the rebound."
Room for Improvement:
Definitely needs to work on his foul shot. That is his weakest thing right now. Very, very tough kid. 
Trey Thompson (Greeneville) 2026
According to Coach Bohanan, Thompson will probably go to Greeneville, standing 6'6″.
Cade Murphy (Knox Catholic) 2026
An eighth grader, Cade is going to go to Knoxville Catholic. Coach Bohanan loves the ceiling of Cade and sees a huge summer from the scorer.
"He or Ty are our go-to players," observed Coach Bohanan. "I don't know who to give an edge to."
Kaleb Musselman (Sevier County) 
"Kaleb is probably our best passer on our team," evaluated Coach Bohanan. "Very, very high IQ. He plays the three and sometimes the four. Really good all-around player."
Room for Improvement:
"I would say speed on defense."
All-District MVP, Ty Glasper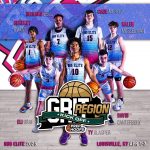 Ty Glasper 6'0" | SG Gatlinburg-Pittman | 2025 TN shook the district from day one and rattled some cages with his assured, skilled game. Glasper will be one of the best guards in the entire event thanks to his confidence and production with the basketball in his hands. 
Glasper's poise and patience is uncommon for a freshman guard.  
Henderson 2026
"He is playing 15u with me. We work it out with Team Loaded (VA) 14u. The one that was like #1 team in the nation two weeks ago and got beat."
Chandler Gamble (Knoxville Christian)
"He is 6'5" said Coach Bohanan. "He can light it up on the perimeter."
Room for Improvement:
"He needs to work on strength on the inside."
David Canterbury
"He is definitely the hardest worker on the team, probably our best defender," said Coach Bohanan. "Strong kid. Undersized for a post. Plays the two or three. He is tough, tough, tough. 
Room for Improvement:
"Probably just moving without the basketball better. He has the full package. He didn't play basketball in school this year. There is not really film on him."
Eli Graf (Alcoa)
"That is the kid that can get to the rim anytime he wants," said Coach Bohanan..
Room for Improvement:
"Probably finishing when he gets there. He does finish well, but sometimes he will miss a gimme. Maybe develop his shot a little more on the perimeter."