This group of sophomores (1 frosh) is absolutely loaded with talent. Many of these players will play at the next level. ECI is off to a 5-3 start after two tournaments and they will be rolling again this weekend at SPTS #1. ECI will be tested and challenged against tough competition. After two tournaments they should be playing their best basketball. Read below for updates on ECI 16U Prospects Cummings and best of luck at SPTS!
Comets Shootout Review
They picked up 3 wins and lost to a very tough MN Fury team. For it being the first tournament of the year, ECI shined in transition. They played their best ball early and then late in the tournament their athletes really started to take over. They executed their offensive sets very well. On defense, ECI has excellent interior defense and rim protectors. This allows perimeter defenders to gamble a bit, get in passing lanes, and take chances for TO's. They took a charge in every game!
Results (3-1): W 67-57 vs. Titans Wynia – W 73-65 vs. Comets Grigsby
W 85-80 vs. Team Get Shook, L 60-57 vs. Fury Zurn
Midwest Live Review
ECI went 2-2 in Council Bluffs. They improved overall as a team. ECI could not run and play as fast as they had in the previous tournament. Their opponents did a nice job of taking away the transition game. This resulted in ECI having to execute in the half-court. They swung the ball multiple times, reversed the ball, and attacked closeouts. On defense, they took multiple charges. ECI's team and individual communication improved. Their bench energy was electric and the subs were always clapping guys up. The guys on the bench seemed just engaged as the players getting the burn on the floor. They are coming together as a group and I am expecting ECI to be playing some excellent basketball on Saturday and Sunday. 
Results (2-2): L 76-63 vs. Iowa Battlers – W 68-58 vs. Colorado Collective 
W 72-66 vs. Powerhouse Hoops ELITE/Brown, L 66-56 vs. Lincoln Supreme National
SPTS #1 Tournament Schedule (April 30th – May 1)
(All games will be player at East Ridge High School)
Saturday 3:10 vs. MN Fury
Saturday 5:25 vs. MN Heat
Sunday 8:00 vs. MN Select
Sunday 11:15 vs. Pentagon Schoolers
Roster
Lewis Jones Lewis Jones 5'9" | PG Goodridge/Grygla-Gatzke | 2024 MN (2024) |5-8 PG| (MN) Grygla-Goodridge
His nickname is "mid-range mullet" because he has a great mid-range pull-up game. Jones excels in the ball-screen game. If they charted hockey assists, Lewis would be leading ECI in that category. He always makes the extra pass to the open man. Jones is a glue guy and the ultimate teammate. Lewis knows who to get the ball to and when to get them the rock. Every team needs a player like Jones. 
Drew Hofstad Drew Hofstad 6'1" | SG Devils Lake | 2024 State ND (2024) |6-1 G| Devils Lake
He shot it well in the first tourney. Hofstad was crushing it in the catch-n-shoot game. Drew sticks out as a 3&D player. Hofstad is a strong and quick player. Drew plays fast and hard and he will do whatever the team needs. Look out when Hofstad gets going, he can really fill it up from deep.
Matthew Sem Matthew Sem 6'1" | SG Fargo North | 2025 State ND (2025) |6-1 SG| Fargo North
He is a great guard that moves his feet very well on defense. Matthew is growing into a great ball-in-hand guard for ECI. He scores for 3-levels and he can finish tough shots at the cup. He has a sweet pull-up jumper that is silky smooth. Sem also shoots the 3-ball well from behind the ball screen. His catch-n-shoot game is improving. Matthew is a special athlete and a playmaker. 
Jeremiah Sem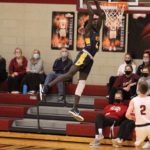 Jeremiah Sem 6'3" | SG Fargo North | 2024 State ND (2024) |6-2 SG| Fargo North
Compared to last season Jeremiah is physically stronger. He has always been a star athlete, now he is a stronger version of that. Sem has been impressive by finishing through contact instead of going around the contact. He continues to improve his finishing off two feet. It seems like Jeremiah has figured out how to be more efficient. Sem has simplified his game and he is knocking down catch-n-shoot triples on the regular. Let's not forget how ridiculous his vertical is and how bouncy this kid is. Sem is a high flyer. 
Lucas Kupfer Lucas Kupfer 6'4" | SF Bismarck Legacy | 2024 State ND (2024) |6-5 F| Bismarck Legacy
This lefty has played in one tourney (Council Bluffs). ECI likes to run sets for him on the left side of the floor and Lucas often delivers. He has been super productive early in games. Kupfer is left-handed but he finishes with both hands at the rim. Kupfer crashes the O-boards hard. He is great slashing to the paint but he can also knock down triples. He is an effective straight-line driver that does not over-dribble and he does not dance with the ball. Kupfer is another player that has increased his stock this spring. 
Dylan Zimmerman Dylan Zimmerman 6'5" | SG Moorhead | 2024 State MN (2024) |6-5 SG| Moorhead
He broke his hand/wrist in the Section Semifinals and is currently healing up. Dylan is a tough kid, he played in the Section Finals and State Tournament with a broken hand/wrist. Zimmerman had a phenomenal year for the Spuds. He shot the ball extremely well from beyond the arc. He also had many highlight-reel dunks and alley-oops. He will be a nice addition when he gets healthy. 
Jacob Brandt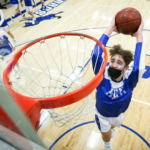 Jacob Brandt 6'9" | PF Hillsboro/Central Valley | 2024 State ND (2024) |6-8 PF| Hillsboro/Central Valley
He is a big, long, and lanky rim protector. Brandt can hit 3-point jumpers. So far this spring, Jacob how shown an increased shooting range. Around the basket, Brandt is a crafty and clever player. Brandt has a nice hook shot that he can go over both shoulders with. He also has a smooth and soft fade-away shot. Jacob has a high ceiling. 
Carter Zeller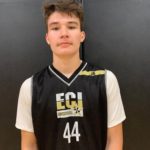 Carter Zeller 6'6" | PF Fargo North | 2024 State ND (2024) |6'6 PF| Fargo North
Oftentimes, it looks like Zeller is a man amongst boys on the basketball court. He really is a beast! Zeller is super strong and he imposes his will on people. So far this spring, Zeller has shown that he can now grab a defensive rebound and start the break before hitting a guard on the move. This has helped speed up the ECI fastbreak. On defense, Carter can now guard on the wing and switch on pick and rolls.  
Isiah St. Romain Isiah St. Romain 6'2" | SG Williston | 2024 State ND (2024) |6'2 SG| Williston
He was a stat stuffer and a huge #'s producer in the WDA this year. In my opinion, St. Romain was the "Newcomer of the Year" in the WDA. Isiah is a slasher and a natural scorer. I like his overall athleticism. Romain is a team player who rebounds, plays off his teammates, has a smooth layup package, and is a menace on defense. He is a great communicator and he plays with a high motor. His is a new face with ECI and St. Romain was a big pick-up. 
Logan Conklin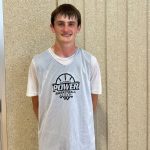 Logan Conklin 6'5" | SF Minot | 2024 State ND (2024) |6'4 F| Minot
He was a huge part of the State Championship that Minot won. I watched Conklin play this spring in Jamestown and wow, he is a rock-solid and tough player. Conklin has proper fundamentals and he always seems to make the correct play at the perfect time. He is a straight-line driver that leaves defenders in the dust. In one game this spring, Logan had back-to-back-to-back dunks in three straight possessions. He has also had impressive alley-oop dunks. Conklin is long and he is sneaky athletic. His stock is way up!
ECI 16U Prospects Schedule
| | | |
| --- | --- | --- |
| DATE | Tournament | LOCATION |
| April 2-3 | Comets Shootout | St. Cloud, MN |
| April 23-24 | Midwest Live | Council Bluffs, NE |
| April 30-May 1 | SPTS #1 | Minneapolis, MN |
| May 14-15 | SPTS #2 | St. Cloud, MN |
| May 21-22 | ECI Spring Preview | Moorhead, MN |
| June 29-30 | Comets Alliance | St. Cloud, MN |
| July 6-10 | D1 Live Period | Atlanta, GA |
| July 22-24 | SPTS #3 Finals | Sioux Falls, SD |