Prep Hoops Missouri released its new Class of 2025 rankings this week. Here is a look at the top wing players in the class.
Corbin Allen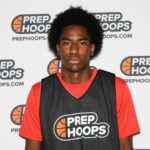 Corbin Allen 6'4" | SG Oak Park | 2025 State MO (Oak Park): The athletic 6'4″ wing performed a multitude of different tasks in a terrific freshman season. He averaged 14.9 points, 8.8 rebounds, three assists and two steals. He has a versatile offensive game while also making plays for his teammates.
Collin Clark (Greenwood): A 6'6″ wing player with excellent size and length to go along with a versatile offensive package. He can light it up from long distance when he gets going, but he can also handle the ball and create a shot. He moves well without the ball and he is also an active rebounder.
Luke Walsh
Luke Walsh 6'1" | SG Vianney | 2025 State MO (Vianney): The 6'1″ shooting guard was one of the top perimeter marksmen in the state in his first year. He made 102 3-pointers on the season and 35 percent from long distance. He averaged 15 points a game, along with 2.3 assists and two steals a game.
Caleb Estes Caleb Estes 6'1" | SG Oak Park | 2025 State MO (Oak Park): The talented 6'1″ guard came up with a big freshman campaign in helping lead Oak Park to a 16-10 record. He's a slasher who can penetrate and also hit the perimeter jumper. He averaged some team-high 15.8 points, along with 4.4 rebounds and two steals a game.
Trey Williams (Vashon): The 6'0″ guard provided consistent perimeter shooting for the Wolverines during their run to the Class 4 state championship. He shot an impressive 47 percent from 3-point range as he shot the ball with a lot of confidence. He averaged 6.7 points a game for a well-balanced team.
Brandon Terrill Brandon Terrill 6'1" | SG Slater | 2025 State MO (Slater): An athletic 6'1″ shooting guard with good quickness and the ability to get a bucket at all three levels. He can break down defenders off the dribble and can score in the lane on twisting drives. He also has a nice step-back jumper. He averaged 14 points a game as a freshman.
Terron Garrett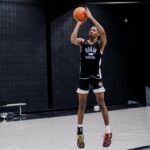 Terron Garrett 6'5" | SG CBC | 2025 State MO (CBC): A talented 6'3″ guard who is waiting in the wings on a loaded Cadets team that won the Class 6 state championship. He has excellent ball handling and playmaking skills to go along with his length and ability to knock down perimeter jumpers.
Colin Perry (Chaminade): A 6'0″ guard who was able to get some quality minutes for a Red Devils team that advanced to the Final Four of the Class 6 state tournament. He is a talented offensive player who can create off the dribble with a very effective mid-range jumper on the move.
Aedin Fields
Aedin Fields 6'1" | SG Oak Park | 2025 State MO (Oak Park): The third talented freshman for Oak Park who had a very productive season. He averaged seven points and three rebounds a game in his first varsity season.