Two teams from the CHSAA will hang banners for the 2021-22 season. Cardinal Hayes won the CHSAA "AA" state  championship. Unfortunately another state federation tournament was cancelled. Cardinal Hayes would have been a favorite to win the state federation title. But unfortunately you can go to a pro game or anything else in the state but a high school tournament, was too risky. Sad for the players, coaches and everyone else. Fordham Prep won the city "A" championship before losing in the state final. It was a tremendous season not only for these two teams but the CHSAA level of play once again propelled them to one of the top leagues in the country.
Fordham Prep    CHSAA "A"  – State Championship Game
Fordham Prep entered the season as they always seem to do, a contender for a city championship. But what they should have been this season was the favorite. But the underdog role fits them well. It makes them even hungrier and that comes from their coach.  Omari Ward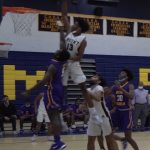 Omari Ward 5'11" | PG Fordham Prep | 2022 State NY  is the engine that runs the team. The "A" league POY. He is so good at leading a team. Has the ability to handle the ball in traffic or in the open floor. Excellent passer and facilitator of the ball. Just a complete player. Scores the ball in a variety of ways. He has improved every part of his game since the first time I saw him and he is still getting better. Nate Boateng Nate Boateng 6'6" | SF Fordham Prep | 2022 State NY  is the benefactor of a lot of Omari's dimes. Nate is a 6"6 lane protector, rebounding machine who can score the ball inside. A tenacious dunker or a quick post move is something he is really good at. Very athletic jump out of the gym type player. Will be a welcomed addition to a college program.  Thomas Whelan Thomas Whelan 6'2" | CG Fordham Prep | 2022 State NY  a tough competitor with a vast amount of talent. Does not back down from a challenge. Strong with the ball and can get into the lane. Displayed a nice pull up jumper off the bounce. High IQ enables him to make the right play. A very good shooter from behind the line. 
Cardinal Hayes    CHSAA  "AA" state Championship
Cardinal Hayes finished the season at #24 in the nation in the USA Today poll. They were an extremely loaded team that is a powerhouse on the National level. Boasting the NY state Gatorade player of the year  Tobe Awaka Tobe Awaka 6'8" | PF Cardinal Hayes | 2022 State NY . Tobe was our preseason #1 ranked player in the CHSAA and he delivered. Currently still available with low to mid major offers he would be a unbelievable get for a college program. Not only is he a double-double machine he carry's  a 4.0 GPA. Tobe delivered for Hayes night after night and will do the same at the next level.  Ian Jackson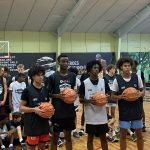 Ian Jackson 6'5" | SF Cardinal Hayes | 2024 State #9 Nation NY  a 2024 prospect is giving alot of coaches frequent flyer mile rewards. A steady stream of D1 assistants regularly are courting him. Ian can get to the rim. He is a very athletic player. D J Victory a extremely fast strong guard. Gets into the lane and finishes amongst the big boys. He is a consummate New York City guard. Tough, fast, fearless winner. He defends and rebounds like he handles the ball with sheer determination to make a play. Tarique Foster possesses a high skill set on an excellent frame. Has a soft touch with good rotation and elevates well. His shot is a very repeatable motion.  Elijah Moore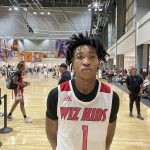 Elijah Moore 6'2" | SG Cardinal Hayes | 2024 State #90 Nation NY  another 2024 player keeps Cardinal Hayes in good hands for the future. A rising star. Already has shown he might be one of the best shooters in the city from beyond the arc. Jaiden Williamsb Jaiden Williamsb 6'4" | SG Cardinal Hayes | 2023 NY  will also have a bigger role next season. He played major minutes this year but will be called upon to lead next year. What he has shown so far leads us to believe he is ready for the larger role. Has the potential to be a flat out scorer. Plays above the rim. A ferocious dunker in traffic or in transition. Huge upside.