The 2025 class just finished their freshman seasons and are headed into their 15u (or in some cases 16u) seasons of AAU. The list has expanded out to 65 total ranked players and we've had quite a bit of movement throughout the list and a ton of new names. Here's a look at some new names in the 2025 class. This does not include any players in the top ten of the class.
Javeon Campbell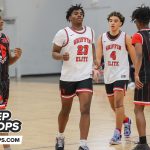 Javeon Campbell 6'7" | C Western Hills | 2025 State KY , Western Hills – Campbell is one of the biggest players in the 25 class, standing 6'7 and he has a big body that makes it hard to stop him from getting post position. Javeon is an old school post player who is very skilled around the bucket and has terrific footwork and finishing ability. As he ages, look for Campbell to add more of a faceup game to his offense and show that he can be effective in the pick and roll.
Armelo Boone Armelo Boone 6'2" | PG Frederick Douglass | 2025 State KY , Frederick Douglass – A big miss in the last rankings, Boone is a top player in the class who has a chance to be one of the best guards in Lexington for all 4 years of his high school career. Melo has quick hands and can be a pest on defense but also is quick and shifty on the offensive end which allows him to get past defenders and score at the bucket. Once he becomes a more reliable shooter from deep, expect D1 schools to get involved down the line.
Lance Chandler Lance Chandler 5'11" | PG Trinity | 2025 State KY , Trinity – Maybe the quickest player in the class, Chandler has a lightning fast first step and a tight handle on the ball. Lance excels at getting paint touches and drawing the defense in to allow for kickouts or tough finishes in traffic. On the defensive end, the 5'10 guard has the speed and anticipation of a defensive back when he shoots the gap and gets steals. One thing he excels at is turning defense into offense.
Will Hanke Will Hanke 6'4" | PF Saint Xavier | 2025 State KY , St. Xavier – Hanke grew into a bigger role with the Tigers as the season rolled along and was playing quite a bit of varsity at the end of the season. Will clearly possesses a high IQ and makes smart plays and good reads on both ends of the court. His ceiling as a prospect will be determined by how much more he grows but the 6'4 forward was one of the top performers in Louisville in the 25 class last season when playing against his age group. 
Graham Krezmien Graham Krezmien 6'6" | C Saint Xavier | 2025 State KY , St. Xavier – Thanks to his bigger size at 6'6, Graham has more long term upside out of the two St. X big men but his game is not nearly as polished right now. Krezmien came up through the North Oldham middle school program before enrolling at X and he reminds of a younger Higdon that plays for the Mustangs. If he gets to 6'8 or taller, watch out for Graham to move up the rankings as he gets more and more comfortable playing at the highest level.