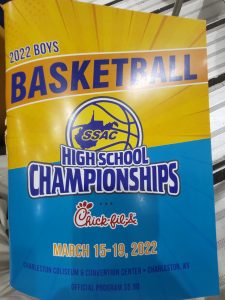 Prep Hoops has taken in the action from the WVSSAC Boys State Tourney this week here in Charleston. Who ended up winning in the opening round games of Class AA? Read more inside right here. 
#1 Poca HS Dots (24-1) defeated Magnolia HS (New Martinsville) 43-19 to move into the semifinals. The Dots have now won 23 games in a row. The Dots were led in scoring by Jackson Toney Jackson Toney 6'3" | SG Poca | 2022 State WV with 14 points while University of Virginia signee Isaac McKneely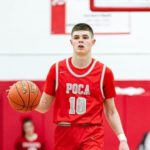 Isaac McKneely 6'4" | SG Poca | 2022 State #59 Nation WV added 12 points in the win. The Dots led 18-10 before pulling away in the second half. 
#5 Ravenswood HS defeated South Harrison HS (Lost Creek) 49-46 to advance to the semifinals to play Poca HS. Veteran Head Coach Mick Price and the Red Devils were led in scoring by Matthew Carte Matthew Carte 6'1" | PG Ravenswood | 2023 State WV with 15 points and 7 rebounds. Left-handed guard Drew Hunt added 14 points in the win for the Red Devils (21-4). Ravenswood HS will now play Poca HS on Friday in the semifinals. 
Corey Boulden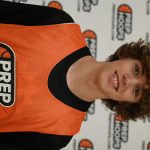 Corey Boulden 6'4" | CG South Harrison | 2023 WV a junior shooting guard led the Hawks in defeat with 24 points. In the losing effort Boulden went over 1,000 career points. It was the first trip to the State Tourney in 23 years for the Hawks and 2nd overall. 
#3 Bluefield HS had little trouble with Wyoming East HS on Wednesday morning to advance to the semifinals. The Beavers (18-4) cruised to a 36-17 halftime lead over the Warriors. This was the 4th meeting between the two schools this season. Ja'eon Flack led the Beavers with 19 points while RJ Hairston RJ Hairston 6'3" | PF Bluefield | 2024 WV added 15 points and 10 rebounds.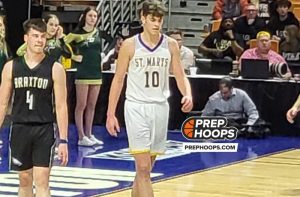 #2 St Mary's HS (23-2) defeated Braxton County HS (Sutton) 51-41 behind the strong play of Waylon Moore. Moore was the unsung hero scoring 16 points and grabbing 13 rebounds for the Blue Devils in the win. Grant Barnhart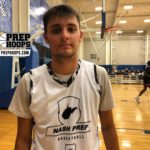 Grant Barnhart 6'3" | SG St. Mary's | 2022 State WV finished with 10 points while junior Luke Powell Luke Powell 6'7" | PF St Mary's | 2023 WV scored 9 points, 7 rebounds and 6 blocks. The Blue Devils will now play Bluefield HS in the semifinals on Friday. 
DJ Coomes DJ Coomes 5'10" | CG Braxton County | 2022 State WV played his last game for the Eagles who finished the season at (13-12). 
All week long we will take a look at Top Performers from Charleston right here at Prep Hoops.