The book on the 2021-22 high school basketball season has been closed. But fortunately for basketball fans, this doesn't mean that the action on the hardwood has ended for the year. It has merely just begun. The Prep Hoops Circuit returns in 2022 bigger and better than ever before. One of the top teams on the PHC in 2022 will be The Work Foundation. 
The Work Foundation was constructed to give lesser-known prospects an opportunity to shine!
"My program was founded in 2018. There were many athletes who didn't make the shoe contracted teams. Therefore, I saw the need to provide youth with an opportunity to showcase their talent. There's always been a ln equity issue in my community, and this was an opportunity to address it," said program director Kurtis Ellison. 
Equity, inclusion, academics, social-emotional learning, and financial literacy are the main pillars of The Work Foundation program. Most AAU teams focus on making sure that their players find success on the court. However, The Work Foundation focuses on providing support for their athletes on and off the court. This AAU season, TWF is prepared to make a statement and catch the eyes of scouts at every tournament.
Since 2018, The Work Foundation has found a lot of success promoting their players, as Ellison told Prep Hoops that many of their players have gone on to play at top prep schools. 
Here are some prospects from The Work Foundation to keep an eye on this AAU season: 
Jordan Chandler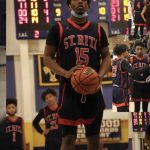 Jordan Chandler 6'0" | PG St.Rita | 2023 IL — PG
"He's a big solid point guard. Jordan is an elite defender who can guard multiple positions because of his size, strength, and IQ." 
Jacob Williams — SG
 "He's a big guard. Jacob does everything on the floor well. He can score from all three levels and average double digits in rebounds."
Orlando James — PG
"Lightning quick point guard. His court vision and ability to make plays for his teammates is exceptional. Great on-ball defender. Can score in traffic and have the ability to knock down the three."
Here are some other prospects too keep an eye on for The Work Foundation this spring/summer: 
Keeland Jordan — Leo, Fontain Thomas — Morgan Park, Jakyren Woods — Perspective Leadership. "
"[These prospects] Are underrated athletes. These guys have the skill set to impact any program. They just need the opportunity."
Why did The Work Foundation choose the Prep Hoops Circuit? 
"It was a circuit that provides opportunities for the population my program serves."