The 112th annual IHSAA Boy's Basketball State Finals are in the books and we have officially put a bow on the 2021-2022 Indiana High School Basketball season. Beginning with 407 member high schools in Sectional play a few weeks ago, the field was whittled down to four state champions culminating in Saturday's State Finals at Gainbridge Fieldhouse. Class 1A North Daviess, Class 2A Providence, Class 3A Beech Grove, and Class 4A Cathedral all cut down the sets to win their respective classes. I was able to be out for the evening portion of the night to witness Beech Grove versus Mishawaka Marian followed by Cathedral versus Chesterton. If you missed any or all of Saturday's action be sure to go back and read our Prep Hoops Indiana live blog from the day to get yourself caught up. Here are my emulations on players from the 3A and 4A championship games. 
Deaglan Sullivan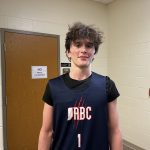 Deaglan Sullivan 6'2" | PG Mishawaka Marian | 2023 State IN – 6'2 2023 PG – Mishawaka Marian: When the game first started, Sullivan provided almost an immediate spark however that quickly changed when he picked up 2 fouls in the 1Q. Once the 3Q started and Sullivan retuned to the floor, it was easy to see why Mishawaka Marian is a better team when this lead guard is on the floor. He facilitated well for the most part with his 3 assists and utilized his skill to scored 15ft and in. He finished with 10 pts on 50% shooting.   
Kaleo Kakalia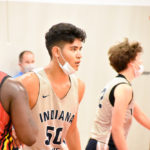 Kaleo Kakalia 6'6" | PF Mishawaka Marian | 2022 State IN – 6'6 2022 PF – Mishawaka Marian: Out the two games I watched, Kakalia can really make a case as being the most naturally athletic player on the floor. Did not have best of game scoring wise as he only put up 2 pts on 1-of-7 shooting but thought his defense and rebounding (10 total rebounds) is what made him standout here. What makes Kakalia such a problem most of the time is the elite motor he plays with as he is just constantly moving and can come out of nowhere and make a huge play. Kakalia is going to take his elite athleticism  and playmaking ability and be a force at the next level.    
Anthony Ball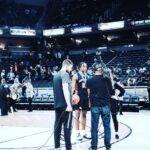 Anthony Ball 6'6" | PF Crispus Attucks | 2023 State IN – 6'6 2023 PF – Beech Grove: There was absolutely no other player that was as dominant as Ball in any of the state finals games. When the final buzzer had sounded, Ball had finished with 17 pts and 20 rbs, a stat line that ultimately led to Beech Grove winning the Class 3A Championship. He was also a force on the defensive end as he ended up with 4 blocks as well. This is a guy that colleges are going to want to watch this summer. Needs to work taking better shots but his pure physical style is what makes him standout. 
Jeremiah Tate – 6'0 2023 PG – Beech Grove: As far as underrated performances in the state finals go, Tate should be at the top of this list. If you have not seen Tate play, he is along and lanky lead guard that showed elite on ball defense and ended the game with 9 total steals. On offense, he plays at a quick pace and can score at all three levels. Without the play of Tate and Ball, the 3A State Title could have went the other way. He finished with 12 pts. 
Xavier Booker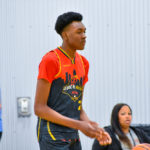 Xavier Booker 6'11" | PF Cathedral | 2023 State #4 Nation IN – 6'11 2023 PF – Cathedral: Even though he fought a little bit of foul trouble in the first half, Booker did a fantastic job of being in the right place at the right time. He finished with 13 pts and was 1 rebound away from having a double-double with the 9 he was able to scoop up. Scored at all three levels like you would expect him to. The other notable thing about Booker is that coaches from Indiana, Purdue, Michigan State, Ohio State, and others were in attendance this game. Booker is easily the best uncommitted player we have in the state right now.  
Jaxon Edwards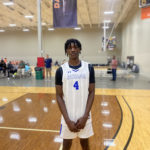 Jaxon Edwards 6'6" | SF Cathedral | 2022 State IN – 6'6 2022 SF – Cathedral: Simple enough, Chesterton had zero answers for Edwards tonight. He was easily the most athletic player on the floor in the 4A game and when he had momentum, he was more than likely scoring at the rim, most of the time being a thunderous dunk. On the defensive side, he also had one of the nastiest blocks I personally have ever seen. Murray State got a steal with this guy. He finished with 14 pts on 7-of-11 shooting.