In 49 states it is just basketball, but this is Indiana. The 112th annual IHSAA Boy's Basketball Tournament tipped off on Tuesday night and Prep Hoops Indiana was in the gym as always to bring you coverage from across the state. I began Sectional play with a trip to Huntington North for Sectional 6 action. Here is a rundown of the evening's pair of games.
Homestead 56 Huntington North 43
The Homestead Spartans earned their 20th victory of the season over host school Huntington North in the first game up at Sectional 6. The Spartans advanced to the Sectional semi-final round where they will take on New Haven (11-12) on Friday evening. Huntington North hung around for most of the first half, actually taking a lead midway through the second quarter. However, a pull-up three-pointer by future Purdue Boilermaker Fletcher Loyer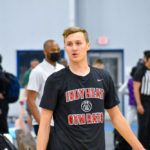 Fletcher Loyer 6'4" | SG Homestead | 2022 State #108 Nation IN sparked an 11-0 run to end the half as the Spartans led 29-21 heading into the locker room.
Loyer added another coast-to-coast pull-up three as time expired in the third period to extend the Homestead advantage to 45-34. Down the stretch, the Vikings simply didn't have the fire power to get over the hump. Seniors Will Hotchkiss Will Hotchkiss 6'3" | SF Huntington North | 2022 State IN and Zach Hubartt Zach Hubartt 6'0" | SG Huntington North | 2022 State IN did their best to extend their careers but it wasn't in the cards against a very talented Homestead team. Huntington North finished their season with a 14-10 record.
Mr. Basketball candidate Fletcher Loyer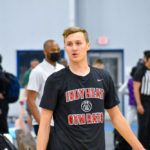 Fletcher Loyer 6'4" | SG Homestead | 2022 State #108 Nation IN finished with 26 points to lead all scorers. Andrew Leeper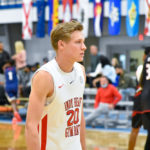 Andrew Leeper 6'6" | PF Homestead | 2022 State IN added 14 points for the Spartans. In the loss for the Vikings it is was Hotchkiss and Hubartt leading the way with 16 and 12 points respectively.
South Side 78 Columbia City 39
This one felt like a blowout for the majority of the 32 minutes. Fort Wayne South Side jumped out to a 16-9 lead with a couple of steals and runout dunks forcing an early timeout by Columbia City. The Eagles got back in it a little bit, trailing by just six after the first quarter but that would ballon to 20 at the half as South Side got up 43-23.
The Archers were forcing turnovers, dominating the offensive glass, and making shots from all over the floor. It was one of those games where it appeared as if they could have beaten just about anyone in the state. South Side went on to cruise to a 78-39 victory to move to 13-10 on the season. They will now take on Fort Wayne Wayne (4-17) in the Sectional 6 semi-final round on Friday evening. Columbia City finished their season with an impressive 17-6 record.
Senior wing Derek Ruch put up a game-high 20 points for South Side while senior guard Ashton Johnson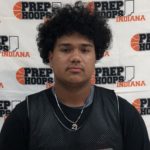 Ashton Johnson 6'2" | PG Fort Wayne South | 2022 State IN added 19 points. There were at least five different college programs present at the game watching Johnson last night. For Columbia City, it was senior wing Mason Baker Mason Baker 6'3" | SF Columbia City | 2022 IN who scored 19 points in the defeat.