Michigan's largest classification sports the rare trifecta. Is there any debate about the toughest league in the state? That's right the Catholic League has placed three teams in the quarterfinals. The CMAC just accomplished that same feat. But in two separate and smaller divisions. 
The individual matchups chosen are revealing about March success. You need a good point guard to make a deep run. Following are three point guard matchups that will go a long way in determining who advances on to the Breslin Center.
Orchard Lake St Mary's vs Warren De La Salle
Kareem Rozier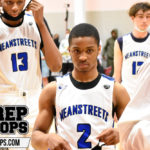 Kareem Rozier 5'9" | PG Orchard Lake St. Mary's | 2022 State MI vs well……everyone The mild cop out in selection is a testament to two things. One how good of a floor general Rozier is. And two just how deep the backcourt at De La Salle is. Rozier has been the consummate point guard for all four years of his career. Big Ten guards have come and gone in the form of Lorne Bowman (Wisconsin) and Julian Roper (Northwestern). But Rozier's steady play has been the one constant. The only thing missing from his game is height. The only thing missing from his resume is a state championship. If the Crusaders are going to slow down Rozier's unselfish game. They are going to need the entirety of their deep backcourt. Seniors Caleb Reese Caleb Reese PG De La Salle | 2022 State MI and Tamario Adley Tamario Adley 6'0" | SG De La Salle | 2022 State MI (Ferris St) will probably constitute the first wave. The second wave will consist of 2023 Nino Smith Nino Smith 6'0" | CG Warren De La Salle | 2023 State MI and 2025 Phoenix Glassnor. This group collectively has the speed, size, and defensive instincts to bother Rozier. 
Grand Rapids Northview vs Kalamazoo Central 
EJ Ryans EJ Ryans 6'3" | CG Northview | 2024 State MI vs Scott Hughes Scott Hughes 5'11" | PG Kalamazoo Central | 2022 State MI It would easy to look to the newly minted runner up in the Mr Basketball contest Kyler Vanderjagt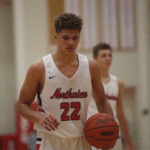 Kyler Vanderjagt 6'4" | SF Northview | 2022 State MI But I don't think the Maroon Giants have anyone that can easily matchup with him. What they do have is one of the more underrated senior point guards in the state. What Scott Hughes Scott Hughes 5'11" | PG Kalamazoo Central | 2022 State MI (pictured at top of article) lacks in size. He makes up for with elite athleticism and big game moxie. Showed this off in Kalamazoo Central's big season ending victory over Muskegon. Hughes came out on top against a 2023 Big Red backcourt that already holds multiple offers. A pass first point guard with excellent court vision. Standing in his way both literally and figuratively is Northview's 6-3 2024 point guard EJ Ryans EJ Ryans 6'3" | CG Northview | 2024 State MI . Ryans has the physical attributes to slow Hughes down. Despite his youth he has shown he is not afraid of the moment. Was a steady hand in the Wildcats overtime victory over a good Bloomfield Hills Brother Rice squad in a mid season showcase. Should be a similar crowd but with much higher stakes on Tuesday. 
Grand Blanc vs Detroit Catholic Central
RJ Taylor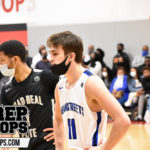 RJ Taylor 5'11" | PG Grand Blanc | 2023 State #113 Nation MI vs Chas Lewless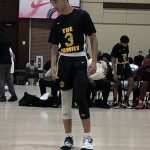 Chas Lewless 6'2" | PG Detroit King | 2024 State MI I tried not to overthink this one. With one of the tallest teams in state going up against a much smaller one. There was only direction to go. Stick with the theme and stay with the point guards. One of the top point guards in the 2023 class going up against one the top best in the 2024 class. The defending champs are led by Taylor who has really expanded his game after the late transfer of Ty Rodgers. Still an excellent distributor. He has shown an increased level of aggression and ability to get his own shot. I was particularly impressed with his 20 point outing in a win over a good Ferndale team. As Taylor really announced himself with a deep sophomore tourney run last year. Lewless could do the same. Like fellow 2024 standout Ryans (see above) Lewless is a physically advanced point guard with a equally mature game. I was particularly impressed with his early season performance at The Showcase in a victory over Rockford. Has faced an absolute gauntlet of schedule both in and out of conference. Unlike Taylor he should not have to worry too much about scoring. If he can get the ball down low to the Shamrocks huge frontline. They could really exploit the size disparity in this contest.