The New York class of 2025 is heralded and has already delivered finishing up their freshman year.  
1. Danny Carbuccia      6"0     Stepinac
Confident, poised, smooth guard. Can push it or lead his team. On a very talented team, from the open gym  I saw him at to the end of the season he looked like he's been with these guys forever. A scoring guard who is a facilitator of the ball. Has deep range and can get into the lane. Averaged 12 ppg. Very well suited to follow the path of previous Stepinac guards R J Davis ( UNC) and AJ Griffin ( Duke ) to make his future extremely bright.
2. Tai Turnage Tai Turnage 5'10" | PG St Raymond's | 2025 State NY       5"10                 St Raymond's

The Ravens had a 5 game winning streak in the middle of the season. Tai and the next player on this list were integral parts of that run. Tai is a point guard who looks like the ball is attached to him. Changes speed and direction very well for a young point guard. Was never phased by the physical fast play in the CHSAA. Elusive handle gets into the lane. Smooth stroke from three. St Rays is in good hands in the coming years with the ball in this young players hands. Tai scored 9 ppg and was right at that number with assists.
3 Brandon Stores Brandon Stores 6'4" | SF St Raymond's | 2025 State NY Jr.        6"4      St Raymond's
The Ravens 5 game winning streak turned into a 9-5 record in their last 14 games. It was an impressive record when you see their losses were against the city A champ St Francis Prep, the AA runner up Stepinac and the AA winner Cardinal Hayes. Brandan formed an impressive inside outside with Tai, Ahmir Moore Ahmir Moore 6'1" | CG St Raymond | 2023 State NY , Isiah Philbert and Elijah Castillo Elijah Castillo 6'2" | SF St Raymond | 2022 State NY . Brandon scores inside with either hand and can also hit the midrange jumper. Tough rebounder inside. Averaged  15 ppg.
 4. Kayden Mingo Kayden Mingo 6'1" | CG Long Island Lutheran | 2025 State NY        6"1.            Long Island Lutheran
Playing behind our #1 ranked players in both 2023 ( Jayden Reid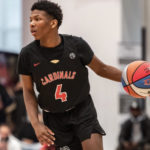 Jayden Reid 5'10" | PG LuHi | 2023 State #120 Nation NY ) and 2022 ( Jayden Pierre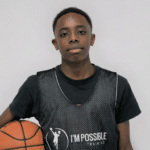 Jayden Pierre 6'2" | PG Long Island Lutheran | 2022 State #109 Nation NY ). Kayden was able to spot both of them and excel. The coaching staff feels he has the potential to be an absolute stud. Showed tremendous court awareness and vision. Displayed a nice mid range game. A playmaker. In each practice he went up against the above mentioned players in fast paced action which will elevate his game even more. 
5. Vere Anthony Vere Anthony 6'1" | PG St Francis Prep | 2025 State NY         6"0.             St Francis Prep
The Brooklyn Queens AA champion Terriers had this young player handling the point. A very versatile team that shared the ball beautifully. Fit in wonderful knowing when to score or feed the slashers or the post. He is a smooth confident playmaker. Has a very repeatable jump shot motion. Excellent pull up game. Can also drill the three. Averaged 7 ppg.
6. Markel Alston Markel Alston 6'1" | PG Christ The King | 2025 State NY          6"1.              Christ the King
Plays with high energy. Confident with the ball. Can really shoot it. Has a strong body type hard to move off the ball. Plays with that New York guard swag. Averaged 7 ppg.
7. Kris Banwaresingh       6"1              Iona Prep
Kris played on the varsity as an eight grader upstate where he averaged 20 ppg. Transferred over to Iona Prep in the city Catholic school league. Quickly showed he belongs in a extremely talented battle tested league. An elite shooter and versatile scorer. Has a good basketball body. Averaged 5 ppg.