The best of the best from the Mayo Civic Center.  Top performers from a great set of playoff games in Section 1AA and Section 1A.
Collin Bonow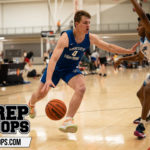 Collin Bonow 6'0" | PG Lewiston-Altura | 2022 State MN of Lewiston-Altura (6'0 Sr).  I wish Collin hadn't been in foul trouble because some of the things he did on defense caught my eye.  He has the potential to be one of those strong, deep in a stance disciplined defenders that fight to angles.  Bonow made a couple late plays defensively that kept his team in the game to the final buzzer.  Solid shooter who made three threes and scored 15 points on 6 of 12 shooting. 
Easton Fritcher of Hayfield (6'0 Sr).  Fritcher gave the Vikings a number of different items in their 54-40 win over Spring Grove.  He's an excellent rebounder and he had a game high eight boards.  Fritcher scored four times at the rim and down the stretch he had two scores and a foul shot that were clutch.  But what I really liked was how Fritcher passed the ball in the middle of the Spring Grove zone (five assists) and his defense on bigger players around the basket forced some rough shooting days for Spring Grove's size. 
Eli King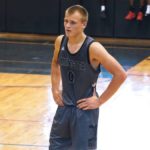 Eli King 6'3" | PG Caledonia | 2022 State #151 Nation MN of Caledonia (6'3 Sr).  King was defended one on one in man but the Cardinal help to him on the drive was extensive.  He found a way to score 19 points making half of his 16 attempts including three threes in the first half.  Once the defense had to step to him King was able to attack for three second half scores and create shots when needed (5 assists total).  Down the stretch Eli had a help over block, two attacking brackets, a late foul shot, and two assists to Koepke that were crucial  
Jackson Koepke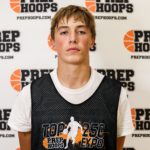 Jackson Koepke 6'2" | SG Caledonia | 2022 State MN of Caledonia (6'4 Sr).  A big reason that Caledonia walked out of Rochester with the win was Jackson's second half hot hand.  What made it even more special was Jackson missed his first five attempts of the game but then went to the cup for three scores just before the half.  From there, four second half triples including two late in the game that kept his team from falling behind.  Jackson scored a game high 20 points with a team high six boards.  His late half scores and second half threes were crucial to the win.  I would love to see what he can do at a good D3 level, love his toughness and ability to create points. 
Isaac Matti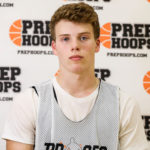 Isaac Matti 6'1" | SG Hayfield | 2023 State MN of Hayfield (6'2 Jr).  Down the stretch Isaac Matti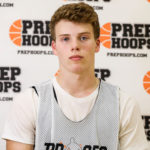 Isaac Matti 6'1" | SG Hayfield | 2023 State MN had three plays that I won't forget: 1) left wing attack into the lane drawing three defenders and hitting a cutter on the backside with a no look pass, 2) about two minutes to go Matti released a three at the top of the key that was a tad risky but he did it in rhythm and hit the shot for the dagger, 3) a bit earlier in the game Matti had a cut and finish with the defense recovering that was timed perfectly for a finish.  Isaac only took 13 shots making eight of them including five threes.  Love the rhythm of his jumper plus Matti is so strong, and so efficient.  I called him Captain America on Twitter and I'll stand by that.  Key part of great Hayfield passing that led to 18 assists on 20 made field goals (Matti had five assists).  
Thomas Menk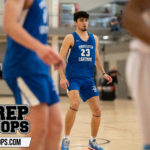 Thomas Menk 6'4" | SG Lewiston-Altura | 2022 State MN of Lewiston-Altura (6'4 Sr).  What I learned today was that Thomas Menk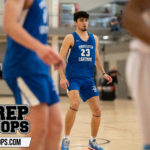 Thomas Menk 6'4" | SG Lewiston-Altura | 2022 State MN has more juice to his dribble separation game than I remember.  He was able to clear defenders with a crossover, with a lean and oppo attack that really caught the eye.  But even more important, Lewiston-Altura seemed to be running out of offensive juice late.  But Menk made his last five shot attempts including a run of three straight threes that nearly led his team to an upset.  Menk was also the best rebounder on the floor in this game.  Love Menk as a quality D3 recruit but if somebody that is handing out NAIA looks or needs another wing with a D2 partial, I would check his tape.  Had 18 points.
Will Opsahl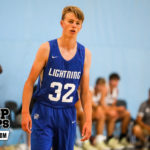 Will Opsahl 6'8" | SF Goodhue | 2023 State MN of Goodhue (6'7 Jr).  First of all, Will was already a big guard and he looks like he;s grown two more inches.  Opsahl spent part of the game at lead guard, part on the wing moving the ball around for an impressive eight assists.  His feeds were cutter leads, a baseball pass, post to post touch pass, and some cutter hits.  Excellent passer plus the touch on his jumper is smooth.  Will only took seven shots for the game as he was too busy getting the ball into the monster scorer ( Dayne Wojcik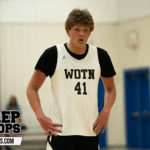 Dayne Wojcik 6'6" | C Goodhue | 2022 State MN ).  Throw in seven boards and about four deflections and it was an excellent performance from an up and coming prospect. 
Kaiden Peters of PEM (6'0 Jr).  Kaiden has to be one of the toughest off ball covers you will see this year.  PEM runs great stuff and if you aren't aware of him behind the ball he will burn you with a catch and finish at full speed from all angles at the rim.  I was really impressed with his body control finishing on the move from various angles.  Hit a three and rebounded well but those five straight second half finishes spread out over ten minutes is what PEM used to put Lake City away.   Very quick player in every way: lateral steps, first step with the ball, speed up the floor, etc. Scored 16 points with eight boards. 
Peyton Schumacher of PEM (5'11 Sr).  Peyton scored a game high 19 points within that incredibly active Bulldog offense.   His first pass reads rank with the best you will see. Some will look past that but when you have a guard who makes the right first pass read every time starting the offense the way he needs to, it's a big deal.  His cuts and quick reversals were also key as was his defense keeping Lake City guards in front of him for tougher attempts.  Scored 19 points too which was a game high but that all starts with the work within that offense. 
Dayne Wojcik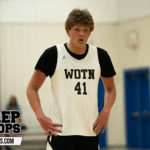 Dayne Wojcik 6'6" | C Goodhue | 2022 State MN of Goodhue (6'5 Sr.).  Dayne played as well as anybody today.  His hard cut to the block to get post position was unstoppable and he was able to hold his spot for a catch and turn.  His quick turn to the rim was something that the defender wasn't strong enough or quick enough to deal with.  It's hard enough to take Dayne's power on the turn but when you add in his quickness, it was just too much.  Dayne scored on 11 of 17 field goal attempts for 25 points plus he pulled in 14 rebounds.  Those are monster numbers for what was about a 45 to 50 possession game. Throw in five blocks and you have a big time performance sending Goodhue into the next round (versus Hayfield for the right to go to state).