This week, I saw three high-level basketball matchups featuring some of the top talents in the state. On Saturday morning, Indianapolis Lutheran took down Indianapolis Metropolitan in an emotional, back and forth battle. Then, Jac-Cen-Del came into Martinsville and took down the favorites thanks to a dominant effort from their frontcourt. In the evening, Beech Grove outlasted Danville on tired legs and pulled away in the fourth quarter behind their junior trio. Now, let's take a look at the best players in these three games.
Player Evaluations
Jeremiah Alexander – 6'3" SG 2023 – Beech Grove
Alexander is a bigger guard who can do a lot on the offensive end of the floor. He knocked down a couple of threes, and his stroke is money on the catch-and-shoot. He also plays with a lot of swagger, and he can stop on a dime on his drives. Alexander is going to be one to watch this summer for sure.
Montasi Clay – 6'0" 2022 SG – Indianapolis Lutheran
Clay is a quarterback on the football, and just like on the gridiron, he was in full control during this one. Clay plays with tons of confidence, and he has a swagger about him. He looks to score every time he touches the ball, and he was lights out from the outside in this one. Clay would lead the way for Luthern with 21 points in the win.
Caden Collins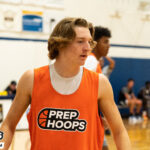 Caden Collins 6'2" | SG Danville | 2024 State IN – 6'2" SG 2024 – Danville
Collins is a guard with good size, and his athleticism is off the charts. He can absolutely jump out of the gym, and he has shown it by out jumping some bigs on rebounds. He is smooth with the ball in his hands, and he plays the game the right way. He also has a quick first step. Collins is still improving, and I see him as the next star for Danville.
Wyatt Day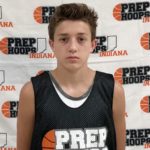 Wyatt Day 5'11" | PG Jac-Cen-Del | 2022 IN – 6'2" 2022 PG – Jac-Cen-Del
Day is a guard with a ton of patience while scoring, but when he gets his opening, he will not hesitate to attack the rim. He has a smooth crossover, and he is able to create separation with it which allows him to get open mid-range jumpers. Day did not have his best game by any means, but he was able to show resolve as when he got frustrated early on in the second half, he battled back to take over and help stretch the lead. Day would end with 14 points in the win.
Jaleel Edwards – 6'1" SG 2023 – Beech Grove
Edwards is a quick guard who was able to get to the rim with relative ease in the Regional finals. He is incredibly smooth with the ball in his hand, and his go-to move is definitely his floaters and runners in the lane. He was 6-8 shooting the ball in the lane, and he went for a team-high 18 points.
Omari Ferguson Omari Ferguson 6'3" | SG Indianapolis Metropolitan | 2023 IN – 6'3" 2023 SG – Indianapolis Metropolitan
Ferguson's athleticism and straight-up ability are something that cannot be argued. Ferguson is consistently looking to get to the rim every single time that he touches the basketball. He also has body control that is some of the best that I have seen. He jumped around a defender taking a charge and still was able to throw down a big slam over another defender. Coaches should keep a serious eye on Ferguson this summer as his potential is very high. I cannot wait to see how he develops this summer.
LJ Ward – 5'10" 2025 PG – Indianapolis Lutheran
Ward is a smaller freshman who uses his quickness to make plays all over the court. Metro had such a hard time dealing with him on the defensive end of the floor as he was able to come up with 6 steals. On the offensive end, he is a 100% pass-first point guard, but he sees the floor beautifully. Ward has 8 assists in the win as well. He is going to be a player to keep an eye on in the future for sure.