This week, I saw three high-level basketball matchups featuring some of the top talents in the state. On Saturday morning, Indianapolis Lutheran took down Indianapolis Metropolitan in an emotional, back and forth battle. Then, Jac-Cen-Del came into Martinsville and took down the favorites thanks to a dominant effort from their frontcourt. In the evening, Beech Grove outlasted Danville on tired legs and pulled away in the fourth quarter behind their junior trio. Now, let's take a look at the best forwards in these three games.
Player Evaluations
Anthony Ball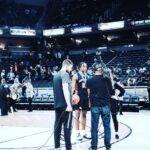 Anthony Ball 6'6" | PF Crispus Attucks | 2023 State IN – 6'6" PF 2023 – Beech Grove
Ball is a huge body inside, and he seems to be larger than 6'6". He looked to attack immediately at the start of this one. He has good post moves, and he uses his strength and power to get to the hole and finish through contact. Ball also showed off his athleticism with a sweet 360 slam in transition and a couple of big blocks in the second half. He is one of the top power forwards, and his stock is rising following his junior season.
Peter Combs – 6'7" 2023 PF – Bloomfield
Combs is a big body inside who was really able to keep Bloomfield in the game despite their struggle to score the ball. Combs was an animal on the glass and seemed to grab nearly every defensive rebound and blocked out on every single possession. In the second half, Combs also showed off some impressive post moves. He was dominant with 17 points and 11 boards, and he will have a huge chance to shine as the top player next season. 
Baylin Graf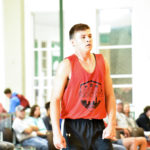 Baylin Graf 6'4" | SF Bloomfield | 2022 State IN – 6'2" 2022 SF – Bloomfield
Graf is a big guard who really does it all for Bloomfield. He is a big body and can muscle his way inside. He seems to always be looking to attack and get inside, but he also has the ability to knock it down from deep. Graf is a natural-born leader, and he definitely has the ability to play college ball at the D3 level if a coach wants to take a flyer on a natural leader who can play as well. He would end with 11 points and 8 boards in the loss.
David Meriwether
David Meriwether 6'10" | C Lawrence North | 2023 State IN – 6'10" 2023 C – Indianapolis Metropolitan
Meriweather is a huge body inside, but he does not move very well which limits his factor in the game. On the defensive end of the floor, Meriweather had his biggest impact as he came up with 4 blocks, and he grabbed 11 total rebounds. His length is just something that is hard to get around. On the offensive end of the floor, he doesn't quite have the skill to score consistently, but he was able to get 11 for the double-double. If Meriweather can fine-tune his scoring and get some of the more basic post moves down, it will improve his stock in a major way.
Christopher Royal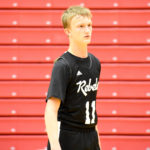 Christopher Royal 6'4" | SG Bloomfield | 2022 IN – 6'3" 2022 SF – Bloomfield
Royal struggled to get it going in this one, shooting just 2-8 from the floor, but he did knock down a timely three to keep Bloomfield in the ball game. He doesn't quite have the outside shooting ability which means that opponents leave him, so if he could develop a floater on his baseline drives, he would have that open consistently. Royal ended with 6 points in this loss.
Brady Ruggles Brady Ruggles 6'6" | SG Danville | 2022 State IN – 6'6" SF 2022 – Danville
Ruggles is a Division one athlete as he will be playing at Air Force next season, and his shooting ability is a huge reason why. It seems like every time that Ruggles lets a shot go, it is going to go in. He did struggle shooting at just 5-15 from the floor, but he came alive in the third quarter to keep Danville in the game. Ruggles had a great career at Danville, and he will be fun to watch at Air Force next year.
Caleb Simon – 6'3" 2022 PF – Jac-Cen-Del
Simon is a big body inside who uses his physicality to get inside. However, he also has enough speed and agility to make plays on the open floor. He seems to always look to attack by taking people off the dribble, and his touch and finishing ability are very impressive. Simon really took over the game scoring the ball and seemed to also grab every rebound that was up for grabs. He ended with 25 points and 12 rebounds in the Regional win!