Today we take a look at the men in the middle. Who gain position, clog the middle on defense and start the break on offense. Feed the big dog.
21.   Anthony Graziano Anthony Graziano 6'6" | PF St Joseph by the Sea | 2023 State NY .        6"6.         St Joseph by the Sea
Anthony is well beyond his age when it comes to post play. Excellent footwork has an assortment of low post moves. Can step out to the foul line and hit the mid range jumper. Strong rebounder. Also gets extra possessions for his team with a simple tap out. Very good at gaining position inside and holding it. Anthony has an offer from St Francis (NY).
31.   Patrick Burke Patrick Burke 6'6" | SF Smithtown West | 2023 State NY        6"6        Smithown West
A long lanky  6'6 player. He can handle the ball getting it to the rim. Very capable of taking defenders off the dribble. Can step out and drain the three. Uses his length to rebound the ball in tight quarters. Uses both hands well inside. Has 2 offers from UMBC and Stony Brook
46.   Josh DeCaddy Josh DeCaddy 6'6" | SF Molloy | 2023 State NY        6"6        Molloy
Josh has an offer from Bryant. Extremely athletic shot blocker. Uses his strong body to rebound.  Has good range and can get to the rim with a strong finish. Plays with good energy. A lot of upside to this player. Josh is a tenacious dunker who can play on the wing as well as inside.
48.   Jaylen Logue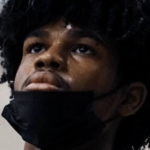 Jaylen Logue 6'7" | PF Monsignor Scanlan | 2023 State NY             6"6              Scanlan
Jaylen was a nice surprise for Monsignor Scanlan. He developed quickly and became a important piece in the interior. Jaylen led the team with 10.8 ppg. A very capable double -double player. Very active in the paint on both ends. As the season progressed so did he. Has developed a nice turnaround jumper in the paint from 12 feet and in. A player I'm excited to see next season. 
50.  C J Williams                 6"7            Friends Academy
The big man from Long Island is a player you need to know. Uses his frame well in   the middle, strong finisher around the rim with either hand. C J scored 12 ppg in helping the Quakers to a state title before losing in the state federation game.
73.  Kesean Shillingsford.       6"11.        Christ the King
At 6"11 he is a tremendous rim protector. He knows what he needs to bring to the game for his team to be successful. Has great potential. Still a little raw but gained a lot of experience this past season and you can see what this player can be. Runs the floor really well. Gets good position on the block and and gives a nice target for catches in the paint. 
93.   Luke Cronin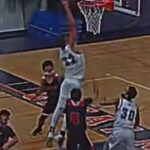 Luke Cronin 6'8" | PF Great Neck North | 2023 State NY       6"7   Great Neck North
Luke had many games where he put up a double -double, points and rebounds. He is a rim protector and strong rebounder in traffic. Scores inside with some nice moves, can also step out and hit three. 
84.  A J Rodriguez              6"5               Iona Prep
A J averaged 8ppg. He can score inside or out. He is a very versatile player. His game is still developing so he may not be a typical post player but can definitely be a presence inside.