The second annual Relentless Hoops Military Classic took place this past weekend at Hargrave Military Academy, and there was high level basketball in all four games that took place.
There was a mix of high school and post grad teams, and there was tons of talent in every game.
Here's a look at some of the standouts from the Georgia programs in attendance.
You can see all of the games on playback on the CBG Live Network!
Kam Craft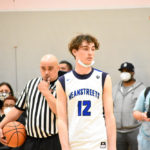 Kam Craft 6'5" | SF TSF | 2022 State #54 Nation GA | 6'5" WG | The Skills Factory 2022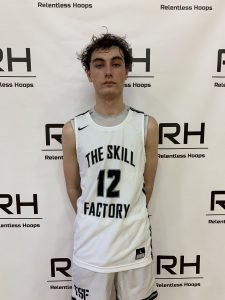 The Xavier commit struggled on the first day in their tough loss to Liberty Heights Varsity, but the second game in their close loss to Word of God he was absolutely on fire and scored it in a ton of different ways. The 6'5" wing showed his elite shooting ability knocking down some shots from deep, he showed he's a crafty shot creator off the bounce and was able to score it in the midrange and at the rim and was good in transition as well. He finished with 35 points and 6 rebounds in their loss.
Kaden Cooper | 6'6" WF | The Skills Factory 2023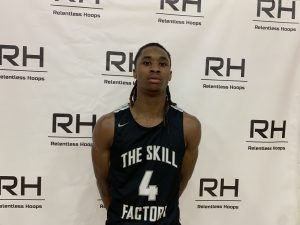 Cooper had a huge weekend for TSF HS, as he showed he's one of the top prospects in the 2023 class that people don't quite know about yet. At 6'6" he's an elite athlete who plays above the rim on both ends and plays with great energy, he knocked down shots consistently from deep and made big shots in both games they played and he has great tools to be a two way impact player at the next level. He finished with 18 points and 11 rebounds in their loss to Word of God and 27 points hitting 5 three-pointers in their loss to Liberty Heights Varsity.
Rodrigo Farias Rodrigo Farias 6'2" | CG TSF Prep | 2023 State GA | 6'1" PG | The Skills Factory 2024
While Farias didn't put up the numbers of the other two listed above him, he did show a lot of potential as a floor general moving forward. He plays with great poise and handles pressure very well, he's a skilled playmaker who sees the floor and makes great decisions with the ball in his hands and he's very crafty with his ability to get in the lane and make shots from multiple levels. He will be one to keep an eye on moving forward in GA.
Nordin Kapic Nordin Kapic 6'8" | PF TSF Prep | 2022 State GA | 6'8" PF | The Skills Factory PG 2022
The Austrian native is one of the many available bigs in the event that needs some more love from colleges, as he has a great skill set for his size and a lot of potential moving forward. He can really shoot it from deep and stretch the floor, he's a good passer on the perimeter and he plays with a good motor on both ends of the floor. He finished with 13 points and 6 rebounds in their win over IMG.
Kameron Johnson | 6'7" F | The Skills Factory PG 2022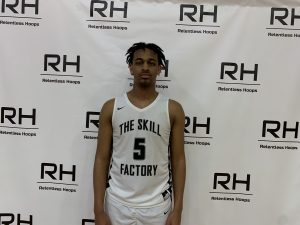 Johnson was steady throughout the weekend for TSF PG, but in their win over IMG he came up big down the stretch and did a little bit of everything to help his team. He's a big and strong hybrid forward who can play and guard multiple positions, he's a very good finisher in the paint through traffic and can make shots on the perimeter and he rebounds well and guards well defensively too. He finished with 15 points, 9 rebounds and 2 blocks in that game.
Jahsire Sheriff | 6'1" PG | The Skills Factory PG 2022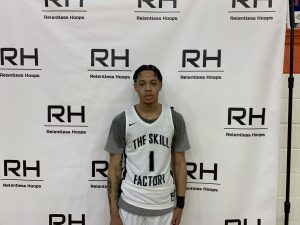 Sheriff is the heart and soul of this TSF group, as he is both the floor general and the most skilled shot creator for himself and others as well. He's smooth off the bounce with good burst and change of speed, he can knock down shots from multiple levels and is very good at making tough contested shots and he plays with great energy on both ends of the floor. He finished with 14 points, 4 assists and 3 steals in their win over IMG.