Just about halfway through the week and I've been able to watch three games so far! Dominican took down University School on Monday night, Prairie came back to defeat Racine St. Cat's at the Fiserv Forum in an afternoon matchup, and then at night St. Thomas More held off Kenosha St. Joseph in a MCC battle! Here are seven of the top performers from those three games.
Sekou Konneh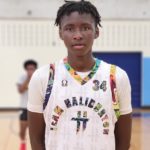 Sekou Konneh 6'6" | SF St. Thomas More | 2024 State WI (6'7 2024 F, St. Thomas More)- During the summer you could see the potential with Sekou as a long and athletic forward with a bit of skill to work with. This winter though he's been playing much more polished and has been producing at a higher level as the season goes on. Last night he utilized his length to dominate on the glass, picking up second chance buckets with his length and ability to track where the ball is going off the rim. Konneh has a quick second leap to go right back up for two points, and can also step in from the dunker spot to throw down some explosive dunks. Showcased nice touch on his jumper, and has had better shot selection this winter than he showed at times in the summer. Sekou finished with 24 points in the win and has so much potential moving forward.
Aaron Womack Aaron Womack 6'3" | SF Dominican | 2025 State WI (6'5 2025 W, Dominican)- Speaking of potential, the freshman from Dominican once again had a big game to lead them to a win. Aaron is incredibly long but moves well as a freshman to be able to make plays off the catch or dribble. At his best right now as a spot up shooter, but is able to read when defenders close out to hard and put the ball on the floor to create in the mid-range or get to the rim to score with touch. Does a nice job of using his length to keep a hand up when defending smaller wings, and as he grows into his body more he has the potential to be a game changer defensively with his long arms. Not afraid to rebound against size either, as he pulled in 9 boards to go along with a game high 17 points in a win.
Kaleb Shannon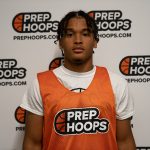 Kaleb Shannon 5'11" | CG The Prairie | 2023 WI (5'11 2023 G, The Prairie School)- In his third season of varsity basketball, Kaleb Shannon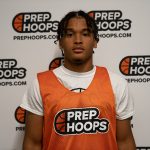 Kaleb Shannon 5'11" | CG The Prairie | 2023 WI stepped up last night to help lead Prairie past St Cats for the first time in years. He was aggressive all game long getting to the basket, mixing in some transition finishes, off-ball cuts, and strong drives to get to the rim. That effort also led to plenty of trips to the free throw line, where he knocked down two attempts with 4 seconds remaining to give his team the lead. He's a strong, quick, and aggressive guard that loves to attack down hill and can get after it defensively. Finished with a team high 26 points in the win.
Amari McCottry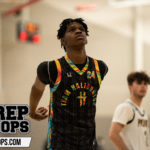 Amari McCottry 6'5" | SF St. Thomas More | 2024 State WI (6'5 2024 W, St. Thomas More)- I've said it before, but Amari may have the most potential in the 2024 class. At 6'5 he spends a lot of time handling the ball for his team, and can get to the rim just about any time he wants to. Has excellent touch to score inside, and is becoming more of a threat beyond the arc as well. This season his effort defensively has really improved, as he loves to pressure the ball and force turnovers to get out in transition. His long arms cause problems against smaller players as he can keep a little bit of space but still have the ability to snatch the ball when they let their guard down. Think he's a better passer than people realize because of how well he scores the ball. Finished with 24 points in a win.
Alijah Matthews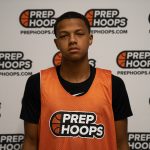 Alijah Matthews 5'11" | CG Racine St. Catherine's's | 2022 State WI (5'11 2022 PG, Racine St. Catherine's)- Although St. Cats came up short in the end, it was a monster game from the senior sleeper prospect. Alijah put up 28 points against a couple of tough guards, using his explosiveness to get to the rack and finish in traffic. He's one of the bouncier guards you'll find, as he has the ability to hang in the air until defenders are back on the ground before finishing over the top. Does a great job of jump stopping in the lane to explode off two feet to score. Has a solid pull-up jumper from mid-range and three as well. Defensively he can sit deep in a stance to pressure the ball, but is also a surprisingly good shot blocker at his size. Has great timing to elevate and swat shots to the floor.
Chris Powell (6'5 2022 W, University School)- I believe Chris is committed to play college football, but he's a solid basketball player as well. Has a really strong frame at 6'5 but is skilled enough to play on the perimeter, making him a difficult matchup. Against a skilled Dominican team, he scored a team high 13 points and knocked down a pair of threes in the process. Has the physicality to rebound the ball at a high level as well as finish through contact down low.
Ashe Oglesby
Ashe Oglesby 6'6" | PF The Prairie School | 2023 State WI (6'7 2023 F, The Prairie School)- Ashe put up a double-double with 14 points and 10 boards in Prairie's win yesterday afternoon. Really liked the flashes he showed facing up in the high post, as he has a high release point and can elevate with ease to knock down mid-range jumpers from around the elbow. Can also face up and put the ball on the floor to get to the basket, where he has a nice spin move or can hit a fadeaway jumper at a high level. Showed some athleticism in the open floor with a dunk as well. Would like to see him be a bit more physical down low as he has the size and skill level to absolutely take over a game. Having a big year averaging 19.1 points and 11.8 rebounds per game.