Two teams that have established themselves as squads to beat in Region 3-AAAA met on Friday evening when Lancaster's Bruins traveled to Catawba Ridge HS to take on the Copperheads.
The Bruins managed to earn a hard-fought, 54-44 victory over Catawba Ridge. Lancaster fell behind early before coming back to take the lead and claim victory. The Copperheads were playing in their final home game of the regular season.
Prep Hoops made the trip up to the home floor of Catawba Ridge HS for Friday evening's game. Here are some notes and takeaways from Bruins vs. Copperheads.
About that comeback…
Sometimes games can be won and lost in the first quarter and sometimes the opening stanza is not a metaphor for the remainder of a game. Catawba Ridge raced out to a promising start in the first quarter, claiming a 14-4 lead on Lancaster with one frame in the books.
January 26
That was the last time these two teams met up. And just as the Bruins got a victory on Catawba Ridge's home floor on Friday evening, coach Brett Childers' Copperheads proved victorious on Lancaster's home floor back in January in what was a 45-43 result.
So Much for Opposite Directions
With coach Jerron Cauthen's Bruins having lost four of its previous six games before Friday and the Copperheads having won five of its last seven, one would have predicted Catawba Ridge to be in the win column when the final buzzer sounded. Except both Lancaster and Catawba Ridge are top-tier teams and it proved as another reason why games are won on the court instead of in the standings.
Primetime Performers
Grayson Kirk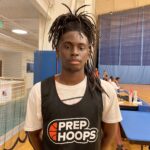 Grayson Kirk 6'2" | CG Lancaster | 2023 State SC (2023) was held to only two points in the first quarter, but eventually had himself another Kirk-esque game as he dropped 23 points. He displayed passing ability, 3-point shooting, accuracy with his free throws, the ability to battle for rebounds and is difficult to contain with the ball in his hands.
Ladarius Cloud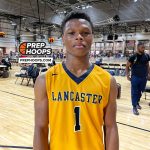 Ladarius Cloud 5'9" | PG Lancaster | 2024 State SC (2024) added 14 points off the Bruins bench. In addition to what he can do on offense from the field and at the free throw line, he is a lockdown defender who keeps his hands and arms active on the other end of the floor.
For the Copperheads, Grant Lovette Grant Lovette 5'11" | SG Catawba Ridge | 2023 State SC (2023) led the charge with 11 points – all in the first half. He can score from anywhere on the floor and will stay active on defense, including getting opposing ball carriers in precarious double team scenarios.
Landon Foley (2024) dropped 10 points. He keeps his hands out on defense, can deflect passes and attracts attention from opposing defenses. Foley will display impressive handles, can cut to the rim, rebound and displays ball movement in transition. He will showcase a midrange jump shot, can switch on who he is defending and will help in double-teaming opposing ball carriers.
Records
The Bruins improve its record to 17-6 – along with a 3-3 mark in Region 3-AAAA play while the Copperheads fall to 19-5 and 4-3 in the region.
Up Next
Lancaster has two matchups remaining on its regular season schedule – both are at home. The Bruins have a rematch with York (who they defeated on the Cougars' home floor this past Thursday) on Tuesday and its season finale with Indian Land on Friday.
With its 2021-22 home slate in the books, the Copperheads have one regular season contest remaining – at Indian Land on Tuesday.