It likely would not have been considered an upset if Hilton Head Island managed to pull off a victory on its home floor against James Island – one of two teams in Region 7-AAAA with double-digit wins in region. But the Trojans prevailed in Thursday night's battle of the islands by a final score of 56-47 in overtime.
Prep Hoops made it out to Hilton Head Island HS for Thursday night's hotly contested contest between the two region teams. Here are some notes and takeaways from Trojans vs. Seahawks as the regular season begins to reach its conclusion.
Primetime Performers
Braxton Scott
Braxton Scott 6'0" | CG James Island | 2024 State SC , who is also a quarterback for the Trojans football team, led all scorers with 27 points. He can score from anywhere on the court – from 3-point range, near the rim or at the free throw line. Scott also plays tough defense with an ability to affect a team's passing lanes with how he can deflect passes. He will also rush from out of nowhere to come up with big plays on defense.
C.J. Gibbs (2022) added eight points to the James Island cause. Gibbs is a constant threat to make defensive plays – including stealing the ball and deflecting passes. He can absorb contact and find his way to the free throw line as well. He made four of his six tries from the charity stripe.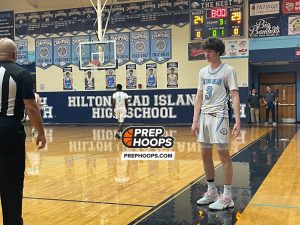 For Hilton Head Island, Zac Morris (2022) paced the Seahawks with 15 points. He will find a way to get to the rim and has no problems drawing contact and getting to the free throw line. Morris runs the floor quick in transition and will haul in many a rebound – including off an opponent's free throw miss.
Another senior, Alex Smith (2022), added eight points. He displayed impressive handles and an ability to slash to the rim to make plays near the basket. Smith can direct an offense in its halfcourt game and draw contact to place him at the line. He showcases efficient ball movement and a willingness to hustle for loose balls.
Coach on Scott
First-year James Island coach Brady Schuck described Scott as a "program changer" and a "winner" in postgame comments to Prep Hoops.
He has reason to maintain those sentiments. The Trojans have reached the 17-win plateau for the first time since 2015-16 when longtime coach Stan Wilkins was still at the helm for James Island.
About that Overtime Period…
The Trojans and Seahawks were all knotted up at 47 apiece heading into overtime after Hilton Head Island's Jayden Gilliam (2022) made one of two from the line late in the fourth quarter to bring both teams all square.
As the final score indicates, James Island outscored the Seahawks 9-0 in the frame of free basketball.  
Senior Seahawks
It was the final home regular season contest for Hilton Head Island. Its senior class of ballers was honored prior to tip off of the game with James Island. Along with Smith, Morris and Gilliam, Jeramiah Stevens, Karyce Campbell, Matthew Larkby and Nate Rohr make up the 2022 class for the basketball team.
January 18
When the two squads met up at James Island's home court, the result was a bit more lopsided than Thursday night's get-together. The Trojans dispatched the Seahawks with the final score being 64-42 in the middle part of last month.
Records
James Island now stands at 17-7 with a 10-1 mark in Region 7-AAAA play – tied with 13-5 Beaufort for the region lead. Hilton Head Island stands at 12-9 with a 7-4 region record.
Up Next
Both the Trojans and Seahawks have one matchup remaining in their respective regular seasons. James Island returns home on Friday to meet up with Beaufort to decide the Region 7-AAAA championship. Hilton Head Island will head to Lucy Beckham that same day.