When looking at the records for the boys' basketball teams at Fox Creek and Strom Thurmond, one may be quick to assume that a matchup between the two teams would result in a Predators victory.
The Rebels proved on Wednesday evening on its new and improved home floor that basketball games are won on hardwood, not paper. Strom Thurmond upset the Predators by a final score of 45-33.
Prep Hoops made it out to Strom Thurmond HS for Wednesday night's get-together between the two Region 5-AAA teams. Here are some notes relevant to what took place that night.
New Look Court
If this, was one's first time attending a game at Strom Thurmond HS this season, one may think that the school either added a new court or what happened to the old one.
The new and improved basketball venue at Strom Thurmond HS was part of an overall renovation of the school at large. The Rebels' basketball facility looks newer, more modern and more spacious than the previous hardwood Strom Thurmond HS fans have become accustomed to.
Changing Fortunes?
While the overall seasons for the Predators and Rebels suggest two teams whose seasons have gone in completely opposite directions, it appears both teams have been on somewhat equal footing as of late.
With the loss to Strom Thurmond, Fox Creek has now dropped four of its last seven games. As for the Rebels, the team appears to be hitting its stride as the regular season nears its conclusion. Strom Thurmond has won four of its last six contests.
Sweet Revenge
Everyone has heard of the sweet taste of victory. Ask any athlete and she or he will tell you that revenge tastes even sweeter. The last time the two teams met up was in late January when the scene was Fox Creek HS. In that game, the Predators got the better of the Rebels in what was a 52-43 decision.
Clean Sweep
Strom Thurmond's boys team made it a clean sweep of Fox Creek on Wednesday evening following a victorious showing by the girls team with the final score being 47-39.
Primetime Performers
Leading the scoring charge for the Rebels was William Bush (2023) who finished with 10 points. Seven of his 10 Bush put on the scoreboard in the second half of play. Strom Thurmond also got eight points each from Roosevelt Walker (2023), Quan Edmond (2024) and Allan Williams (2022).
On the Fox Creek end of the ledger, team co-captain Chandler O'Bannon Chandler O'Bannon 6'5" | SF Fox Creek | 2022 State SC (2022) led all scorers with 15 points. He scored nine of his 15 in the first half. Terrin Mays Terrin Mays 6'0" | CG Fox Creek | 2022 State SC (2022) and co-captain Jadon Johnson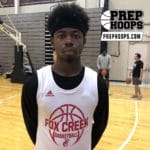 Jadon Johnson 6'2" | PG Fox Creek | 2022 State SC (2022) chimed in with five points apiece.
Records
While the Fox Creek record currently stands at 17-8 and that of Strom Thurmond sits at 5-11, both teams actually have identical 4-4 marks in Region 5-AAA play. Both teams are chasing Orangeburg-Wilkinson (21-2, 7-0) and Brookland-Cayce (17-5, 6-1) in its region.
Up Next
Both teams will be on the road on Friday and both teams have two games remaining on their regular season schedules. The Rebels will be at Orangeburg-Wilkinson on Friday, then will host Gilbert on Monday. The Predators will be at Swansea this Friday, then return home on Tuesday to host Orangeburg-Wilkinson.