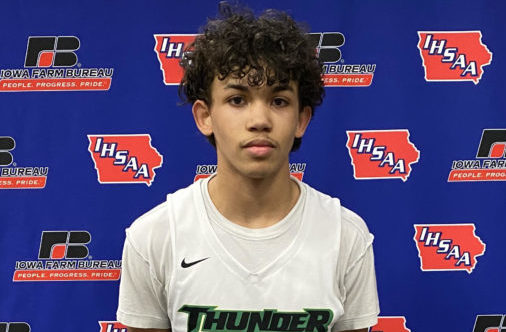 Posted On: 01/17/22 9:40 AM
Thanks to a number of postponements, it was a fairly uneventful week around the state which led to very little shakeup in the rankings. Nonetheless, it's Monday morning, so it's time to update them. We detail some of the key movement below.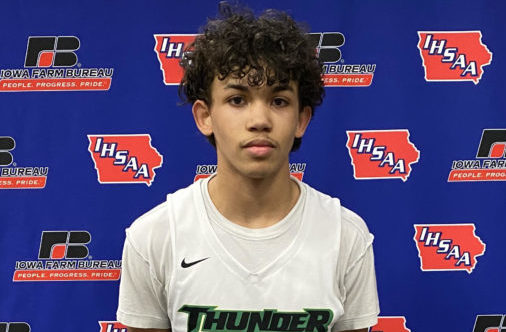 In Class 1A, the top six teams remain the same, led by Grand View Christian (13-0). The Thunder continue to blast teams, winning games by an average of 39.8 points a game behind the sterling play of senior guards Manny Hammonds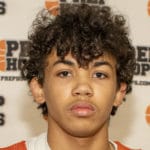 Manny Hammonds 6'2" | SG Grand View Christian | 2022 State IA (25.2 points a game) and Josh Baucum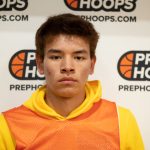 Josh Baucum 6'1" | SG Grand View Christian | 2022 State IA (18.6), and junior big man Daniel Tobiloba Daniel Tobiloba 7'0" | C Grand View Christian | 2023 State IA (9.0, 14.7 rebounds, 5.2 blocks). Newman Catholic (10-1) drops a few spots from #7 down to #9 following their loss to Osage.
Central Lyon (11-0) continues to pace Class 2A, averaging 83.2 points a game. They are joined in the top-5 by Aplington-Parkersburg (10-1), Western Christian (11-1), Boyden-Hull (10-1), and Pella Christian (9-3). Mid-Prairie (12-0) joins the rankings this week at #9, giving the River Valley Conference three ranked teams (#7 Monticello, 12-0; #8 Camanche, 11-1).
The top six teams remain the same in Class 3A, led by Little Hawkeye Conference rivals Pella (10-2) and Dallas Center-Grimes (7-2). Clear Creek Amana (9-1) rejoins the rankings after being out for a few weeks. The Clippers check in at #10.
Ames (7-1) didn't play a game last week and still leads Class 4A. Waukee Northwest (10-1) took care of business, setting up a monster game on Friday night, when the #2 Wolves travel up to #1 Ames for the game of the year. Cedar Falls (7-2) joins the rankings at #8 following their big win at then-#3 Iowa City West (7-2), who fell from #3 all the way down to #10 following a two-loss week.
Class 1A
| | | | |
| --- | --- | --- | --- |
| Rank | Team | Record | Last Week |
| 1 | Grand View Christian | 13-0 | 1 |
| 2 | AHSTW | 11-0 | 2 |
| 3 | St. Mary's, Remsen | 12-0 | 3 |
| 4 | North Linn | 11-1 | 4 |
| 5 | New London | 9-0 | 5 |
| 6 | Edgewood-Colesburg | 10-1 | 6 |
| 7 | Lake Mills | 11-0 | 8 |
| 8 | Gladbrook-Reinbeck | 13-0 | 9 |
| 9 | Newman Catholic | 10-1 | 7 |
| 10 | Dunkerton | 11-2 | 10 |
Class 2A
| | | | |
| --- | --- | --- | --- |
| Rank | Team | Record | Last Week |
| 1 | Central Lyon | 11-0 | 1 |
| 2 | Aplington-Parkersburg | 10-1 | 2 |
| 3 | Western Christian | 11-1 | 3 |
| 4 | Boyden-Hull | 10-1 | 4 |
| 5 | Pella Christian | 9-3 | 6 |
| 6 | Van Meter | 11-0 | 8 |
| 7 | Monticello | 12-0 | 9 |
| 8 | Camanche | 11-1 | 7 |
| 9 | Mid-Prairie | 12-0 | NR |
| 10 | Estherville Lincoln Central | 9-3 | 5 |
Dropped out: Williamsburg (10)
Class 3A
| | | | |
| --- | --- | --- | --- |
| Rank | Team | Record | Last Week |
| 1 | Pella | 10-2 | 1 |
| 2 | Dallas Center-Grimes | 7-2 | 2 |
| 3 | Harlan | 10-0 | 3 |
| 4 | Central DeWitt | 9-1 | 4 |
| 5 | Fort Madison | 10-0 | 5 |
| 6 | Washington | 10-1 | 6 |
| 7 | Decorah | 10-1 | 8 |
| 8 | Spencer | 9-2 | 9 |
| 9 | Humboldt | 11-0 | 10 |
| 10 | Clear Creek Amana | 9-1 | NR |
Dropped out: Ballard (7)
Class 4A
| | | | |
| --- | --- | --- | --- |
| Rank | Team | Record | Last Week |
| 1 | Ames | 7-1 | 1 |
| 2 | Waukee Northwest | 10-1 | 2 |
| 3 | Council Bluffs Lincoln | 8-2 | 5 |
| 4 | Pleasant Valley | 10-0 | 6 |
| 5 | Prairie | 9-1 | 7 |
| 6 | Ankeny | 8-2 | 9 |
| 7 | Kennedy | 8-2 | 10 |
| 8 | Cedar Falls | 7-2 | NR |
| 9 | Johnston | 9-2 | 4 |
| 10 | Iowa City West | 7-2 | 3 |
Dropped out: Sioux City East (8)