Sioux Falls, SD – We had a big cross-town matchup tonight with the O'Gorman Knights against the Sioux Falls Washington Warriors. O'Gorman is ranked #2 in AA and they had a 6-1 record before tonight's game. The only loss for the Knights on the season was to #1 ranked Sioux Falls Roosevelt. SF Washington came into this game with a 3-2 record.
Game Notes
We had good one in Sioux Falls tonight. O'Gorman came out early with a 5-0 lead and led by 5 after the first. Washington had a nice second quarter and a 12-0 run late to make a nice run and they went into halftime with a 3 point lead. Mauney hit a big pull-up 3 to end the half, or else the Knights would of went into half down 6 points. In the 3rd quarter it was back and forth game with both teams changing leads. The game became really exciting in the 4th. It seemed like Washington had a handle on it, but O'Gorman went on a magnificent run late. The Knights finished on a 11-2 run and OG came away with a quality cross town victory. 
Scores
1st – O'Gorman 14 Washington 9 
2nd – O'Gorman 23 Washington 26
3rd – O'Gorman 36 Washington 38
4th (final) – O'Gorman 62 Washington 51
Top Knights
Matt Eng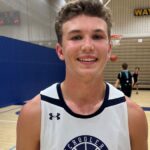 Matt Eng 6'2" | PG Sioux Falls O'Gorman | 2023 State SD (2023) |6-2 G|
He is the best shooter and leading scorer for the Knights. The Warriors did a nice job of bottling up Eng tonight. He still finished with 11 points and a couple 3-balls. I liked how Matt drove and created for others when he was blanked by the opposing D. Eng's pull-up J was impressive from 15-feet. Washington put in a ton of effort to stop Eng and he still got his, but most importantly he created for others. Late in the game, Matt had a nice steal and a breakaway bucket to help ice the game. 
Radley Mauney (2023) |5-9 PG|
He is the PG and floor general for the Knights. His most impressive play was the pull-up deep 3-ball to end the first half. It was a tough shot and it helped OG gain some momentum. Mauney is a hard worker and a team player. He went into the training room in the second half with a leg injury. 
Rush Landry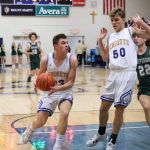 Rush Landry 6'5" | PF O Gorman | 2022 State SD (2022) |6-5 F|
Landry put up 18 points tonight. He is a tough matchup with his size and length. Rush had big 3-pointers throughout the game. I liked the looks of his physical spin-move. He was also impressive with a drive and perfect dime to a Warrior teammates. Landry is a solid FT-shooter.  
John Costello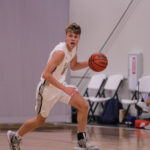 John Costello 6'5" | PF O' Gorman | 2022 State SD (2022) |6-5 F|
He had the first basket of the game and it came from a sweet right-handed baby-hook. John was good on the O-boards. I liked the fact that he followed his own shot. He is a good-looking FT shooter. Costello can also step out and hit the 3-ball. 
David Alpers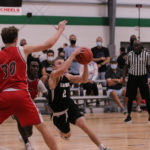 David Alpers 6'5" | PF O Gorman | 2022 State SD (2022) |6-6 F|
16 points tonight. He is a beast on the boards and Alpers is a physical player around the basket. I loved his fake hand-off which led to an easy two points for David. He is very strong and tough. His O-board putbacks changed the game. Alpers had multiple AND1 finishes. He really showed his strength in the second half with a tough basket near the hoop with defenders draped all over him. 
Gavin Muirhead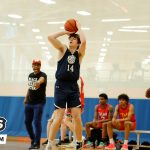 Gavin Muirhead 6'7" | PF O'Gorman | 2023 State SD (2023) | 6-7 F|
He is an impact player and a game changer. In the first half, Gavin had a powerful 2-handed dunk. He also stuck out as a shot blocker.
Top Warriors
Mikele Kambalo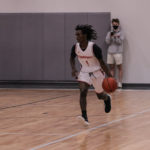 Mikele Kambalo 5'8" | PG SF Washington | 2022 State SD (2022) |5-9 G|
He put up 22 points tonight. Kambalo is a quick and explosive player. He looked good shooting it from beyond the arc tonight. On defense, Mikele is a turnover machine. His pull-up game was scary tonight. Mikele had a fantastic lefty-hand finish late in the game against the BIGs from OG. His jab step is lethal and he posses a nice step back jumper. 
Joe Uttecht Joe Uttecht 6'0" | PG SF Washington | 2022 State SD (2022) |6-1 G|
He ended with 11 points but Joe took 3 charges in the first half! I like his ball skills with lefty passes off the bounce and his court vision. Uttecht is great at changing speeds and his hesitation move is excellent. Joe had multiple AND1 finishes, he is a strong guard. He does not just score, Joe can drive and set up others. I loved his hustle when getting on the floor for loose balls. Uttecht is a pure shooter from the line. 
Tommy Peterson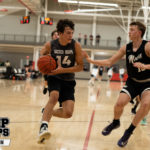 Tommy Peterson 6'2" | SG SF Washington | 2022 State SD (2022) |6-2 G/F|
He did a nice job of creating for others and getting his own buckets. I liked the looks of his physical AND1 finish and how he shared the ball. Peterson had a big block on the defensive end. Tommy did a nice job of scoring around the basket in the 4th. 
Mandalla Mohamed (2023) |6-3 G/F|
He is an impressive athlete that had a nice showing tonight. Mohamed provided quality minutes and a good scoring punch off the bench. He did a nice job on the O-boards and his stroke from the FT-line was spot on. Mandalla provided much needed defensive pressure. He looks to be an impact player for the Warriors.