Hammond School's mascot is the Skyhawk. There were lots of talented youngsters from the area that converged on Hammond recently hoping to put forth soaring showings.
The Skyhawk Holiday Classic occurred in the final week of December and welcomed a number of girls and boys teams from both South and North Carolina. Fittingly, both girls and boys basketball at Hammond are putting together stellar seasons.
The event still went on despite a few last-minute schedule changes. Prep Hoops made it to the Skyhawks' nest for Tuesday's contests. Here are a few more who shined bright during this latest midseason tournament.
Janeem Burrell – 2022 – Eau Claire HS – Burrell gets more attention around the Eau Claire campus than most football-basketball crossovers because not only does he play both sports, he plays quarterback for the Shamrocks. He scored 16 points to lead all Shamrocks scorers against Conway and got all 16 in the second half. Burrell's play was crucial in rallying back an Eau Claire team that was trailing 18-2 after the first quarter. Burrell put his 3-point shooting to the best of use in the second half as he made four treys – including three in the fourth quarter to keep the Shamrocks in the game.
Pharrell Boyogueno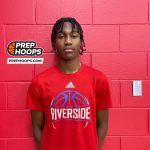 Pharrell Boyogueno 6'6" | SF Riverside | 2022 State SC – 2022 – Riverside HS – Boyogueno is one of the many veterans that make up the Warriors roster of head coach Allen Arnold. He can be accurate with his 3-point shooting and on point as a rebounder. At 6-foot-6, he plays as a forward and will win many battles on the boards. Boyogueno can get above the rim and even slammed down a couple of dunks in Riverside's contest against Gilbert on Tuesday evening. He finished with 11 points and had at least one made basket from the field in every quarter outside the fourth when the Warriors had the game clearly in the win column.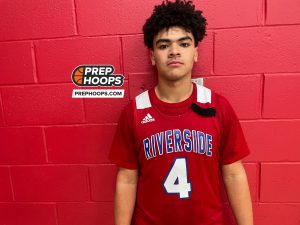 Donovan Soriano
Donovan Soriano 6'3" | SG Riverside | 2022 State SC – 2022 – Riverside HS – Speaking of gifted veterans that comprise the 2021-22 rendition of Warriors' boys basketball. There may not have been rain in Columbia's forecast, but those forecasts did not include Fawcett Indoor Stadium when Riverside set foot on Hammond's court. Soriano, in the first quarter, was part of a deluge of triples that the Warriors rained down on Gilbert. Riverside hit five 3-pointers in the opening frame – Soriano had two of them. He will also absorb contact, make hustle plays such as saving balls from going out of bounds to maintain the Warriors' possession, grab rebounds and hit shots from midrange. He finished with eight points in the victory over Gilbert.
Alijah Jones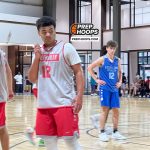 Alijah Jones 6'2" | SG Greenville | 2023 State SC – 2023 – Riverside HS – When Riverside made the long trek from Greer to Columbia for the Skyhawk Holiday Invitational, the Warriors' game against Gilbert (a Midlands school) appeared to indicate they were not fazed by the travel. Jones led the charge for the Warriors with a 12-point effort in addition to staying out of foul trouble as he only had one personal foul called against him. His offensive arsenal includes his ability to drain 3-point attempts as he did twice throughout the game. Jones is another two-sport athlete who plays football at Riverside as he has seen time on the gridiron as a linebacker and a running back.
Knowledge Jeffcoat – 2023 – Gilbert HS – Jeffcoat previously attended Batesburg-Leesville HS, another Lexington County school, before transferring to Gilbert. Unlike a good number of his peers, the second sport he participates in is not football, but track and field instead. Jeffcoat had the first field goal of Gilbert's game against Riverside to close out Tuesday's schedule of contests. He has no problems attacking the rim even against taller defenders, can be in iso offensive scenarios and can be nifty with his footwork as he drives to the rim. Jeffcoat finished with six points against the Warriors – four of which occurred in the third quarter.