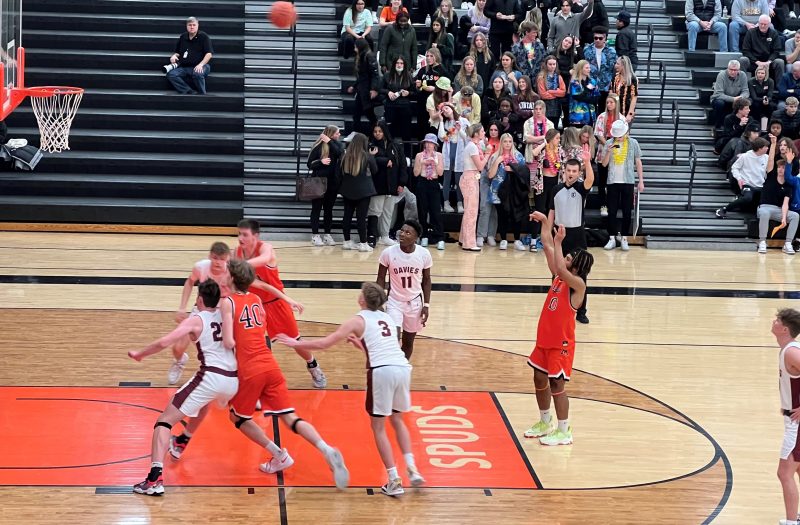 Posted On: 01/22/22 12:16 AM
Moorhead, MN - We had a fun one tonight in this ND vs. MN matchup. The fans definitely got their money's worth in this game. It started out at a frenetic pace and the Eagles got up big early. It looked like Davies might run Moorhead right out of their own gym. The Spuds had other ideas. They started to get a few more stops and they began to heat up. The Spuds went into the half down 11. The Eagles would hold the lead for the first 6:30 seconds of the 2nd half. Before I knew it, the Spuds had cut it to single digits, and then it was tied 58-58. It was a back-and-forth dogfight after that. Davies lead never got over 8 points and the Spuds always stayed within striking distance. Both teams can build off this game and use it to improve as the season moves on. It was a great night of hoops in Moorhead!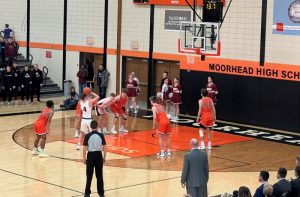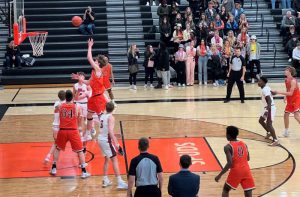 Scores
Halftime Score - Davies 52 Moorhead 41
Final Score - Davies 85 Moorhead 78
Top Eagles
Mason Klabo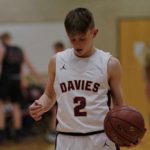 Mason Klabo 6'1" | SG Fargo Davies | 2025 State ND (2025) |6-0 G| 36 pts, 12-14 ft's, 4 three-pointers. He was magnificent, much like the time I watched him put up 45. Klabo is a pure scorer and it does not seem like it is forced. He was at the FT-line a ton tonight, I love his aggressiveness. Often times I have to remind myself that a 9th grader is doing this against juniors and seniors. Early on, Mason had a perfect baseline drive and kick to an open shooter for an Eagle 3-ball. His mid-range game is top-notch, he knows just when to stop on a dime and pull-up before the D is too close. Everyone knows, Klabo is a great 3-point shooter and it was on display again tonight. His best might of been when the defender closed on him hard, Klabo shot faked, and let the D fly by. Klabo took one short dribble, gathered himself, and smoked a 3-pointer. I like that Mason does not settle for 3-pointers, he attacks off the bounce just as well as he shoots. His best finish was a double-clutch, crazy left-handed finish with a man draped over his back. I really enjoy watching him use/manipulate screens, how he reads them, and the great footwork he uses when caching the pass. It is a true art form. Klabo works hard on defense which leads to deflections and TO's. He also took a charge.  Ian Motschenbacher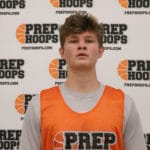 Ian Motschenbacher 6'1" | PG Fargo Davies | 2022 State ND (2022) |6-0 G| 21 points, 3-6 ft's. He had a bit of a slow start on offense, but he really got going in the second half where he scored 16 of his points. I have said this many times in the past, but Ian is a very crafty and creative finisher. Motschenbacher had many smooth finger-rolls. His best finish was when he came flying across the lane and he made a spinning underhand shot with a ton of english-spin on it. His effort is never questioned. Ian blocked a shot on defense and he deflected passes. Motsch had a nice series late in the game. It started with a blow-by-drive and a right-handed finger-roll finish. The next position was up-tempo and Ian sprinted the floor for a transition bucket. He scored 4 points in the blink of an eye, and he helped build the lead for the W.  Raymond Brown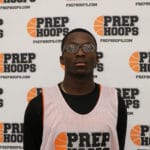 Raymond Brown 5'11" | PG Fargo Davies | 2023 State ND (2023) |5-11 G| 13 points, 3 three-pointers. He did most of his scoring in the first half (10 pts). Raymond was a big part of the surge for the Eagles when they built their early lead. His jump shot looks better every time I watch him play. He got things going for Davies with a score right off the opening tip. Brown has a great runner/floater as well. As usual, I was impressed with Ray's passing. He creates, penetrates, and attacks in order to set up teammates. Brown can make all the passes, he is talented with the ball. He stood out on defense when he was picking off passes. He jumped the passing lane and snatched the ball like a DB in football.  Max Froslie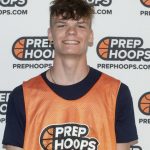 Max Froslie 6'7" | PF Fargo Davies | 2023 State ND (2023) |6-8 F| 8 points, 2 three-pointers. I like how Max will go up to contest/block a shot and not foul. He goes straight up, his chest out, and his hands vertical. I also liked how him high points rebounds. Froslie's outside jumper was looking good tonight. He provided a nice scoring punch in the first half. The future is bright for Froslie. Kaden Braaflat (2022) |6-1 G| 2 points. He is Mr. Hustle! Early in the game, Kaden had an athletic baseline drive, this showed off his quick first step. On the next play, Braaflat blocked a shot on defense. Kaden was in a bit of foul trouble in the second half and he fouled out with 5:35 left in the game. Braaflat is so valuable to his team, that it seemed like it was worth having him in there with all the little things that he does. He might get more athletic every time a watch and his NRG is amazing. Kaden seems like a top-notch defender and he seems to be ever-present. He rotates well on defense when the Eagles are pressuring. Kaden dives on the floor, boxes out, shares the ball, finds shooters, and numerous other things that do not show up in the stat book. What an asset to have on your team! Top Spuds Mekhi Elmore (2022) |5-10 G| 28 points, 3-9 ft's, 4 three-pointers. He is a sparkplug and a nice athlete. Elmore had a big second half. He put pressure on the Davies defense by hitting 3-balls, attacking in transition, and getting to the cup. Early in the game, Mekhi missed a runner, he stuck with it, grabbed the board, and scored a basket. Elmore had many nice finishes in transition throughout the game. He showed a nifty scoop shot and soft finger-rolls. Mekhi was disruptive on defense by picking pockets and stealing passes. Elmore got hot from behind the arc in the second half with 3 triples. I liked how he caught the pass and knocked them down in rhythm. Mekhi is a dynamic player for the Spuds. Dylan Zimmerman (2024) |6-5 SG| 17 points, 3-5 ft's, 3 three-pointers. This young buck has really been shooting it hot in the last month. Dylan has a quick shot and it takes him no time to get his jumper off. Zimmerman has a hair-trigger and soft touch. He does not just shoot, Dylan also dropped dimes. I enjoyed watching him run the wings wide and spot up for triples in transition. When Davies played some zone, Dylan knocked down a triple. Zimmerman is the Spuds zone-buster. Besides being a shooter, he can also finish at the rim. Dylan had a sweet drive with a twisting finish between two defenders. He also scored on a tip-in O-rebound because of his hustle and timing. Zimmerman will be a big part of the Spud's success as the season moves on.  Adam Jenkins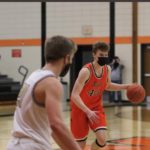 Adam Jenkins 6'9" | C Moorhead | 2023 State MN (2023) |6-8 PF| 14 points and 12 came in the second half. He scored the first bucket for the Spuds on a set play, where Jenkins received a lob pass and he flushed it home. Adam was in foul trouble early, which hurt Moorhead. Jenkins had one block that stood out to me. The offensive player was hesitant to shoot near the basket, Adam waited and showed great patience. When the Eagle finally decided to shoot, Jenkins erupted from the ground with perfect timing and he erased the shot. I thought his left-handed baby hook from the block looked perfect. Adam was great about following his own shot on a miss and sticking it back in. He had a highlight-reel alley-oop dunk near the end of the game. Jenkins is excellent at sharing the ball and passing out of the post when a shooter is open.  Hunter Wachenheim (2022) |6-6 C| 8 points and all in the first half. Hunter is a big strong post. Wachenheim did most of his damage with offensive rebound putbacks. I really liked how he gets the ball high and finishes it high. That way the pesky defenders can not get their hands on it. Hunter also had a nice catch-and-finish off a dime from John Jenkins John Jenkins 6'5" | SF Moorhead | 2022 MN . Jamal Dixon (2022) |6-2 G| 5 points, 3-6 ft's. He looks to be an athletic player. Early in the game Dixon got a steal, ran the court, and finished it with a soft lob pass to a fellow Spud. He is a battler and scrapper.  Michael Haugo Michael Haugo 6'5" | PF Moorhead | 2023 State MN (2023) |6-4 F| He is a gifted athlete and a hustler. I liked his effort when diving for a loose ball. Haugo had multiple offensive rebounds. His on-ball defense also looked very good at times.