Where were some of the top performers at the Slam Classic at Hamline on Saturday?  Here is our list!
Donavhan Cain of Cretin-Derham Hall (6'3 Guard, 2022).  When Cain gets that touch going he can rainbow arc in a bunch of triples.  Cain had three different stretches where the hand got hot and he knocked out attempts plus going at the rim this guard has more explosion than I think some of the CDH kids were ready for.  Cain scored 28 points highlighted by six threes and 11 of 19 shooting.  
Cooper Drews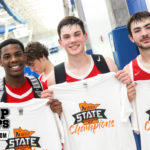 Cooper Drews 6'4" | SF Princeton | 2023 State MN of Princeton (6'5 Wing 2023).  Drews is a prospect with excellent potential.  He's 6'5 with guard skills that can be used in a number of ways.  In fact, at the next level they can place him in about four different spots.  Showed range today hitting three threes, had four assists as he has a great feel, and had six boards because Cooper is big enough to play around the cup.  Not the shooting day he wanted but a solid game nonetheless scoring 15, and the potential is clear. 
Isaiah Hagen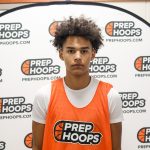 Isaiah Hagen 6'3" | PG Orono | 2023 State MN of Orono (6'3 Guard 2023).  Hagen has come a long way from last year.  He's a bit taller, a bit stronger, surely is playing with more consistency and control, and can play both spots for his team.    Looks to have expanded his range and is surely scoring balanced buckets on the move at a better rate.  Had 16 points in a big Orono win.  
Tommy Humphries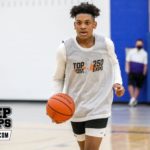 Tommy Humphries 6'5" | SF Totino-Grace | 2023 State #254 Nation MN of Totino-Grace (6'4 Wing 2023).  I really like the confidence and assertiveness that Tommy is playing with.  He's competing with more moxy to him plus there is more of a confident approach to the way he is releasing the basketball.  CDH had to contend with Lee around the basket, Watson inside and out, and Chatman lighting the world on fire.  That allowed Humphries to score in space and he did that putting up 17 points highlighted by two threes.  
Devin Newsome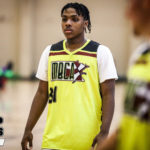 Devin Newsome 6'1" | SG South St Paul | 2022 State MN of South St Paul (6'2 Guard 2022).  Newsome once again knocked out clutch jumpers in a big way.  With Mound-Westonka closing in, it was Newsome that knocked out a clutch three.  The exact same thing happened last weekend against Austin.  Newsome scored 16 points in the win.  
Cooper Jones Cooper Jones 5'10" | PG Princeton | 2022 MN of Princeton (5'11 PG 2022).  I really liked the way Cooper moved the ball for his team.  Cutters and feet-set shooters were constantly rewarded with comfortable looks.  Nowak did a great job putting the ball on the hands of teammates plus he hit two threes scoring 14 points as well. 
Jason Spaeth Jason Spaeth 6'2" | SG Mound-Westonka | 2022 State MN of Mound-Westonka (6'2 Guard 2022).  It was a special game for Jason as he scored his 1,000th point tonight.  He did it on a three, one of three for the game.  Hason scored 13 but the night was bigger for him because of the milestone.  
Haydn Stay Haydn Stay 6'4" | PG Princeton | 2022 State MN of Princeton (6'5 PF 2022).  Stay has always been the Princeton muscle and that hasn't changed.  Scored 16 points hitting half of his dozen attempts and most of these scores were timed buckets with the pass.  He's also pound for pound one of the best rebounders out there plus he can knock down an open shot.  Future UND football player but if the hoopers need a fill in for a day, he's a smart player that can handle the role.  
Demarion Watson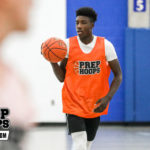 Demarion Watson 6'8" | SF Totino-Grace | 2022 State #150 Nation MN of Totino-Grace (6'8 Wing 2022).  Demarion is changing games defensively and playing freely.  It's a lot of fun to watch because he's already such a uniquely talented player when you consider his length, agility, timing, and skill.  Today I thought he had 16 points but the book had him for 14.  Either way, Watson scored but more importantly he was a monster on the glass, moving his feet off screens, and mostly importantly, getting his hands to shots. 
Shawn West-Zimpel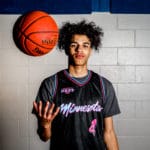 Shawn West-Zimpel 6'2" | SG South St. Paul | 2022 State MN of South St. Paul (6'1 Guard 2022).  Instant offense.  That was Shawn today.  Came off the bench and hit three triples immediately.  Scored 13 with six boards but it was the instant three point offense that was so crucial to the win.