With only hours shy of the new year 2022, the 22nd year of Battle at the Border emanated from Landrum HS on the final week of 2021.
This year's tournament featured eight teams from both the girls and boys ranks – most of which hail from the Upstate of South Carolina. A fun fact about Landrum is that the town itself sits over 1,000 feet above sea level.
High elevation or not, we at Prep Hoops made the trip to the home of the Cardinals for the Wednesday lineup of matchups. Here are even more names that made their presences known at this year's event.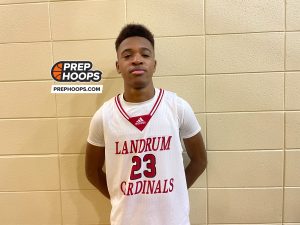 Franklin Davis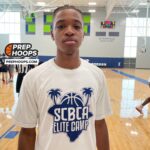 Franklin Davis 6'3" | SG Landrum | 2024 State SC – 2024 – Landrum HS – Quite frankly, Davis will be one to continue to watch out for as his Cardinals career continues to captivate. He stands at 6-foot-3 and he can make 3-point shots. In fact, Davis was true on a trio of 3-point tries in the second quarter – three of 10 Landrum buried for the game. He also crashes the boards, does plenty of scoring work near the rim and will draw contact, giving him freebie opportunities at the line. Davis will distribute the ball and make the right passes to his teammates, bring in rebounds and also block shots and compile steals. He helped in sending the Landrum fans home happy as he scored 15 points in the win over Chapman to close out Wednesday's docket of matchups.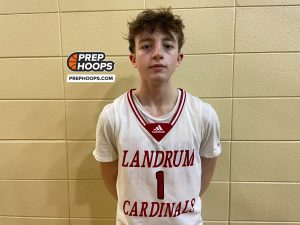 Mason Raines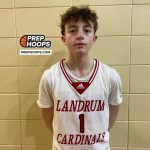 Mason Raines 5'11" | SG Landrum | 2022 State SC – 2022 – Landrum HS – When Mason gets it going, opposing players coaches must be thinking that when it Raines, it pours. When the host Cardinals took on Chapman in Wednesday's final game of the multi-day Battle at the Border, he started off slow scoringwise, but go things going as the matchup went on. Raines will provide heads-up defense which can result in deflected passes and altered passing lanes for opponents. He runs the floor well and can work well in tandem with who he feeds the rock off to in transition. Raines can come up with steals himself as well as transition baskets in addition to made free throws. He scored 14 in the win over the Panthers.
Nick McConnell – 2024 – Woodruff HS – The Wolverines' rising star sophomore scored early and often in Woodruff's contest with Spartanburg Christian Academy – the first boys game on Wednesday at Battle at the Border. At one point, someone bumped McConnell while he was attempting a 3-pointer, placing him at the charity stripe for three tries instead of the customary two. McConnell also had a highlight play at the end of the first quarter, converting on a half-court shot at the buzzer. His defense can get opposing ball carriers to commit travels, and therefore, turnovers. Ball movement and rebounding are also elements to his overall game. McConnell dropped 13 points.
Jonathan Mitchell – 2022 – Chapman HS – One of five who will be honored on Senior Day, Mitchell stands tall, both literally and figuratively at 6-foot-6. That height advantage comes in extremely helpful when getting into low post gear as well as rebounding battles. He will also come in with the ball in his hand from the backcourt and weave his way through defenders en route to the rim. Mitchell draws plenty of attention and he will draw lots of contact which will put him at the free throw line. He scored 12 points in the Panthers' game with host school Landrum.
Ziyon Harris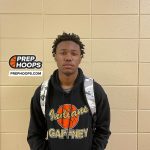 Ziyon Harris 5'11" | PG Gaffney | 2025 State SC – 2025 – Gaffney HS – Harris is one of the three freshmen listed on the roster for head coach Phillip McHam, Jr.'s Gaffney team. The 6-foot guard drained a midrange jumper to get Gaffney on the board when they took on Boiling Springs in the second-to-last contest of Wednesday's schedule of matchups. Harris will certainly take his fair share of shots from long range – and hit shots from 3-point range. He is a constant to remain ready to gear up on the defensive side of the floor. Harris dropped 10 points including a couple of made tries from 3-point land.
Coleman Gray – 2024 – Chapman HS – Gray came to play. This was the case all game, but particularly in the second half when he displayed why he is an on the rise talent. Gray finished with 10 points, but eight of those 10 happened in the second half – include a made free throw and 3-pointer in the fourth quarter. He will call for the ball, can play with his back to the basket. Gray also is a dual sport athlete for the Panthers as he participates as a football player while at Chapman. He is that team's quarterback in addition to being a small forward.