Prep Hoops Maryland recently updated its class of 2024 prospect rankings. In addition to the 50 ranked players, there are a handful of names on our watch list. Here is a closer look at those names. 
Almani Aw Almani Aw 6'9" | C Rock Creek Christian | 2024 State MD – Aw emerged on our radar at the DMVElite Next Camp in the fall.  Boasting a powerful 6-foot-9 frame, the big fella could become a force to be reckoned with down the road. 
Grayson DiPietro Grayson DiPietro 6'2" | SG Saint John's Catholic Prep | 2024 MD – A star on the gridiron, DiPietro plays with a relentless motor that translates on the hardwood. 
Bryce Griffiths Bryce Griffiths 5'11" | PG Sidwell Friends | 2024 MD – Griffiths has drawn high praise from the Sidwell coaching staff. He could be next in their lineage of talented point guards. 
Caleb Ihegihu Caleb Ihegihu 6'4" | SG Flint Hill | 2024 State VA – Ihegihu is one of the most athletic wings you'll find in the class locally. 
Kris Johnson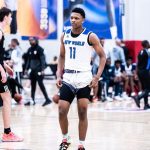 Kris Johnson 6'4" | CG Grace Brethren Christian | 2024 State MD – Johnson is a big guard who does a bit of everything well. Once we get eyes on him he'll likely find a comfortable spot in our next rankings update. 
Joseph McRae Joseph McRae 5'10" | PG Jackson-Reed | 2024 State MD – McRae has been starting for most of the season at Wilson. He's scored in double figures in multiple games with extras such as assists and steals. 
Marcus Rustin Marcus Rustin 5'11" | CG Wise | 2024 State MD – Rustin is a smooth southpaw who is an adept paint getter. He is equally effective as a scorer and playmaker.
Adrien Stevens Adrien Stevens 6'2" | CG Bullis | 2025 State MD – Stevens is a name to monitor for the future. He has the physical tools and intangibles to be a productive all-around guard down the line. 
DJ Wingfield DJ Wingfield 5'11" | CG Mount St. Joseph | 2024 State MD – Wingfield popped for 12 points in MSJ's recent win at Gilman. This should come as no surprise based on his production over the summer.