The second week of the high school basketball season is underway. Today, we take a look at highlights from Wednesday's slate of games. 
Barr-Reeve handles Robinson (Ill.) to move to 2-1
The defending Class A state champions suffered a one-point loss to Terre Haute South last weekend. Barr-Reeve returned to form Wednesday with a 66-48 win over Robinson (Ill.). The Vikings, who are ranked No. 7 in the Prep Hoops' Class A poll, were led in scoring by senior Hagen Knepp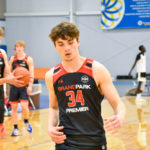 Hagen Knepp 6'4" | SF Barr-Reeve | 2022 State IN , who made his return after suffering an ankle injury. Knepp finished with 28 points. As a team, Barr-Reeve made 12 threes in the lopsided win. 
Bontrager nets 38 points as Leo remains undefeated 
Leo moved to 3-0 Wednesday with an 85-55 road win over Fort Wayne Wayne. The Lions, who played in the state championship last season, scored 27 points in the opening quarter and led 47-28 at halftime. Senior Caedmon Bontrager
Caedmon Bontrager 6'8" | PF Leo | 2022 State IN had an impressive showing, finishing with 38 points, nine rebounds, two assists and three steals. Leo, which is ranked No. 3 in the Prep Hoops' Class 3A poll, is scoring 72 points per game. The 85 points against the Generals was the team's highest output of the young season. 
Mullins scores career-high 35 points against South Central 
Keith Mullins, a 2023 forward from Hobart, scored a career-high 35 points Wednesday in a 67-48 win over South Central (Union Mills). The 6-4 post had 20 points by halftime and scored 11 points in the third quarter. Mullins entered the game averaging 4.0 points. The 35 points more than doubled his previous career-high of 16 points, which came last year against River Forest. Mullins averaged 6.2 points in 12 games as a sophomore. The junior was also active defensively Wednesday, using his length to alter shots.